As a beauty blogger, I often get product samples to test. And like any first date, spark usually begins and ends within the first five seconds. You know you'll like a product immediately or not on how it reacts to your skin. If it passes that test, perhaps you'll go on a week-long date, uhm I mean, trial to see if you're truly compatible. Sometimes, you realize it leads only to stress, red bumps, and a poor complexion. Then, there are times when it truly does match your expectations and sweeps you off your feet. And I'm referring to the product, not the person you dated. So does this product lead me to stress breakouts or it impressed me? Keep reading By Wishtrend Mandelic Acid 5% Skin Prep Water review to know.
MY THOUGHTS
I like By Wishtrend Mandelic Acid 5% Skin Prep Water the moment I applied it to my face. After 11 days of using this product, I saw some of my dark spots lightened while some small pimples on my right cheek disappeared already.
PROS
Gentle
Moisturizing
Has an anti-bacterial effect to combat the acne.
CONS
I honestly didn't experience any cons with this one.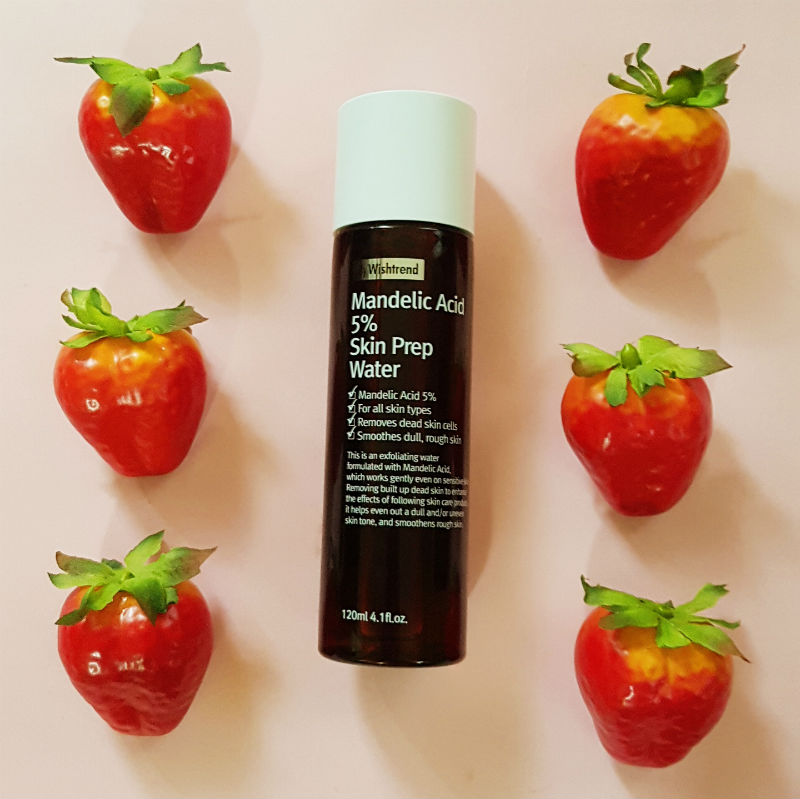 What is it?
By Wishtrend Mandelic Acid 5% Skin Prep Water is a hydrating and nonirritating defoliant with pH4 that can be used daily. It's an exfoliating treatment that improves the skin tone and texture while boosting the effectiveness of other products. It helps with pigmentation to improve the skin tone and texture. And as a mild exfoliator that works on the surface of the skin, safe to use even for sensitive skin to avoid the use of harsh chemical exfoliation. It's also effective for acne due to its anti-inflammatory, antibacterial properties.
Key Ingredients
Mandelic Acid – When Wishtrend approached me if I like to review this product, I'm honestly not familiar with Mandelic Acid. So I did a little researched and learned that it's also an AHA ingredient, but milder than the popular Glycolic Acid. So it's nice for those with sensitive skin, plus it helps to improve pigmentation as well as to restore aged skin. It also has antibacterial properties that are effective for inflammatory acne.
Beta-Glucan – Moisturizing, redness reduction, anti-inflammatory and soothing effects.
Panthenol – Also known as vitamin B5, it acts as a humectant and moisturizer, improving the skin's abilities to regenerate and to maintain hydration. It is also used to prevent inflammation and to prevent itching.
Centella Asiatica Extract – Helps regenerate damaged skin.
Sodium Hyaluronate – As a natural moisturizing factor, it attracts moisture and helps retain moisture within the skin, preventing dryness after exfoliation.
**You can read its ingredients analysis in CosDNA.
Performance
APPLICATION: Use this after cleansing your face but before applying a toner. Using a cotton pad, gently wipe and pat it all over your face. Limit the use of this product depending on your skin type. (For sensitive skin, we recommend 2-3 times a week). And it is highly recommended not to use this product with other facial scrubs, AHA/BHA, and Vitamin C products. Lastly, avoid using it around the eyes and don't forget to use a sunblock in the morning especially when you use this in the morning. As I have mentioned in my blog many times, AHA sheds a layer of your skin, so you'll be vulnerable to sunlight.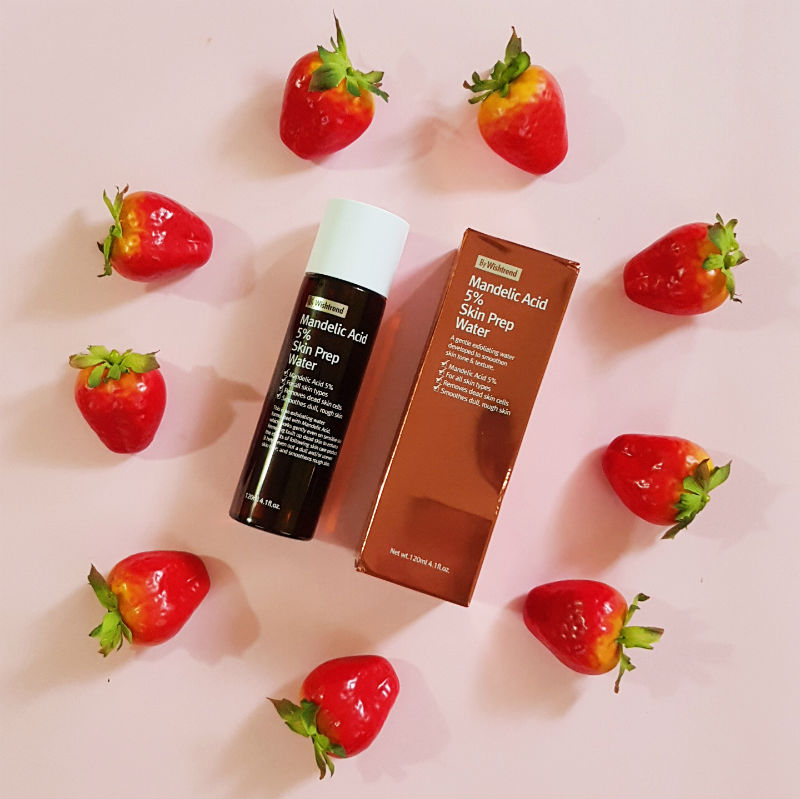 PACKAGING: By Wishtrend Mandelic Acid 5% Skin Prep Water is packaged in a UV-sensitive bottle. Whenever I see a product packaged in a brown bottle like a beer, I know immediately that I should store it in a cool dry place away from the sunlight. And yes, this product should be stored like that. It may not win the best packaging award compared to other Korean Beauty brands, but it doesn't look nor feel cheap. It's really sturdy, plus I like that they put a little effort in the box. Look how minimalist and shiny it is!
SCENT: Before I used this, Benton Snail Bee High Content Essence was the only beauty product I know that is literally scentless. Other products that are labeled "fragrance-free" doesn't always mean "free of fragrance" but this product is effectively scentless!
DISCLAIMER: This is not my first time using an AHA product, so I don't feel any sting especially when it's just a mild AHA. But some people may experience some sting in their first use.
RESULTS: As I mentioned in the intro, you'll know in the first five seconds if you'll like the product or not. And I say, I like By Wishtrend Mandelic Acid 5% Skin Prep Water the moment I gently applied it to my face. It was gentle, no scent, and no sting. But even though it was love at first sight, I was still doubtful if it will really improve anything in the long run. But I added it to my skincare routine anyway, between cleansing and serum. I know the instructions say I should use it before a toner, but I skip it whenever I'm using this product. And after 11 days of using this product, I saw some of my dark spots lightened while some small pimples on my right cheek disappeared. The after-photo was actually taken just today!
Will I buy it? I've been only using this for only 11 days, and so far I like the results. But I want to continue using this for a month before I could decide. But I know some people who like the Pixi Glow Tonic but couldn't really use it because their skin gets irritated, I think this product is a nice alternative.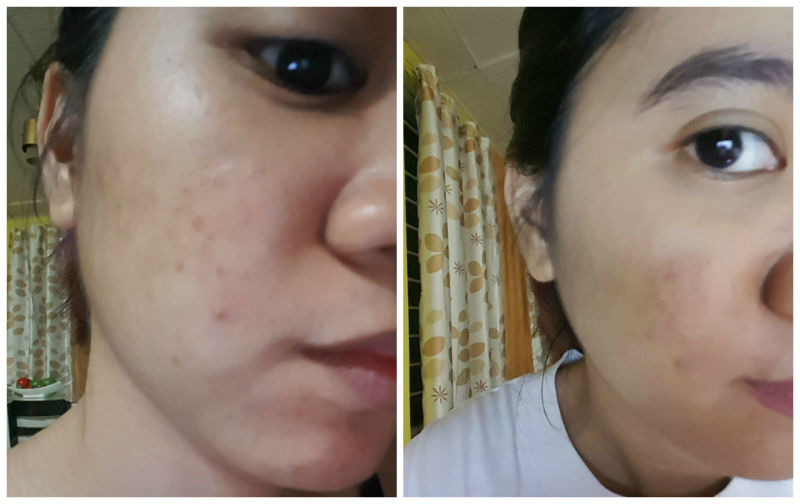 Where to Buy?
STORE
PRICE
DETAILS
Wishtrend
$22
They offer free shipping worldwide on a certain amount
of orders and give freebies. Check the StyleVanity Deals
page for discount coupons
Go Bloom & Glow
Php1250
Use code MARIM60 to get
₱100 OFF on your entire order
(minimum of ₱1000, single-use only).
Kbeauty Cafe
Php1250
Use the code itsmariaalyssa to get
Php100 off for first-time buyers with
minimum orders worth Php1000
Lazada
Php1250
What do you think of By Wishtrend Mandelic Acid 5% Skin Prep Water Review? Share it below!
*This product may or may not help you. If the pimple persists, you may need to know the type of pimple you have or better, consult a doctor.
**I received the product mentioned above for free in the hope that I would mention it on my blog. Regardless, I only recommend products I use personally and believe will be good for my readers. All thoughts and opinions are my own and not influenced by the brand or its affiliates.