I have been blogging for years now, so writing a review is no longer exciting for me like before, but writing this Pixi Glow Tonic review made me so giddy with excitement. It's been a while since a product impressed me so much, yes, much more on how impressed I was with the It's Skin Power 10 Formula VB Effector.
I actually stayed away from this product for so long, why? It's because of beauty vloggers. I'm not saying all, but some beauty vloggers are exaggerated AF! I don't like how some of them praise a certain product so much like there's nothing else like it. They build your expectations so high so when you actually tried the product, you'll just learn it's freakin' underwhelming. Have you experienced that? Fortunately, the Pixi Glow Tonic is not another product that I will hold against them.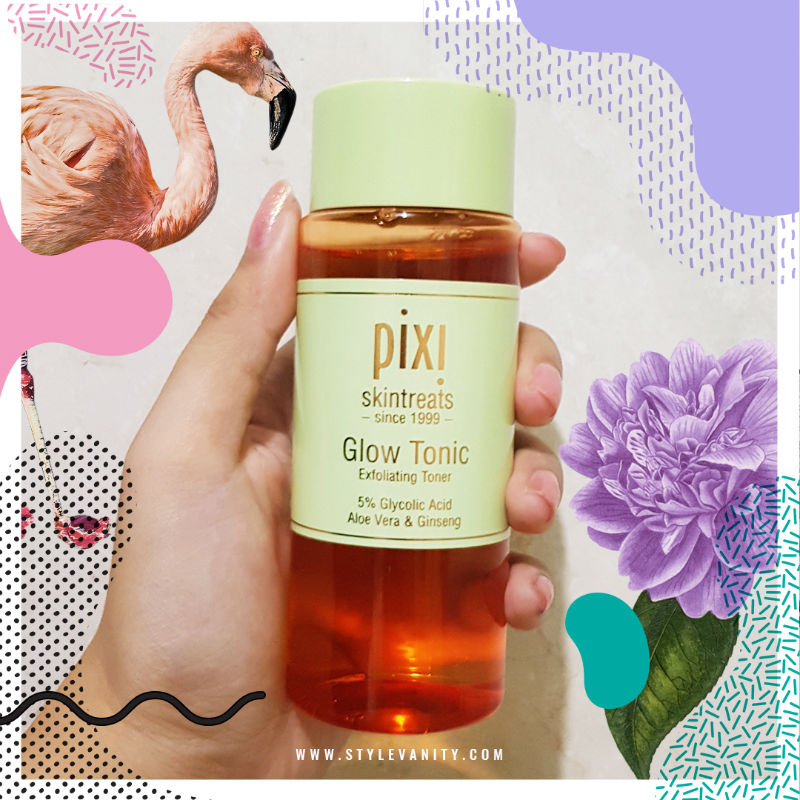 What is it?
Pixi Glow Tonic is a cult-favorite gentle exfoliating AHA toner that promises to brighten and clear your skin. It removes dead skin cells to reveal healthy glowing skin and a refined texture that looks and feels smooth. The hypoallergenic formula is made with botanical extracts, including aloe vera and ginseng, to soothe sensitive skin. Ideal for all skin types.
INGREDIENTS: You can read about its ingredients in this CosDNA Analysis. But here's the breakdown: Aqua, Aloe Barbadensis Leaf Juice, Hamamelis Virginiana (Witch Hazel) Leaf Extract, Aesculus Hippocastanum (Horse Chestnut) Seed Extract, Glycolic Acid, Ammonium Glycolate, Glycerin, Butylene Glycol, Hexylene Glycol (and) Fructose (and) Glucose (and) Sucrose (and) Urea (and) Dextrin (and) Alanine (and) Glutamic Acid (and) Aspartic Acid (and) Hexyl Nicotinate, Panax Ginseng Root Extract, Phenoxyethanol, Sodium Benzoate, Biotin, Polysorbate 20, Fragrance.
PERFORMANCE
APPLICATION: Saturate a cotton pad with the tonic and sweep across face, neck, and décolletage (avoiding eye area). Can be used AM and PM after cleansing. Just apply it using the Korean gentle tapping motion technique and don't ever overdo it! One soaked cotton pad is enough, after all, this is an exfoliating product.
SCENT: It smells like lemon tea and does not sting.
PACKAGING: My Pixi Glow Tonic arrive as is, no box. Just a bubble wrap to protect it. The bottle is made of plastic but it does not feel cheap. The cap is tight enough so even though it got side to side and upside down during the shipping, the product didn't leak, unlike The Saem Healing Tea Garden Cleansing Water. Although the opening of the product isn't protected, the first time you open the bottle, there's no cover as shown below so some product is inside the cap. But it's not really a big deal, as long as it doesn't leak.
RESULT: There are many products that promise to give you results overnight, Pixi Glow Tonic isn't really marketed like that but I now believe all the people who said that this is really a great product. Pixi Glow Tonic really brightens your face overnight. I wasn't expecting anything on my first day, but there was a result when I woke up. My skin was brighter and dewy, and after few days my blemishes like the dark spots from acne were starting to lighten! It's not really an exaggeration, Pixi Glow Tonic is really worth all the hype!
I didn't feel any heat or pain using this product. But when my mom used this for the first time, she said it's hot and kinda painful but tolerable, yet she still rushed to an air-conditioned room to cool it down. But take note, my mom and I have different skin types. I'm oily, acne-prone, and sensitive. While my mom has dry skin type. But then you should also take note that my mom tends to overuse beauty products no matter how much I tell her not to do it especially with those that have strong ingredients. I think she managed to use almost 4-5mL on the first time she used this! My jaw dropped when I saw how much she used, and this is an exfoliant so it's no wonder it hurt her face.
LESSON: Follow the instructions. Never overuse a beauty product, it can be harmful and painful. Apply this thinly on your face especially if you have sensitive skin.
VERDICT
PROS: Brightens your face after first use, it smells lovely, it gently exfoliates your face so you'll not experience skin peeling unlike in other products, and it clears your blemishes in continued use. Lastly, it's alcohol-free, paraben-free, and not tested on animals.
CONS: I don't really see any cons besides you have to wear a sunscreen daily because AHA is an exfoliant and it strips a layer of your skin so it has less barrier for sun exposure. Also, if you live in the Philippines like me it's difficult to find a 250mL bottle because they sold out fast! And this is quite expensive for Filipinos as well because of the huge markup in the price from our local beauty retailers.
FAQ
Will I buy it again?
Absolutely yes! This is now a staple in my skincare routine.
Is Pixi Glow Tonic safe for acne-prone skin?
I have an oily, sensitive, and yes an acne-prone skin, and I didn't breakout ever since I use this. Although a hormonal pimple still pops out, it's always just one. Unlike before where I have to deal with at least 3 or more.
Is Pixi Glow Tonic Safe for Sensitive Skin?
It is suitable for all skin types. But if you have oily or sensitive skin, I suggest don't use it every day, make it every other day, or only use it once a day. And make sure to NEVER forget to use sunscreen even if you will not go out of your house.
Where to buy?
You can buy Pixi Glow Tonic in the Philippines in BeautyMNL Php990 for 100mL and PhpPhp1690 for 250mL. You can also order in Sephora Philippines.
If you live in the US and Canada, you can buy a 250mL Pixi Glow Tonic in The Hut for $24 and in Birchbox for $29. While in the UK, you can buy it in Cult Beauty for $23.
What do you think of this Pixi Glow Tonic review? Have you tried it before? Share it below!