Before there was Christian Grey, the original sharp-suited young sadist to permeate our modern consciousness was Patrick Bateman of the 2000 movie American Psycho. Which in my opinion was far more sadistic and has more sexual allure than Mr. Grey, who was a tremendous bore on-screen. But enough about that Bateman vs. Grey debate, I'm here to talk about the "Patrick Bateman Skin Care Routine."
Yes, ladies, along with business cards and murdering prostitutes (and even associates that gets on his nerves) Patrick Bateman has an obsession with maintaining his body and most especially his skin. He was a psycho serial killer who has a skincare routine as rigorous as his killings and a Korean's skincare routine. We can definitely all learn a lot from his routine. Watch it below:
He's very detailed, isn't he? So I'm breaking it down. Below are the 5 lessons I learned from that routine:
1. Treat puffy face with an ice pack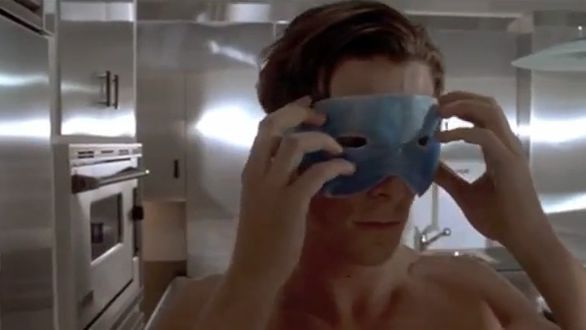 "In the morning, if my face is a little puffy I'll put on an ice pack while doing stomach crunches. I can do 1000 now."
If Bateman held off on his favorite tipple J&B, that might prevent a puffy face in the morning. Alcoholic drinks can cause dehydration, and dehydration causes blood vessels to dilate, which inevitably leads to water retention around the face and gut. The ice pack treats really work but of course, putting frozen peas or an actual ice pack on your face is too unrefined. I suggest investing in an eye gel mask like he used in the film.
Alternatively, you can also use SecretKey Marine Racoony Hydrogel Eye & Multi Patch ($14.50). Those eye patches are enriched with antioxidant-rich algae. It is deeply hydrating ingredients and ensures the skin is beautifully conditioned and plumped up. Regular use will help balance and brighten the delicate skin about the eyes to promote a clear, smooth, and youthful complexion. You can also put in your refrigerator (not the freezer) and use it in the morning while you do stomach crunches a la Patrick Bateman, or at night to wake up to a glowing skin in the morning.
2. Use a cleanser before anything else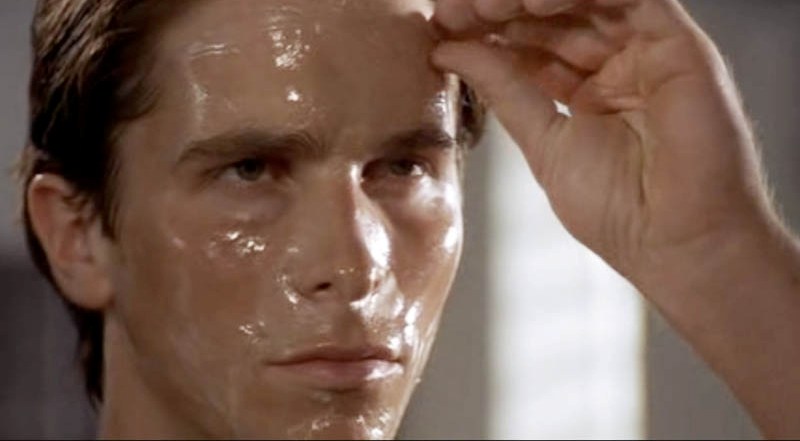 "After I remove the ice pack I use a deep pore cleanser lotion. In the shower I use a water activated gel cleanser…"
Cleansing is the first step to any skin care routine. It doesn't make sense applying anything else before it because dirt will just mix with your other skin care products and will be washed off if you did cleansing last. Which is why it baffles me why he started with an eye mask instead of cleansing. But this is his routine, so let's just go along. Anyway, if American Psycho was written around these days, Bateman will surely cleanse his face with an electronic cleansing brush that so trendy these days. But he wasn't so let's stick with good old cleansers that we know.
CosRx Low Ph Good Morning Cleanser ($13) is a favorite among many skincare enthusiasts, men, and women alike. It is deep pore cleansing (just like what Bateman likes) thanks to its natural BHA content which has the ability to penetrate into the pore lining and exfoliate inside the pore as well as on the surface of the skin, it is especially effective for reducing breakouts, including blackheads and whiteheads.
3. Exfoliate Daily
"…then a honey almond body scrub, and on the face an exfoliating gel scrub."
Exfoliating once or twice a week is an old way now. Ever since Korean Beauty gone global, they thought us that we should exfoliate daily and that said, they introduced to us the exfoliating products that are strong enough to exfoliate but mild enough for everyday use. Who knew Patrick Bateman was ahead of his time, at least on skincare!
For the face, my favorite daily exfoliator is the CosRx Two in One Poreless Power Liquid which is a chemical exfoliator that is mild for everyday use, but it is not the kind Batman uses. In the movie, he used an exfoliator with a physical scrub. The Skinfood Black Sugar Mask Wash off ($7) is really popular. I used it too and reviewed it here as well. It's an exfoliating skin-softening mask that will remove dead skin cells and create a soft, radiant complexion with Brazilian black sugar which acts as a physical scrub and helps decrease the number of blackheads and whiteheads.
While for the body, my personal favorite is the Human Nature Volcanic Cooling Body Scrub which is hard to find if you don't live in Asia. Alternatively, you can try this cruelty-free Jungle Botanical Natural Body Glow Nutshell Scrub ($23).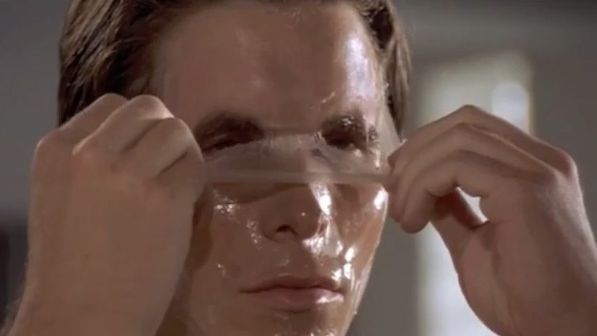 "Then I apply an herb-mint facial mask which I leave on for 10 minutes while I prepare the rest of my routine."
Normally, when you already exfoliate, the facial mask you will use to follow it up should be for moisturizing. But in Bateman's skincare routine, it is counted as part of his part of his exfoliating process but it's also to tighten and soothe his pores.
He mentioned using a herb-mint peel off mask and him peeling it off which was one of the most memorable scenes in his skincare routine. It's hard to find an exact product that he uses but the Feeling Beautiful Cucumber Facial Peel-Off Mask ($4.29) comes close to it. It's quite popular among college students actually because it is affordable, but also a super-cooling (which means it's minty), skin-quenching mask that gently peels away impurities that can cause the skin to be rough and dull. It contains Cucumber Extract and Aloe (which I will count as herbs) to soothe while moisturizing, ensuring skin feels soft and silky-smooth after every use. Plus, it also contains Vitamin A which has exfoliating benefit.
4. Opt for products with little alcohol or no alcohol at all
"I always use an after shave lotion with little or no alcohol, because alcohol dries your face out and makes you look older."
Bateman makes a good point on the alcohol. Especially that he uses a deep cleansing facial wash and exfoliates twice which can be really drying to the face. And to the women who are reading this, just because we don't use an after-shave it doesn't mean we're safe from alcohol products. Most toners contain alcohol, so make sure to check the ingredients before buying.
The most popular alcohol-free toners are Son & Park Beauty Water and Klairs Supple Preparation Toner which are both very hydrating, moisturizing, and more importantly, alcohol-free.
5. Moisturize, Moisturize, Moisturize!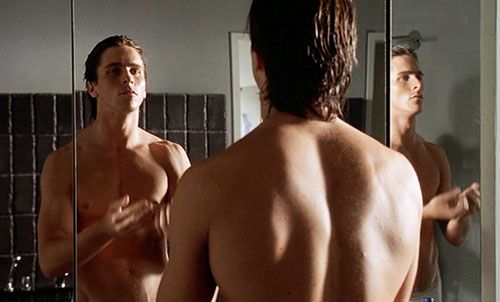 "Then moisturizer, then an anti-aging eye balm followed by a final moisturizing protective lotion."
I think I cannot stress enough how important moisturizing daily, because it will seal in all the beauty products you just used in your skin while helping to make it keep looking young. Patrick Bateman certainly does know that because he uses two different kinds of moisturizer. He makes an effort to use an eye cream too because under eyes need a different formula than your entire face, like your face, needs a different moisturizer than your body.
My personal favorite which also has a cult following is the Belif True Cream Aquabomb which is highly moisturizing and hydrating without the sticky and heavy feeling. While for the eyes, the Innisfree Green Tea Seed Eye Cream is also popular because it is also highly moisturizing without the sticky and heavy feeling. If you could notice, non-sticky and lightweight creams are highly recommended.
Shop the Post!

What do you think of the Patrick Bateman Skin Care Routine? Do you have a rigorous routine like him? Share your thoughts below!
**This post was originally published last April 14, 2015 but was updated last June 25, 2018.