Someone said, "If your pores are large it will stay large, if it is small it will stay small, it is what it is" in one of the many beauty forums (I forgot which one) I joined. Which I find hard to believe because based on my research, it is true we cannot get rid of large pores like how a spot treatment vanishes an acne. Pore products work only to minimize it, NOT to completely get rid of our pores because it's really a part of our skin. As another commenter in the same thread pointed out, "I certainly did not have large hell pores when I was born" she claimed that she only noticed it when she started getting acne. I swear, it wasn't me on that thread, although she does sound a lot like me and the fact I also started noticing my pores are getting larger too after I cleared up my acne. So yeah, I'm one of those people who believe we can minimize our large pores with proper care. And this is where I segue this latest CosRx Two In One Poreless Power Liquid review.
It's a new product that will have it's global launch this week, starting in the Philippines on April 7. Yes, it's not even available in South Korea yet! We Filipinos will get first dibs on this K-beauty product from CosRx before anyone else. So is it worth trying? Well, I received my sample a week ago from The Skincare Curator, but I just started using it last Monday after I got back from my vacation during the Holy Week. However, I can already give you insights into this latest CosRx product now. (PSST! Update already posted below.)
MY THOUGHTS
CosRx Two In One Poreless Power Liquid made my skin look smoother and the pores in some areas of my face look like they shrunk. It's not a placebo effect at all!
PROS
It does not sting and safe to use with other actives like AHA, BHA, and PHA.
It absorbs well into the skin and didn't irritate my sensitive skin.
Oil-control
No purging.
Deep cleanses your pores.
CONS
As for the pore minimizing, don't expect a significant result.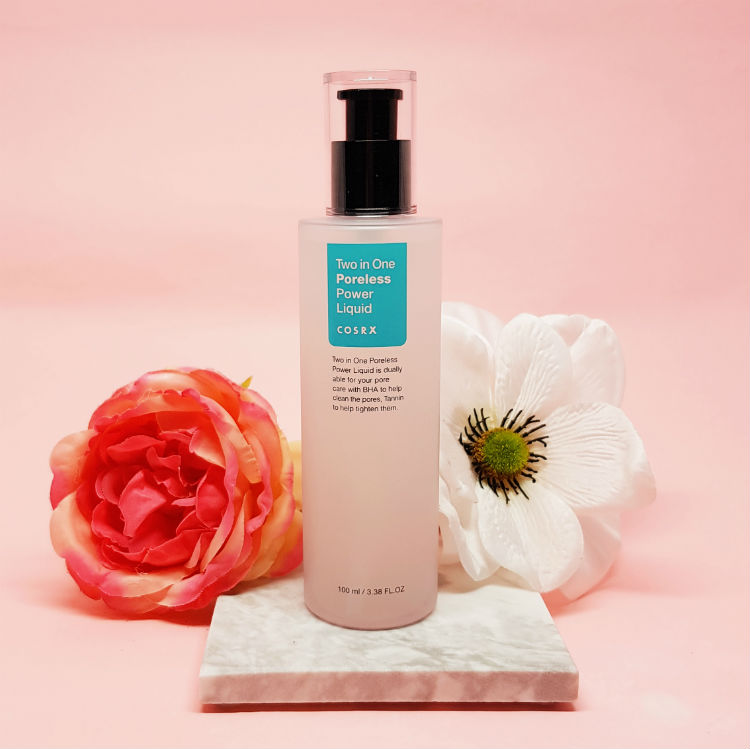 WHAT IS IT?
CosRx Two In One Poreless Power Liquid is an oil-fighting liquid that claims to clear congested pores and tightens their circumference. It promises to deliver smoother skin and diminished pore size with consistent use. This also helps to cool down skin temperature and tames excessive oil production. And most importantly, it's gentle enough to be used with other AHA or BHA products.
INGREDIENTS
It contains 0.1% BHA to clear out congestion and deep-seated dirt. It's also rich in tannin to tighten enlarged pores and features 88% willow bark extract to fight acne and kill bacteria. The 0.1% BHA here is a betaine salicylate NOT a salicylic acid which is more common. It is derived from sugar beets, and is sometimes used as an alternative to the exfoliating ingredient salicylic acid in countries where the use of salicylic acid is prohibited or the amount permitted is severely restricted. That is why I think the reason CosRx created this product is that South Korea recently put a limit on how much Salicylic Acid should be put in beauty products.
You can read more about its ingredients analysis in Skin Carisma. And if your curious how this is compared to another best-selling CosRx Blackhead Power liquid, here's a side by side comparison.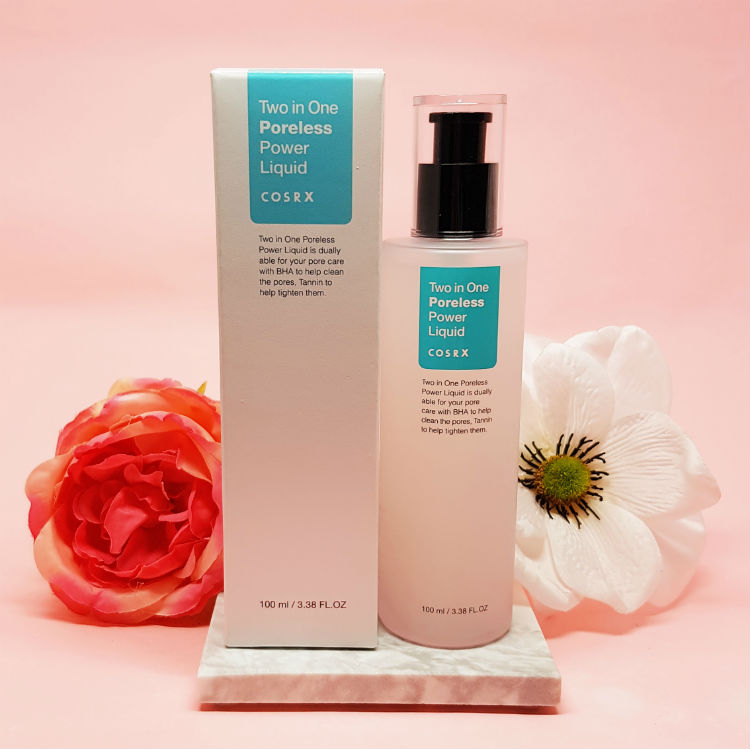 PERFORMANCE
APPLICATION: I apply this on my face after cleansing followed by a toner that will balance my skin's pH level. I dispense 2 pumps into my hand and pat onto the skin, avoiding the eyes and lips area. But take note, I learned that people with an allergy to aspirin will react poorly to the betaine salicylate.
Another way to use the Two In One Poreless Power Liquid is by toner masking. Because it is super mild, it is safe to leave on to your face for 5 minutes.
SCENT: I think this is supposed to be unscented, but I still detect a mild chemical scent in it just like in the CosRx AHA 7 Whitehead Power Liquid.
PACKAGING: It is packaged just like those other Power Liquids from CosRx, white box with a minimal label (this time with a teal label) and a sturdy plastic pump bottle.
FORMULA: Just like the other CosRx Power Liquids, this one also has a clear liquid formula that is a little bit thicker. It absorbs quickly into the skin and does not sting. Update 5/25/2018: I still discover new things about this product. I've read other reviews that it is cooling, which honestly I didn't felt until recently when I tried using the Two In One Poreless Power Liquid for toner masking. It really does have a cooling effect which helps to control oil and tightens the pores. I think I didn't felt it before because I was just applying 2 pumps.
RESULT: As of posting this review, I'm using this product for a total of four days only. (Psst! Update already posted below!) But so far, so good. I didn't have any allergic reaction, no purging, it does not sting, absorbs well into my skin so it does not leave a sticky or heavy feeling. Lastly, it does really control the oil in my skin that is why I like to use this in the morning too. Actually, whenever I wake the next morning, I feel my skin really soft and look smoother (or that's just a placebo effect, but we'll see!). This is really a promising product, I will update this post on April 16, 2018, to see if this really improved (or not) the appearance of my pores.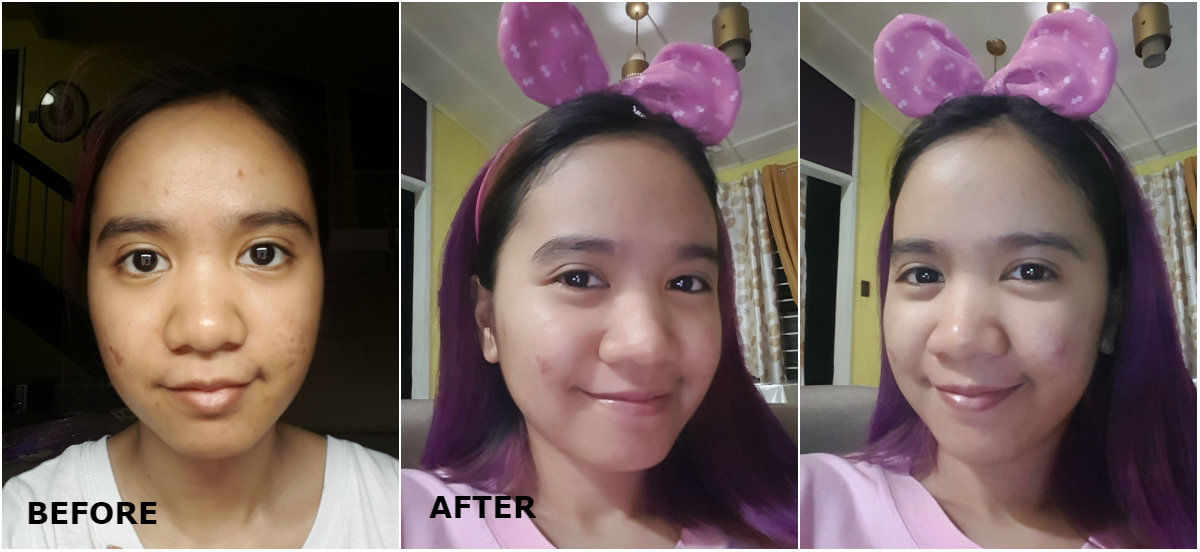 UPDATE 04/16/2018
So after 2 weeks of using the CosRx Two In One Poreless Power Liquid, I could say that it really made my skin look smoother and the pores in some areas of my face look like they shrunk. It's not placebo effect at all! As you could see in my photos above, 1) I look obnoxious with that ribbon headband; 2) I need to invest in a better camera that could really zoom into my pores to prove my observations; and 3) despite that, you could see a little difference in my skin texture.
I'm not wearing any makeup on both photos and wasn't using any filters, although it has different lighting condition, but if you could notice my skin in the after photos looks smoother. The little bumps on my chin were gone and the rough texture on my forehead vanished as well. My cheeks look smoother in the photos as well, but to be honest it needs more time because it's in those areas where my pores still look bigger in real life. Although the rest of my face, including my nose, there were really good results. Actually, I have little bumps on the sides of my nose as well, but they vanished too and completely free of blackheads! Take note, I'm not the kind of person who has severe blackhead problems, but I get them too and for two weeks I haven't encountered them yet, even whiteheads. So I guess the BHA in this Two In One Poreless Power Liquid really works in cleansing my congested pores.
And do NOT expect that this will make you 100% look poreless. It only tightens your pores to make it look like it was minimized, it does not create skin miracles.
Although it contains "Salix Alba (Willow) Bark Water" and "Betaine Salicylate" which are acne-fighting ingredients, I didn't find the Two in One Poreless Power Liquid can actually heal acne, especially cystic ones. You will need a different product for those. And this product doesn't promise that anyway.
Another thing to take note, my pores got bigger after my nasty acne breakout but it's not the worst case scenario or ice-pick big. In a way, it's still less noticeable than most people who say their "pores are large", but when you look at me closer, you'll definitely see them. What I'm trying to say is, I'm not sure how this would work on ice-pick kind of pores. And if you use this, do NOT expect that this will make you 100% look poreless. It only minimizes, not create skin miracles.
UPDATE 5/25/2018
Yes, another update after a month of the previous update. I used the Two In One Poreless Power Liquid last night for toner masking since I saw it in the stories of CosRX official Instagram that you can use it for that. I leave it on for 5 minutes and felt a cooling sensation that feels so relaxing. After that my skin feels so smooth and looks plumper, I woke up the next day and my skin still looks like that. And it's already been over 12 hours and skin still looks smoother, plumper, less oily, and a little bit brighter. I highly recommend toner masking the Two in One Poreless Power Liquid if you have a big event the next day.
For those with dry skin, you may want to read Musing's of A Muse review: CosRX Two in One Poreless Power Liquid As Used by A Dry Skinned Girl.
WHERE TO BUY?
What do you think of this CosRx Two In One Poreless Power Liquid review? Have you tried any CosRx products? Share your thoughts in the comment section below.
**I received the product mentioned above for free in the hope that I would mention it on my blog. Regardless, I only recommend products I use personally and believe will be good for my readers. All thoughts and opinions are my own and not influenced by the brand or its affiliates.