Contrary to popular belief "Toner Mask" is not a new skincare hack and it didn't really start by the Koreans, although it is now getting a lot more attention because of the growing popularity of Korean skincare worldwide. In fact, Japanese women are already doing this for decades. And it was already introduced in the west specifically in the US around ten years ago by Chizu Saeki, a Japanese beauty guru, who published a book about Japanese skincare.
So What is Toner Mask?
If this is your first time hearing about this, Toner Mask is the method of soaking two to three cotton pads into your fave toner or essence or both, and then stick them to your face like a mask (as shown by Jessica Jung in the photo above) for three-five minutes. It's the quickest, easiest way to hydrate, calm, and even out skin in under five minutes, instead of applying seven layers of skincare products.
What Do You Need to Toner Mask?
First, you need cotton pads, preferably something square or rectangular. Or if you really want to cover your whole face like those sheet masks, you can buy a compressed face mask which you could soak with any toners you want.
And then pick a hydrating product. You can choose not only a toner but also a facial mist or a watery essence, depending on how much product you're willing to dispense and what you have on hand. I suggest choosing a product your skin is already familiar with and loves, so you can avoid any irritation that may cause a breakout.
Lastly, stay away from products with alcohol or astringents, as these will dry out your skin. And also avoid using a product with actives such as acids like AHA BHA, and Vitamin C because this will also dry you out or hurt your skin. I mentioned in another post that Innisfree created Clinic Masks Sheets which contains those ingredients, but it has low concentrations. So if you really want to use acids and actives, proceed with caution.
Personally, these are the products I use and recommend:
How do you Toner Mask?
After double cleansing, the skin is ready for toner mask. Soaked a cotton pad with the prefered hydrating product. In the video below I'm using Natural Pacific Real Calendula Energy Toner that really helps in healing my acne. You need the cotton pad to be thoroughly wet it so that it will easily stick to your face without dripping everywhere or falling off. If you don't wet it enough, the cotton pad might be abrasive on your skin and it will dry out faster, failing to thoroughly hydrate your skin.
Once you soak the cotton pad, place it on the parts of your face you want to hydrate and calm. I use mine on my forehead and both of my cheeks but I stay away in my undereye area.
How Long Should You Leave it on?
How long you should leave it on for depends on the product and the cotton pads you're using, but generally, around three to five minutes should be more than enough. Don't wait until the cotton pad completely dries up on your face; doing this actually dries out your skin.
So after a few minutes, check the moisture level and the temperature of the cotton pad once in a while by gently touching it. If you can tell the cotton pad is starting to dry out a little and feels lukewarm to the touch, it's time to throw it out.
If there's any leftover product on your skin, gently tap your skin to help it absorb the product. You can then follow the rest of your skincare routine. Below is me doing the toner mask, and I leave it on for 5 minutes.
Frequently Asked Questions
FAQ: What does it do?
A: Toner masking instantly hydrates and brightens your skin. It's a great quick fix for dry, dehydrated or inflamed skin. It also doesn't leave behind crazy residue, which makes it easy to apply makeup on top, and convenient for when you need to do other tasks while getting ready. That's why Jessica of Girls Generation do it too. Plus, your skin will absorb more the hydrating toner.
FAQ: How often should you toner mask?
A: Just like using a sheet mask, do it only once or twice a week. But you can also toner mask when your skin needs an extra boost of glow or moisture, like before a big event or plane travel.
FAQ: Does it really improve your skin?
A: In my opinion, yes it does. But I think it also depends on the product you use, and by doing toner mask, it enhances the effectiveness of your product. It instantly gives me hydration after a night out with my friends, especially now that it is cold that even an oily skin type like me gets a little dry on my cheeks. Below is my Before & After photo with 2 weeks of toner mask. It also plumps the skin really well.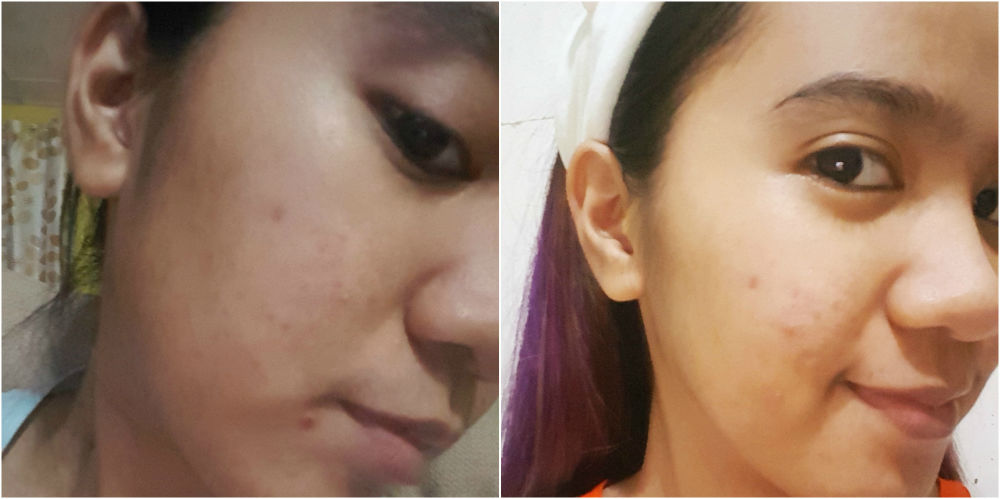 FAQ: How is toner masking different from sheet masking?
A: Sheet masking has its advantages, but toner masking is a more convenient way to boost your skin's hydration if you're short on time, out of sheet masks, or if you're looking to target specific areas instead of hydrating your entire face. Toner mask is also a better way to prep your skin for makeup. Just watch Jessica (former member of Girls Generation) do her makeup in the video below:
What do you think of Toner Mask? Did you try it already or you will try it now? Share your thoughts below!