Whenever I end up in a Korean store, I always find myself with odd beauty products from a pearl powder (which I will discuss in another post), to a pack of tablets that looks like candies, but it turns out to be compressed sheet masks! Yes, you read that right, those little packets you see in the photo above are sheet masks. Curious? Then keep reading this Mumuso Compressed Face Mask review.
(UPDATE: 6/1/2018: Mumuso is NOT Korean. They're a Chinese store branding as Korean. That explains why some of their packaging resembles some of the best selling K-beauty products.)
WHAT IS IT?
Mumuso Compressed Face Mask looks like tablets but when soaked in liquid it expands into a face mask that will fit any face shape. It's great for toner masking and making your own sheet mask using your favorite essence or serum.
How to Use?
Pour toner or essence into the plastic container after thoroughly cleansing the face. You can also put drops of your favorite serum for a truly DIY sheet mask. Put the compressed mask into the container for complete absorption. And apply the mask for 10-15 minutes, just like some ready-to-use sheet masks. Preferable use something hydrating because you'll apply it on your face for five minutes or more, and something watery because the compressed mask will expand easier.
MATERIAL: Viscose Fabric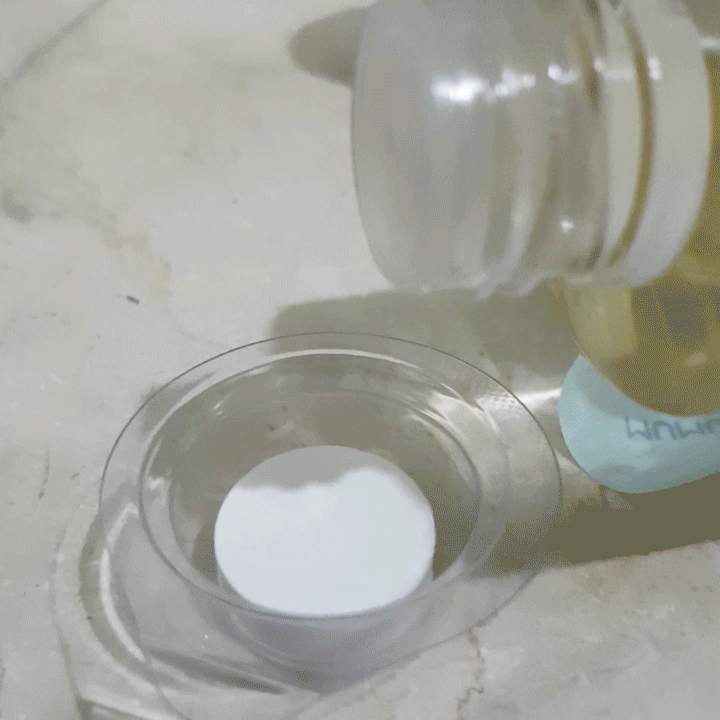 PERFORMANCE
PACKAGING: I love the packaging of Mumuso Compressed Face Mask because, besides the rounded plastic jar that holds all the products, the tablets are individually packaged in a small plastic container which you could use to fill up with a toner or essence. No need to look for another container to soak the tablets, and you'll know they're hygienic because it is sealed. If you worry about it'll have too much trash, you can always recycle the little containers. I use mine for watercolors.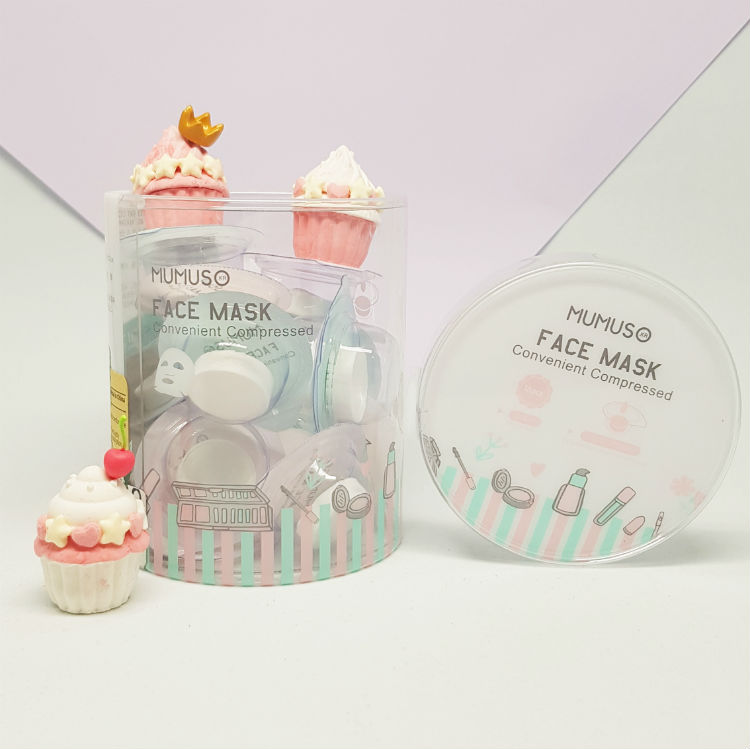 RESULT: The compressed sheet mask expands the moment you soaked it on the toner or essence. But it will not spread out as a mask on its own. You have to peel it open once it expanded. The face mask does not tear off easily, and it really does soak up all the liquid. No drop will be left in the container, it's completely dry!
And if you're worried if it will break you out, well, I think it depends on the toner or essence you will use and how you poured it into the container. I have sensitive skin, so I only used products that I already trust that will not break me out. Plus, I made sure my hands and my face are clean when I do my DIY sheet mask.
What Toner & Essence You Could Use with Mumuso Compressed Face Mask?
You can actually use any toners and essence you want but I highly suggest something watery for the tablet to expand. And preferably use something hydrating rather than with actives and acids like AHA, BHA or Vitamin C. I know Innisfree created Clinic Masks Sheets which contains those ingredients, but it has a low concentration. So if you really want to use acids and actives, proceed with caution. Personally, I use Natural Pacific Real Calendula Energy Toner and sometimes I also add a few drops of Klairs Midnight Blue Youth Activating Drop. But below are other suggestions from Reddit:

But you don't need to always use a toner or essence, you can also make your own sheet mask using rice water, brewed green tea, oatmeal water, and even freshly squeezed juice like lemon.
VERDICT
PROS: It's affordable, you can create any sheet mask you want using the ingredients you want, it absorbs all the liquid, hygienic and easy to use because each tablet has little containers.
CONS: If your toner or essence is thick you will need to dissolve them using water or another watery beauty product. Or a water from a raw ingredient.
WHERE TO BUY?
You can buy Mumuso Compressed Face Mask in all Mumuso branches nationwide for only Php99 (US$2) per jar which contains 20 tablets. Check out this page to know where is the nearest Mumuso in your place. But you can actually buy compressed tablets like this in other Korean stores but some are pack in plastic, unlike this one I got.
If you live in the US, you can buy the same compressed tablets, but a little different on the packaging in Amazon for $8.
What do you think of Mumuso Compressed Face Mask? Would you like to try it? Share your thoughts below!