Are you wondering where you can buy official BTS merch or how can you join the official fan club of BTS? Perhaps you already know but you don't know how to order in Weverse Shop if you live in the Philippines. Well, here's good news, THERE IS A WAY! Scroll down below for the guide. PLEASE READ THIS ARTICLE THOROUGHLY.
But first, what is Weverse?
Weverse is an app for fans developed by BigHit (BTS' agency). Available on both iTunes and Google Play, you can buy your favorite artists' official merchandise or join their official fan clubs through their app, and all items you order will be shipped from South Korea to your address. Artists in their lineup are BTS, CL, Seventeen, GFRIEND, Tomorrow x Together, and more.
You may also want to read:
UPDATE: Weverse direct shipping to the Philippines is back! They use DHL and the shipping fee minimum is $40. But if the item is huge or you added more items to your cart and the shipping fee increases. But not all items in the Weverse Global Shop can be shipped to the Philippines tho. That's why I still use a forwarder.
So how to order in Weverse if you live in the Philippines?
The answer is, get a forwarder. And there are 2 forwarders that I recommend: ShippingCart and BuyAndShip which I have a tutorial on below. But if you want to use ShippingCart, read this post instead.
If you opt for Buy and Ship you can use my referral code: 4408560997 to get a discount. If you use my referral code, you'll get 10 credits to your BnS account, and also me.
NOTE: I also made a video on how to order in Weverse Shop, you can watch it here.
To shop in Weverse, all you have to do is:
Download the Weverse App and register to the shop. Make sure to choose the "Global" page.
In your browser, go to Buy and Ship and register. Or download the BnS app if you want.
And then back to the Weverse App, set your default address. Copy the South Korea address and username that Buy And Ship provided to you. (Make sure to always include the username or else they'll have a hard time sorting your parcel.)
This is where it'll get a little complicated. The Weverse app requires you to input your South Korean address in Korean characters and search the street name instead of just typing/pasting your whole shipping address. So to search for the correct street name, you have to copy Buy And Ship's address from the start till the "400" as seen in the photo below. And then look for the address with the postal code "4572" from the dropdown (as shown in the photo below).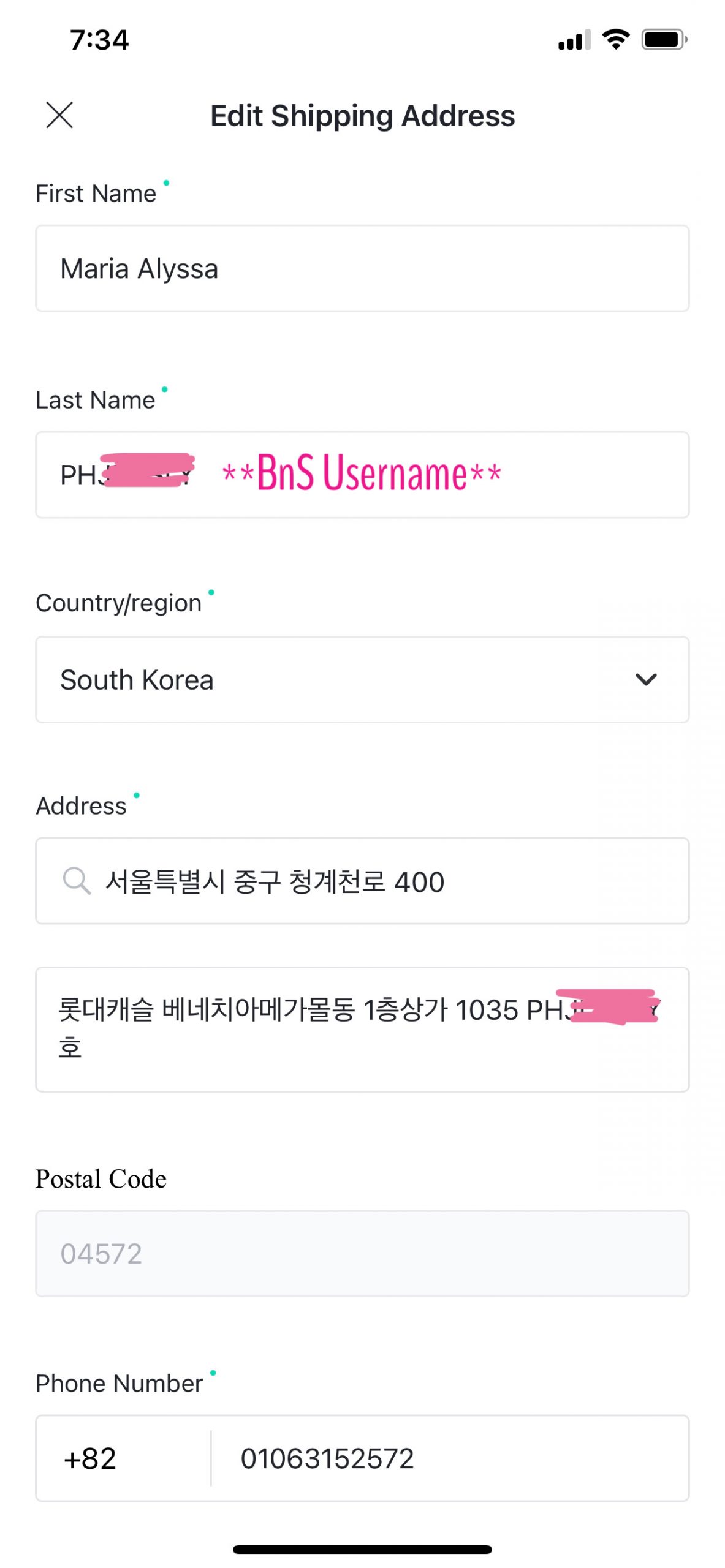 And then on the Second line of the address in the Weverse app, just copy and paste the remaining address after 400.
For the receiver name, use your first name but for your last name, use the BnS username instead, as instructed from your BnS account.
For the phone number, also use the one provided by BnS.
You can shop in Weverse in US Dollars or Korean Won, but if you're going to use a Philippine-issued card, use Eximbay and KRW currency because the conversion rate is a little cheaper compared to USD and PayPal.
And then start shopping at Weverse! To learn how Buy And Ship will ship your package to the Philippines, please refer to their Tutorial Page here. You can also join their Facebook Group, a lot of ARMY are in there sharing tips and experiences.
When Weverse Shop finally shipped your order, don't forget to declare it to BnS for faster processing.
NOTE:
Weverse only accepts payment thru Credit and Debit Card via Eximbay, GrabPay, or PayPal. While BuyAndShip only accepts Credit and Debit Card for payments. If you don't have those, you can avail of the assistance service of Aling Noona, you can check their Instagram as well or BringingSeoulPH.
FAQ
Q: WHAT SHOULD I PUT IN THE CUSTOMER INFORMATION?
A: In that area, you can use your real/legal name and your own phone number. That's what I always do in all my Weverse orders.
Q: HOW MUCH ARE BUYANDSHIP FEES?
A: BNS price starts at Php620 for the first lbs, and 380 for each additional pound for DDU. While it's Php620 for every pound in DDP.
Q: WHAT ARE DDU & DDP?
A: DDU means Delivered Duty Unpaid, choose this if your orders are below Php10,000. While choosing DDP which means Delivered Duty Paid if it is over Php10,000 so you don't have to pay for customs tax when BnS deliver your shipment.
Q: HOW TO DECLARE SHIPMENT IN BUY AND SHIP?
A: Before you declare your shipment, make sure you know your order/s prices in KRW. You may use the Google Converter here. Also, Weverse Shop usually uses CJ courier to ship orders. And then you may follow these steps:
From the email sent by your retailer, you can find all the information you needed for the declaration, such as the Shipping Carrier and the Tracking Number of your goods;
Once you get the above-mentioned information, please declare your parcel immediately at "Parcel Management";
When your package reaches our overseas warehouse, it will be checked in within 2 working days. If not, contact BuyAndShip.
For a Step By Step on How to Declare Your Shipments, please click here on the link.
For more information, visit Buy And Ship FAQ page here.
If you have questions, don't hesitate to DM me on Instagram, and follow me too if you like. BUT FIRST, PLEASE READ THIS ARTICLE FROM START TO FINISH. Because I already wrote all information you needed to know. I often get questions on Instagram that are already written here (^^_')