One of the many hobbies of a Kpop stan is collecting photo cards of their ult groups. We put it in a binder to keep them safe. However, some binder sleeves are made of PVC which can damage the prints of our precious Kpop photocard collection. So just like any trading card collectors, we use card sleeves to protect them. But if you're new to collecting or you cannot find a store that sells the exact sizes of sleeves you need, below is my list of where to buy Kpop photocard sleeves in the Philippines.
If you're also looking for a binder, check this post, Where to Buy Cute Kpop Photocard Binders?
Where to Buy Kpop Photocard Sleeves?
1. NCAT – This local shop is popular among kpop fans, besides albums and Korean accessories, they now sell the popular Popcorn sleeves to protect your photocards.
2. GAMING LIBRARY – This is my go-to shop for Sultan Premium Sleeves. This shop offers many sizes from 56 x 87mm (the standard size for kpop photocards) to 80 x 80mm. And compared to all the shops in this list, they sell the cheapest prices.
3. GEEK BOX PH – This store is a favorite among Kpop stans and trading card collectors alike. They sell Mayday Premium Sleeves and Sleeve Kings which are both preferred by many collectors.
4. KGOODS MARKET – If you're looking for the famous Popcorn Sleeves, this is Korean-based seller is my go-to shop. They have all the sizes from hard to soft versions and best of all, they ship fast.
5. MEKUYA HOBBIES & STATIONARY – Sultan Premium Sleeves is actually an Indonesian brand, which is why this Indonesian-based Shopee seller has all the sizes of the brand available in their store. This is my go-to store whenever the sleeves I want are sold out in those two stores I mentioned above.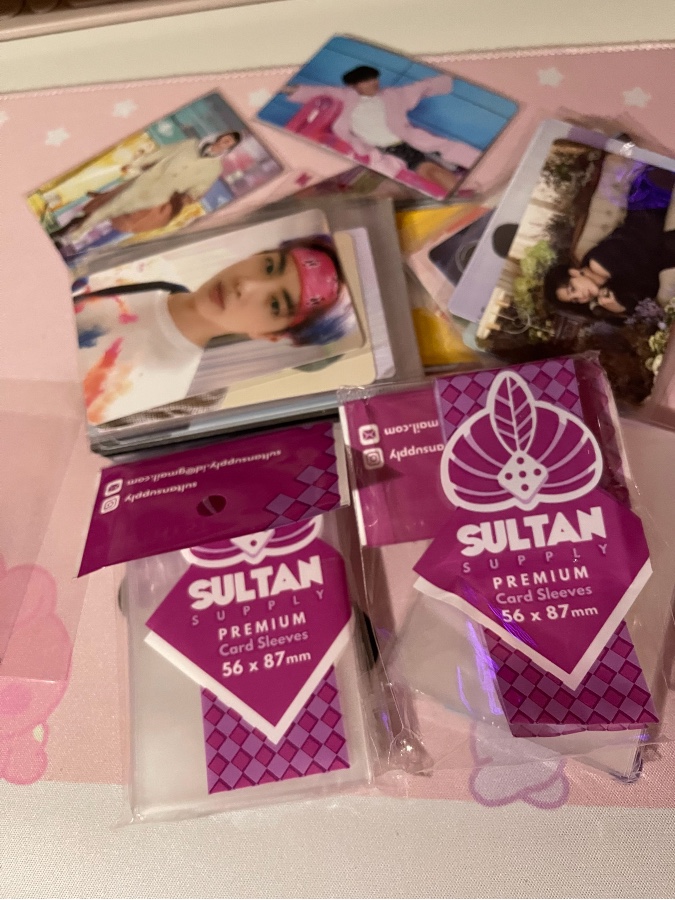 6. TOKOBOARDGAME.PH – Another Indonesian-based Shopee seller, but this one sells Mayday Premium Sleeves and Sleeve Kings.
7. WITH HANNA – A Korean-based Shopee seller, Hanna is a kpop stan that sells kpop merch. She only sells cute holographic sleeves though. But she also has those cute Sanrio photocard holder keyrings and binders and recently, she started selling the hard-to-find BT21 photocard holders.
8. DERNIER CRI SHOP – This Lazada shop sells a lot of different UltraPro sleeves from clear to colored sleeves and even binder and binder pockets. They even have deck boxes if you prefer keeping your collection in those. And of course, UltraPro magnetic cases.
9. THE HUB COLLECTIBLES – This one is based in the Philippines like Gaming Library and Geek Box PH. They sell UltraPro from sleeves, binder pockets, to magnetic cases. They specialize and sell NBA trading cards tho but the sizes are almost the same as Kpop photocards.
FAQ: Do you double sleeve?
A: Yes, I do. I use popcorn sleeves 56 x 87mm and 57.5 x 89 mm sleeves to double sleeve. That way my photocards are selaed and safe from dusts or water that can damage it.
So far these are the shops I know where to buy Kpop photocard sleeves in the Philippines. If I find more, I'll update this list.