This product has been around for years, in the Philippines alone, the store Healthy Options has been selling this for years but many people are just ignoring it. But recently, for some reason, it becomes viral somewhere on the internet and the demand gone way up high! And the stock, at least around Asia, became limited. Even my cousin and friends asked me about this product A LOT, so of course, I have to write an Aztec Secret Indian Healing Clay review.
And for those people bashing those who are desperate to get this product, is it a crime wanting to have clearer skin? Because who doesn't want to be free of acne?
MY THOUGHTS
Aztec Secret Indian Healing Clay didn't really make any significant change in my skin. Even dermatologists I talked to claimed there aren't really enough proof that bentonite clay is effective, but it is surely irritating for many.
PROS
It does what it promises, deep pore cleaning.
You can customize your own mask using this.
CONS
This can irritate the skin especially those with sensitive skin.
It dries your skin.
WHAT IS IT?
Aztec Secret Indian Healing Clay claims to be the "World's Most Powerful Facial" if this is a person, I'll think it's egotistical. It provides deep pore cleaning using a 100% natural calcium bentonite clay, seriously, that is the only ingredient of this product. It does not contain additives, fragrances, and animal products. Just check its CosDNA Analysis.
PERFORMANCE
APPLICATION: In a bowl, mix equal parts Aztec Secret Indian Healing Clay and water, or you could use Apple Cider Vinegar. The ACV is an acid that works like Witch Hazel which is a common ingredient in many toners. In fact, you can actually use a Witch Hazel too instead of ACV. Also, take note to NEVER use anything metal when mixing this product, or it will affect the product since a metal will give this some chemical reaction. Here's what I use: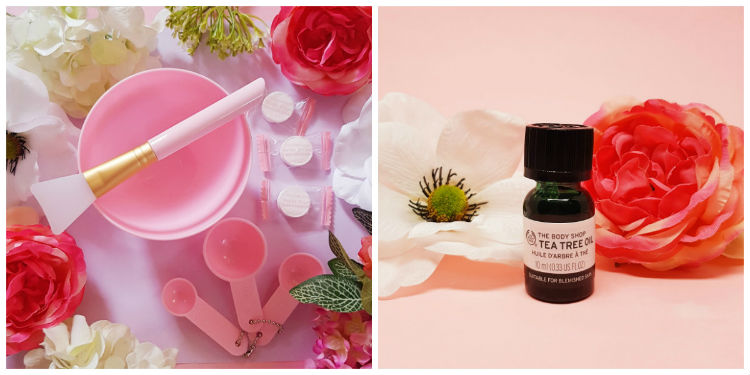 The plastic bowl, measuring spoon and silicon brush comes in one set which includes a compressed sheet mask. I bought it from Mumuso for Php149 only (around $3). Unlike other clay masks in the market like the Fresh Umbrian Clay Purifying Mask and the cult fave Innisfree Super Volcanic Clay Mask, the Aztec Secret Indian Healing Clay is in powder form and you can actually customize it by mixing with other products that will help your skin conditions like charcoal powder, oatmeal, manuka honey, kaolin clay, rosehip seed oil, and other stuff that I'll discuss in another post. Personally, I prefer to mix it with only water and five drops of The Body Shop Tea Tree Oil because the later has been effective for me in the past in reducing my blemishes and flatenning my pimples.
In mixing, I get one scoop of the Indian Healing Clay using my medium measuring spoon and add equal past water. I keep adding a little water while stirring if needed until I get a paste-like texture and then I add the 5 drops of Tea Tree Oil. I thought of using my LJH Tea Tree 90 Essence at first, which does not contain an alcohol unlike the one from TBS but most people recommend it so I tried it first. A scoop of the medium size measuring spoon actually goes a long way! So this pound of Indian Healing Clay will really last me a long time.
Once I get the right consistency, I apply an adequate amount on my face using a brush. It says on the label that you can leave it for 10-15 minutes but if you have sensitive skin, do not leave it on skin longer than 5-10 minutes; this will prevent redness/drying. It will also harden on your face after a few minutes so removing it really requires warm water. But if you live in the Philippines, I know the majority of us do not have heaters on our sink, my trick for this is I use a cleansing oil or balm (I prefer the Heimish All Clean Balm) after washing it off with water to thoroughly remove the remaining clay and the green stain. Then, finish it off with a low-ph moisturizing cleanser (I prefer the Hada Labo Goku-jyun Facial Foam Cleanser). I learned about this from Reddit's Skincare Addiction.
TIP: I learned from some people that you should spray a hydrating facial mist on your face while the Aztec Secret Indian Healing Clay is on your face. That way it will be kept moist and easier to remove and the clay will not take moisture off from your skin. It's the same logic with sheet masks.
SCENT: The clay alone does not have a noticeable scent. If you add ACV then it will smell like it, and if you use Tea Tree Oil then it'll have its minty scent.
PACKAGING: It only comes with a sealed plastic jar, and nothing else.You can actually buy this in 1lb and 2lbs jars.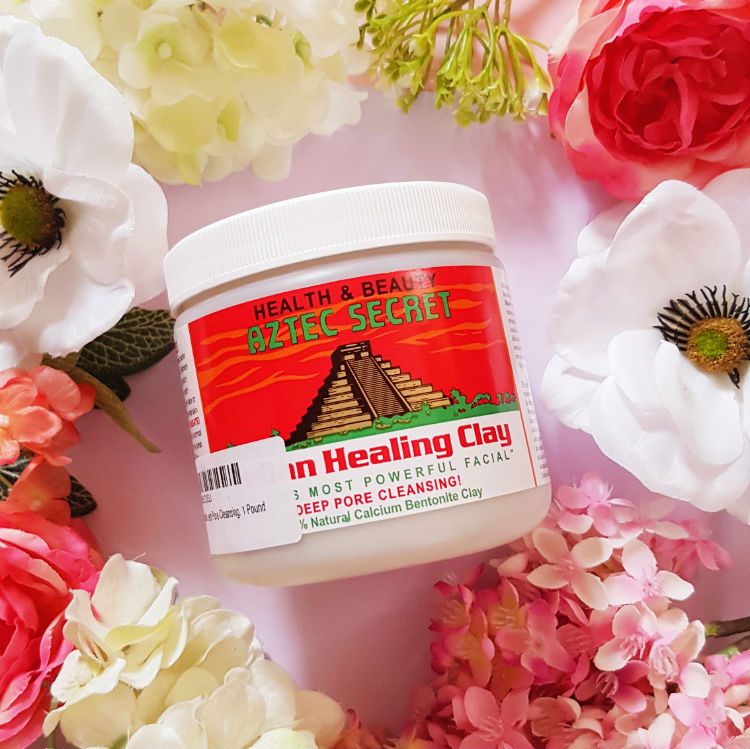 MY EXPERIENCE
After washing this off, you'll notice slight redness of the skin. Don't be alarm because it is normal and will disappear in about 30 minutes after use. Despite that, I HIGHLY RECOMMEND on patch testing this first with the other products you're planning to mix with this before applying it all over your face. I did a patch test on my lower chin first, and then check the condition of my skin after 24 hours of washing it off. Since I didn't get itchy and the redness didn't stay, I figure I'm not allergic to it.
On my first try, my face has gone red but I did not experience any purging unlike most people probably because I had a facial a week before. On my second try, I noticed a few bumps appeared like whiteheads and closed comedones on my chin area. And one whitehead on the side of my nose. Honestly, it annoyed me but it has to happen.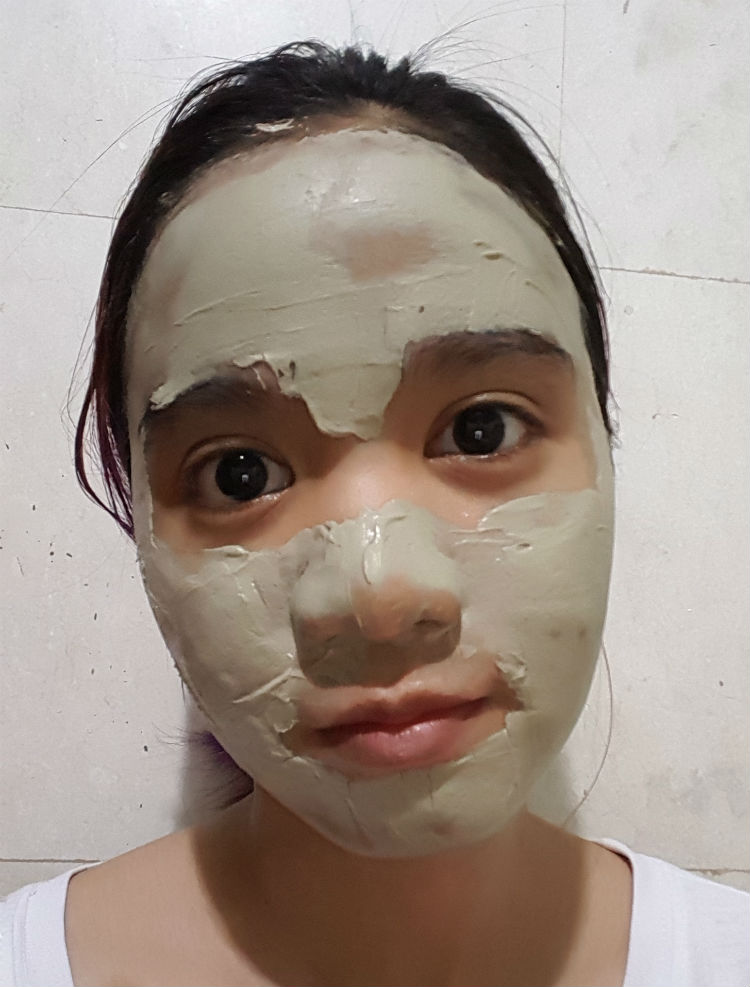 So far I only used this clay twice, because I decided to use this every 2 weeks instead of weekly. After each mask, I proceed with my regular nightly routine. Overall, it didn't really make any significant change in my skin. This mask only claims to provide deep pore cleansing, and other users said it does by resurfacing the acne under your skin which some people call purging. Although my skin feels really smooth and soft after using this sans the double cleansing and the nightly routine. Although I'm not sure how it works with blackheads since my facialist declared I no longer have those before even using this product. (It was because of Benton Aloe BHA Skin Toner just in case you're wondering.)
This is not a miracle clay mask contrary to what most people claim.
Do I think it is worth calling the world's most powerful facial? Not really. Because there are many products on the market that does the same job. And I'm not interested in repurchasing this either because I prefer chemical exfoliators, it's really hard to purchase this in my country, and I'm too lazy for DIY face masks. I prefer those that are ready to use such as The Ordinary AHA 30% + BHA 2% Peeling Solution.
UPDATE July 17, 2018: It did not give me significant results. Just deep cleansing which I could get in other easily accessible clay masks. It dries out my oily skin too, thus drying out the pimples. So I highly suggest using hydrating products after using this. Also, I went to a couple of dermatologists, and both of them mentioned that there aren't really enough proof that Bentonite Clay can truly heal acne or purify pores, and they also mention that it can really be irritating for the skin.
WHERE TO BUY?
I bought my Aztec Secret Clay Mask on Amazon for $8.45.
If you live in the Philippines, you can purchase this in Go Bloom & Glow for Php750. And don't forget to this coupon code MARIM60 to get ₱100 OFF on your entire order (minimum of ₱1000, single-use only).
Or check this list of shops where you can buy this online and locally.
If you have no patience for a waiting list, then I created a FULL LIST of Alternatives to Aztec Secret Indian Healing Clay that you can easily purchase in the Philippines. Because honestly, the Aztec Secret Indian Clay Mask only contains 100% Bentonite Clay so there are many alternatives which I think you can get the exact same results from other brands.
What do you think of my Aztec Secret Indian Healing Clay review? Have you tried using bentonite clay? Share your thoughts below!
*This product may or may not help you. If the pimple persists, you may need to know the type of pimple you have or better, consult a doctor.