Have you ever applied a makeup and looked at your sponge or puff then felt a little sad on those wasted product absorbed by your applicator?
I feel that every time I applied my BB cream using my puff. Some would say "just use your fingers" yes, I could. But it's messy! Not everyone likes makeup on their hands. So when I heard about the silicone sponge, I knew this is the product I've been looking for. But is it? The beauty industry is known for making up stuff that women didn't actually need but they advertise it like it was something been missing in our whole lives. So are these cute transparent makeup applicators worth it, or just a hype? Read my silicone makeup sponge review below to know.
What is it?
When I got my silicone sponge, I asked my family what it was a joke. Just like how those girlfriends asked their boyfriends about beauty blenders that went viral recently. Well, I was really surprised and impressed that my brother knows what it was. But my mom's first guess was hilarious! She said it's a bra insert, and it does look like one. Actually, some people literally used bra inserts as an alternative. While my dad (an engineer) was very technical, he does know what it was just like my brother, but he was also trying to figure out what materials it was made of.
My dad's curiosity made me also wonder if this product is safe to use. What if the stuff inside is leaking while I'm using it, or it was exposed to heat, will I get an allergic reaction? If someone like me who has a semi-sensitive skin gets an allergic reaction to makeup brushes, there's a chance this product might trigger it as well.
Silicone makeup sponges are highly debated in Reddit. One user named Briannasaurusrex92 argued based on her "excessive knowledge of sex toys" that these probably aren't made of silicone. Her intro might be funny but she has a point, she said "Real silicone is almost never crystal clear like that, even in small thicknesses. Transparent, perhaps, but it almost always has a bit of cloudiness to it."
She continued, "I'd be suspicious of the maker/seller until I could get verification that it is, in fact, actual silicone and not YET ANOTHER company jumping on the "people like silicone, let's label our product as silicone even though it isn't" bandwagon."
But according to Molly Cosmetics, the brand that originally started this trend, the inner material is made from silicone and the outer shell is a thermoplastic polyurethane (TPU)—a flexible plastic that's resistant to oil and grease. So for now, I take their word for it.
Performance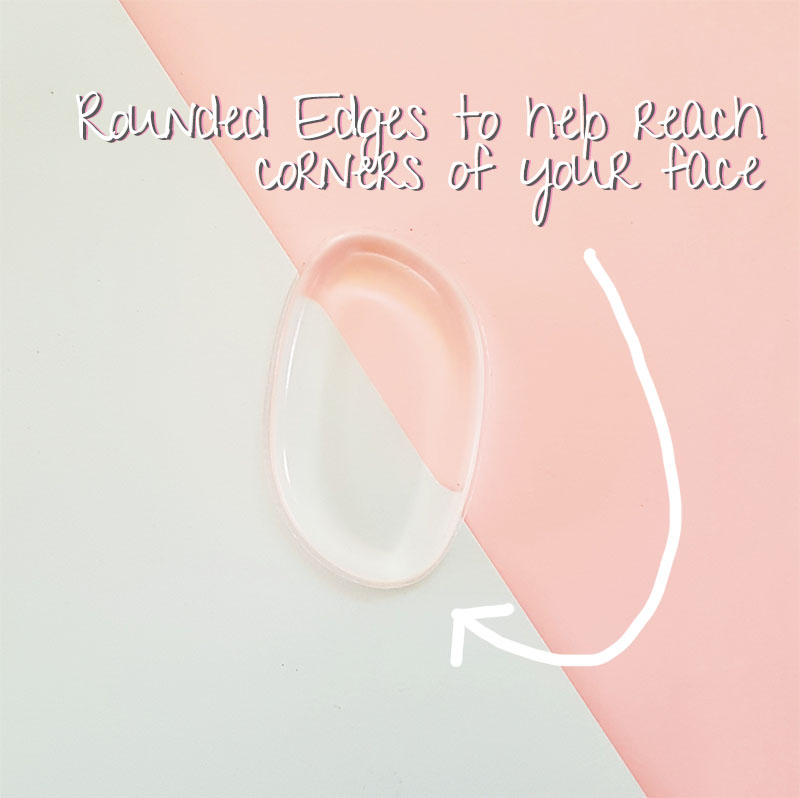 APPLICATION: Silicone Makeup Sponge is thin and flexible. It does not absorb your foundation or any liquid makeup. You can even use this as skincare product applicator like moisturizers. Everything will glide smoothly as you pat it on your face. Some people complain that it doesn't reach the inner corners of the face, but the edges of my RiRe Silicone Mochi Puff is smooth and I could easily apply makeup on the sides of my nose and under my eyes.
But the best part I like, it's very hygienic because you can easily clean it with cleansing wipes or water. And it does not easily crumble or torn, so you'll be able to use it longer than foam sponges applicator.
SMELL: It does not have any smell, just like most makeup applicators.
PACKAGING: I don't know about other silicone sponge brands, but this RiRe Silicone Mochi Puff I bought has its own pouch for safekeeping inside your bag. It's also packaged in plastic with a cute face. Which fooled me, I thought the mini pouch has a design.
RESULTS: I've used all makeup applicators you can think of –brushes, sponge, rubycell puff (those you get in cushion compacts), water puff (Beauty Blender) and now this silicone sponge– but hands down this are the most convenient I've ever used.
PROS: It doesn't absorb your makeup thus any more heartaches from those wasted products. And it's so easy to clean, wipe it with tissues, cleansing wipes, or just water. But the best part, you don't have to wait for it to get dry which takes hours when it comes to foam sponges. You can just dry it with a dry clean cloth and you're done! And it prevents skin breakouts because it's easy to clean so no more leftover residue from old makeup products you previously used.
CONS: It takes time to get used to it because it's slippery, and I've seen people using this then fall off their hand. Another thing that concerns me is that you don't know exactly what's inside the puff. It is highly recommended that you should stop using it when the outer protective layer has been removed. And keep it out of direct sunlight and heat as well. But most especially, keep it out of reach of children 'cause it so squishy they might chew it.
Worth it, or Hype?
Definitely worth it! I know some women hate cleaning their makeup sponges and beauty blender because every time those things get wet it becomes soggy little by little. But with silicone sponges, you can just use even just cleansing wipes. Plus, they don't easily get soggy. However, the precision of sponges like Beauty Blenders is still better than silicones.
Where to Buy?
You can buy a similar silicone puff from Wishtrend and it cost $5.90, It is from the brand called "ALIVELAB" and they offer free shipping worldwide on orders above $69.
The one I featured is RiRe Silicone Mochi Puff, it cost Php220 ($5) in Althea. They ship in the Philippines, Malaysia, Singapore, Indonesia, Thailand, and recently the US and some parts of the world.
You can also buy it from Molly Cosmetics, the brand that started it for $10. They are based in Hong Kong but ships worldwide except in the Philippines. But if you're from the Philippines like me, you can buy from different brands thru BeautyMNL.com
What do you think of this silicone sponge review? Have you tried using it, or you've tried the bra insert alternative instead? Share it below!