Introduction
Every year the month of October arrives, and Halloween will be around the corner. People from all over the world get prepped up in their spooky outfits, and Halloween-colored contact lenses. Each year we like to sport different themes, right? Whether it's like the Vampire from the movie Hotel Transylvania or the Bubble Head Nurses from the movie Silent Hill – there is no shortage of inspirations.
This is why, if you're planning on surprising your friends and family members on this year's Halloween, then you've arrived at the perfect juncture. I've aggregated about five of the best Halloween contact lenses from the house of TTDeye, that I've used and experienced myself – so that you can do the same for you too.
Top 5 Halloween Contacts
1. TTDeye Rick and Morty Colored Contact Lenses
If you're a fan of Rick and Morty and have been watching the show from its inception, then you might be pretty ecstatic about these lenses. Even if you don't know about the show, these lenses alone will make you a fan of the same. One of the best things about these walking dead contacts is that the pupil part is opaque and therefore will provide you with an obscure vision – which might feel weird at first, but you'll get the hang of it slowly. The only thing you need to do is to remain careful when wearing them because of their vision capability. In case you're worried about the safety of these lenses, then do remember that these are certified by the FDA and have been made out of silicone hydrogel materials. Doing so makes the lenses soft and comfortable to wear, and these have a useful life for almost 12 months – which means that you can even wear these after your Halloween party.
2. TTDeye E.T. Blue Colored Contact Lenses
Perfect for both light and dark-eyed individuals, these lenses are inspired by the most excellent alien film of all-time – E.T. or Extra-Terrestrial. These are generally blue colored lenses and will help you bring back the distant memories of your childhood when you used to watch that film. The best feature of these lenses is that they make your eyes look totally natural and the blue color has a fascinating pattern as well. It'll seem that you were born with that eye color and would still provide a mysterious look on your face. Furthermore, these lenses have also been certified by the FDA and have been made with soft materials so that the lenses could be relaxed and comfortable to wear. Apart from that, you can use these lenses for around one year or 12 months, at a maximum and they'll be able to keep your eyes moisturized all day long.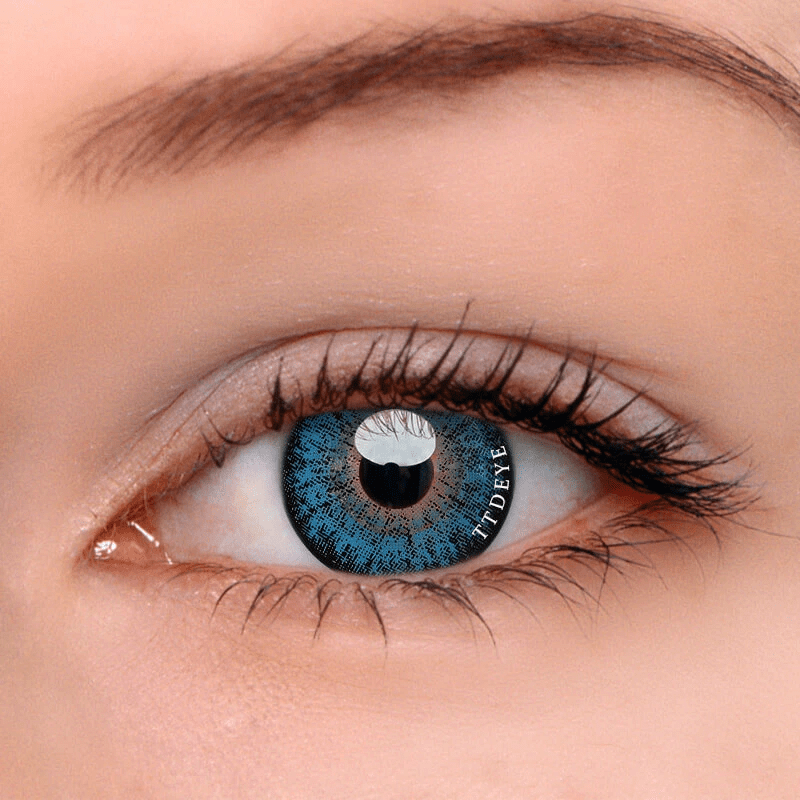 3. TTDeye Twilight Vampire Red Colored Contact Lenses
The movie Twilight and vampires being the most favorite Halloween character amongst most people – has been the de facto theme for many years now. These lenses borough inspiration from both of these and thereby have created the ultimate colored lenses if you want to see yourself being either the male Vampire or the female Vampire. Recommended for both light and dark colored eyes, you can even wear these if you like doing cosplaying or a cosplayer yourself. It's like killing two birds with one stone, right? Aside from that, they look incredibly natural and will be very comfortable when you are wearing them for more extended periods. The lenses also create a multidimensional look in your eyes, and anyone will be able to use these lenses regardless of their skin complexion. As per usual, these lenses have been certified by the FDA and have 12 months of useful life.

Read More at Halloween Games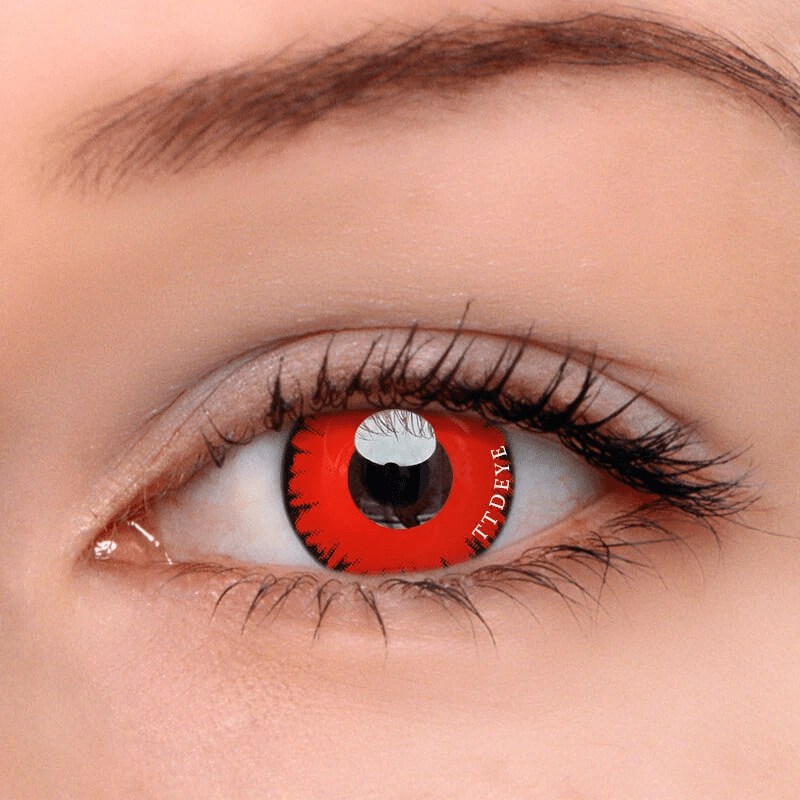 4. TTDeye Falling in Love Colored Contact Lenses
In case you're looking for something unique and extraordinary, then this product should be right up your alley. These lenses are created especially for lovers as well as for avid cosplayers. Made from some of the finest and softest materials out there, such as silicone hydrogel, these lenses are a treat to wear. Wearing such lenses will provide you with a boost of youthfulness and mysteriousness. Moreover, the contrasting colors will beautifully enhance your natural beauty – thereby making you feel good about your eyes and looks. The lenses are perfect to be used by both dark and light-colored eyes. Besides, the addition of the red color will make your outfit look scarier and creepier. The pupil almost resembles a cat eye would be a purr-fect choice for your strange looks. I cannot recommend these enough.
5. TTDeye Demon Slayer – Tanjiro Kamado Colored Contact Lenses
If you're a fan of horror stories and you always wondered what it is like to be a demon anyway, then you've got the perfect chance here. These lenses are specifically designed for someone who likes to wear a demon costume to Halloween and therefore wants something similar to go with it as well. What sets apart these lenses from the other 'demon' colored lenses in the market is its perfect blend of red along with a touch of deep brown – combined with a 3D effect. TTDeye also recommends these lenses for cosplaying as well. These lenses have the perfect aura to look good on your eyes and that too comfortably. Aside from that, these are certified by the FDA, and you can use them up to 12 months at a stretch – without any issues or complaints.
Conclusion
Since you'll be attending Halloween, most probably you'll also be going to bed late at night – which means that you'll be tired. Therefore, it's imperative to say that in case you're wearing blue contacts, be sure to take them off before going to bed. If you leave your colored lenses on your eyes and sleep with them, then your eyes will start to feel dry and itchy the subsequent day. Moreover, the risk of infection will be increased as well.
We hope that the above list of products will aid you in selecting the best available Halloween contacts from TTDeye.