NOTE: Late last year, it was revealed that Purito's sunscreens don't match their SPF claims. And it turns out it was true and Purito admitted to it. They claim that the manufacturer and testing center lied to them. You can read the whole story in NY The Strategist. So for now, I don't recommend you to buy this product.
---
Less than a month before the year 2018 ended, I received a new parcel from Purito which was one of the brands I mentioned in my Best & Worst Products of 2018. Inside it was a sunblock. Well, if you've been reading my blog last year, then you know I tried several sunblocks to find the right one for my oily, acne-prone, and zinc-allergic skin. So far, I only found 2. So is this one going to be included in that list? Read my Purito Centella Green Level Safe Sun review to know.
WHAT IS IT?
Purito Centella Green Level Safe Sun has SPF 50 and is a water-based sunscreen cream formulated with Centella extracts and mild ingredients to help reduce skin stresses, which protects against UV rays and harmful environments without stickiness nor white residue left on the skin.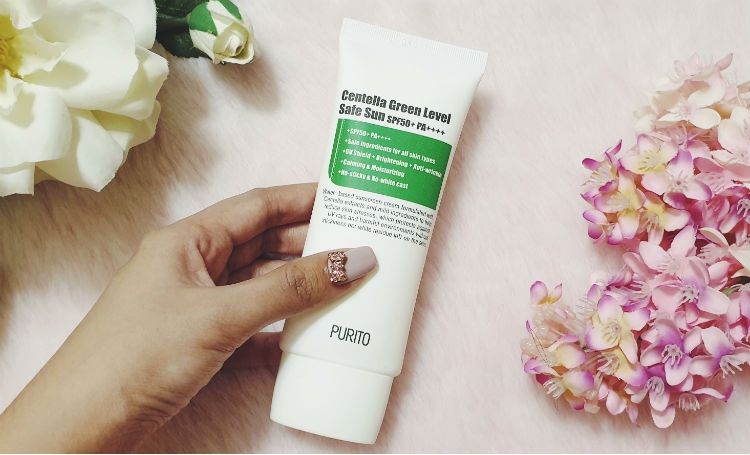 INGREDIENTS
As mentioned on its name, this contains Centella Asiatica Extract which is an anti-inflammatory. It also has Hyaluronic Acid which does the same thing but also hydrates the skin. Another notable ingredient is Niacinamide which has a brightening and anti-aging benefits.
Those all sound great, but this sunblock also contains Glyceryl Stearate which can potentially block pores especially for those with oily skin. But in this product's defense, all sunblocks have ingredients that can block pores that is why it is highly recommended that you double cleanse to wash it off, preferably an oil cleanser. Another one to watch out for is Lavander Oil which can irritate those who are sensitive to essential oils.
You can read its full ingredient analysis in Skin Carisma.
PERFORMANCE
APPLICATION: Apply onto the entire face and body at the last stage of your skin care routine and reapply frequently (preferably every 2 hours or after you get wet/sweat) to maintain protection.
SCENT: Some say it smells like lavender, but I honestly don't smell it. It does not resemble the lavender essential oil I put in my humidifier. I find the scent resembles the Fissan Powder but milder, it is a soothing powder for those with itchy skin or rash. It's a popular powder in the Philippines. For those who don't know Fissan, it smells like a mix of mint and baby powder. But interestingly, the Purito Centella Green Level Safe Sun does not contain any mint.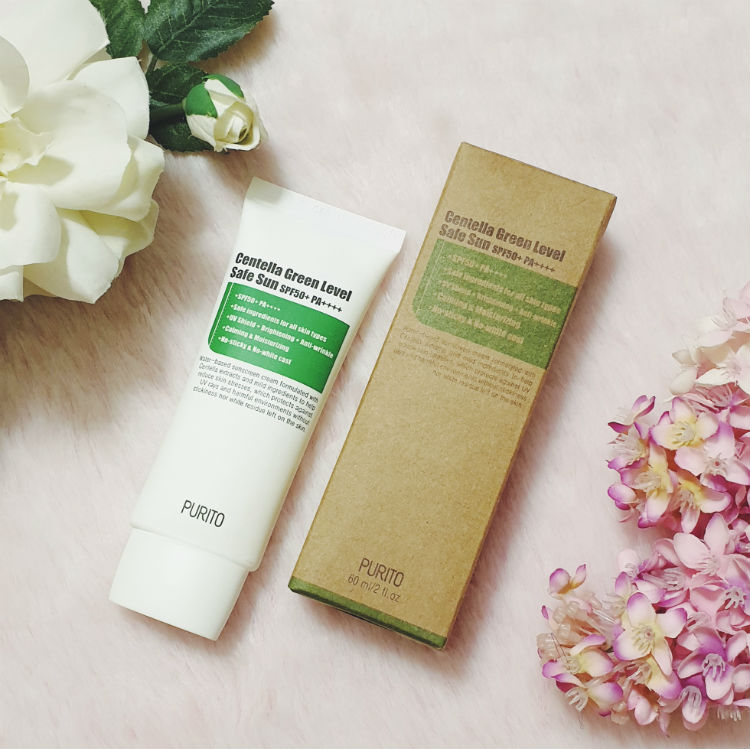 PACKAGING: Just like most facial sunblocks in the market it is also packaged in a squeeze tube. But it also comes with a brown box packaging which Purito is known for in packaging.
FORMULA: It has a very light cream formula that resembles the famous Laneige Water Sleeping Mask, but with a semi-matte finish like Klairs Soft Airy UV Essence.
RESULT: In terms of sun protection, yes, it is absolutely effective. The Purito Centella Green Level Safe Sun applies really smoothly and sets fast into the skin as well. It leaves a semi-matte finish which makes the skin feels smooth but non-greasy, perfect for all skin type. It also feels a little cooling on the skin and feels so soothing. It's the only soothing sunblock I ever use. Plus, it's comfortable under the makeup and does not mess it up or melts it off. It does not also leave a white cast.
Besides that, you can use this too on your body. However, the product is too small or rather to few to also use it as a daily body sunblock. But overall, this is one of the best sunblocks I ever use that is perfect for my oily skin.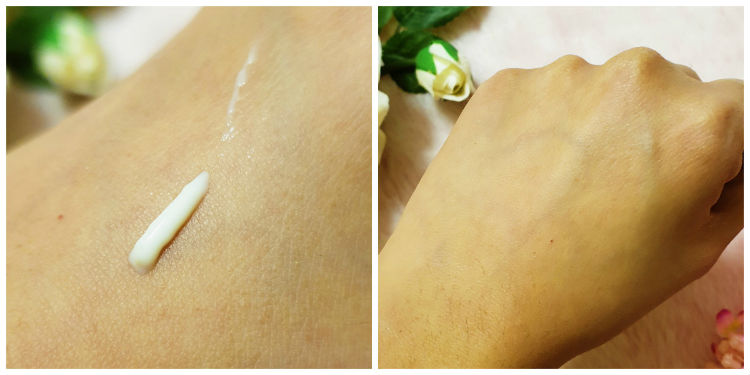 VERDICT
PROS: It feels soothing, has a semi-matte finish which absorbs fast into the skin, non-greasy and comfortable even under the makeup. It does not also leave a white cast.
CONS: It contains lavender oil which an irritate those sensitive to essential oils.
UPDATE APRIL 26, 2020:
Kudos to Purito for listening to their customer's reviews. They released an UNSCENTED version of this sunscreen. Same formula but less essential oil. You can buy it here.
WHERE TO BUY?
SHOP
PRICE
DETAILS
Amazon
$14.90
This is Purito official page
eBay
$13.90
This is Purito official page
Yes Style
$12.70
Ships internationally
Go Bloom & Glow
PHP 850
Use the code MARIM60
to Php100 OFF on their entire order
(minimum of Php1000, single-use only).
**Prices updated on April 26, 2020
What do you think of this Purito Centella Green Level Safe Sun review? And what's your favorite sunblock? Share it below!
*This product may or may not help you. If the pimple persists, you may need to know the type of pimple you have or better, consult a doctor.
**I received one or more of the products mentioned above for free in the hope that I would mention it on my blog. Regardless, I only recommend products I use personally and believe will be good for my readers. All thoughts and opinions are my own and not influenced by the brand or its affiliates.