I'M FROM is a brand that is both cruelty-free and vegan-friendly. Though relatively new in the market, this Korean skincare brand is loved for its trustworthy, safe, and effective products. Using only the purest ingredients directly supplied from honest and ethical farmers and grown in a pure and clean environment, I'm From guarantees mint-condition. Their high-quality products claim to help transform your complexion for a healthier, youthful, and more radiant look. But is it true? Scroll down to read I'm From Mugwort Mask.
MY THOUGHTS
I'm From Mugwort Mask feels really soothing, it does calm my irritated skin and keep my acne at bay.
PROS
Soothing
Calming
Keeps the acne and pimples at bay.
Has a slight cooling effect that calms the skin.
Cruelty-free and vegan-friendly.
CONS
I see no cons with its performance, just with the smell and texture which actually starting to grow on me because of continued use.
WHAT IS IT?
I'm From Mugwort Mask is a wash-off mask that calms and soothes the skin. Containing 2.1% of mugwort, full of vitamins and minerals, it quickly soothes irritation and redness while having a cooling and calming effect. The mild gel formulation contains mugwort powder to regulate the heat of the skin as soon as it touches the skin. A thick layer of the mask on areas with acne or inflammation will instantly calm and heal these skin troubles.
WHAT IS MUGWORT?
Honestly, when I first heard of this mask I thought of Harry Potter. Because the mugwort kinda sounds like a muggle and I misread it as a "Muggle Mask". But Mugwort is a plant that grows in Asia, North America, and Northern Europe. The plant parts that grow above the ground and the root are used to make medicine. Some people take mugwort root as a "tonic" and to boost energy, while some women take mugwort for irregular periods and other menstrual problems. While some, apply mugwort lotion directly to the skin to relieve itchiness caused by burn scars. You can read more about it on WebMD.
Mugwort also has a high content of Vitamin E which is good for the skin. And because it has an ability to cleanse impurities, it can detoxify your skin and get rid of acne. But people who are allergic to ragweed, chrysanthemums, marigolds, daisies, and other herbs from the Asteraceae/Compositae plant family should stay away from this mask because they can be allergic to Mugwort too.
OTHER INGREDIENTS
Besides the Mugwort, this mask also contains Glycyrrhiza Glabra (Licorice) Root Extract which both has acne-fighting and brightening benefits and Centella Asiatica Extract which is a known anti-inflammatory product that promotes wound healing. You can read more about its ingredient analysis in Skin Carisma.
PERFORMANCE
APPLICATION: After cleansing, apply a thick layer of the I'm From Mugwort Mask evenly onto the face avoiding the eye area. Leave it on for 5-10 minutes and rinse gently with water.
SCENT: Almost all of the reviews I've read say this mask smells like herb which is too vague for me. This mask actually smells like soil and grass specifically the smell of grass when it is hot and it suddenly rains. And the heat from the soil emerged thus releasing that herb-like grassy scent. In the Philippines, we call it "singaw ng lupa."
PACKAGING: The one I got are 30ml sample size which comes in a squeeze tube, but the full size comes in a 110g jar. Although I'm not sure if it comes with a spatula.
FORMULA: It has a jam-like texture, yes like those things you put in your sandwiches. And it also has shredded herbs which kinda works like a scrub when you wash it off.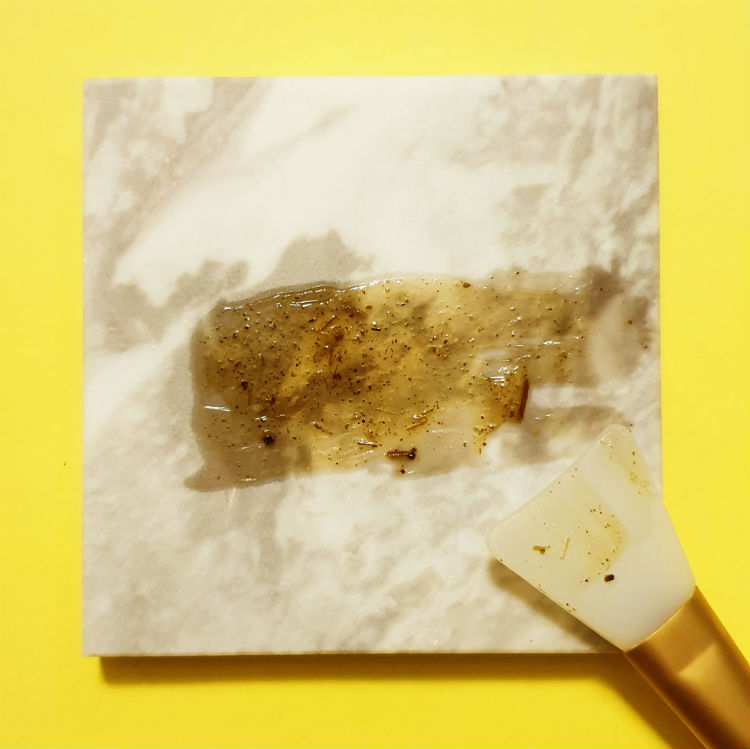 MY EXPERIENCE
I apply this mask using my silicone spatula, and it feels like I'm literally applying a cold jam on my face with herbs. It's not just shredded leaves that I see, there are also tiny brown stick shreds in it but it is soft enough for the skin. Actually, my friend said it looks like coco peat, a fiber he uses for his many pet tarantulas.
Besides the interesting texture, the Mugwort Mask indeed feels really soothing and it does calm my irritated skin. However, my skin also feels a little tight after I wash it off. Not dry kind of tight, more like there's a new skin kind of tight that is why I immediately apply a soothing and hydrating toner right after it.
I also see that this Mugwort Mask keeps my acne at bay especially when I have a red visitor coming. It doesn't instantly shrink my acne, but in the following day or two, I notice the acne and pimple vanished.
WHERE TO BUY?
SHOP
PRICE
DETAILS
Wishtrend
$28
They offer free shipping worldwide on a certain amount
of orders and give freebies. Check the StyleVanity Deals
page for discount coupons
Kbeauty Cafe
PHP1500
Use the code "itsmariaalyssa" to Php100 OFF
on their entire order (minimum of Php1000, single-use only).
Shopee
PHP375
30ml travel size only
*Prices updated on May 24, 2020
You can purchase the I'm From Mugwort Mask in Wishtrend for $26.25.
In the Philippines, although there are many local beauty shops that sell I'm From products, although as of now they don't have the Mugwort Mask yet.
What do you think of this I'm From Mugwort Mask review? Do you use a wash-off mask, if yes, what is it? Share your thoughts below!
*This product may or may not help you. If the pimple persists, you may need to know the type of pimple you have or better, consult a doctor.
**I received one or more of the products mentioned above for free in the hope that I would mention it on my blog. Regardless, I only recommend products I use personally and believe will be good for my readers. All thoughts and opinions are my own and not influenced by the brand or its affiliates.
**Photos of the full-size product are from Wishtrend.com