I tried to get these Sunnies Face Fluffmate during their online launch last August 8, but the experience was like the Kylie Lip Kit launch back in 2015: The website was not prepared for the influx of beauty junkies, or that was part of their marketing strategy. The site was so glitchy, it literally glitches like Vanellope von Schweetz! And 15 minutes later, all stocks were sold out. I didn't get anything. But I don't blame Sunnies Face at all, I was actually expecting it. If you haven't seen the hype online, there are only two reasons: 1) You're a guy that isn't into makeup, and 2) You're not from Southeast Asia specifically the Philippines. So how did I cop these lipsticks for my Sunnies Face Fluffmatte review today?
Last Saturday, I woke up with a flood of messages and missed calls from my friends both guilting me for not always showing up on get-togethers and asking me to go with them in the Sunnies Face store opening in Glorietta. Obviously, I did the latter. As expected again, the line was long. My friend who arrived first lined up for a total of 4 hours, she managed to binge watch Teen Wolf on her iPad! But thanks to her, we got into the store's queue easily.
MY THOUGHTS
The staying power of the Sunnies Face Fluffmattes is really poor. Not even going to sugarcoat it. It's not "revolutionary" as it was claimed. But they have beautiful pigmented shades and they are affordable.
PROS
Pigmented shades that can compliment morena skin tone (brown).
Chic minimalist packaging.
Affordable price.
CONS
It transfers a lot.
It can easily smudge and stain everything your lips will touch.
The lipsticks breaks easily.
Feels too dry on the lips.
WHAT IS IT?
Sunnies Face Fluffmatte claimed to be a weightless modern matte lipstick formulated with silk-structure technology to give you that second-skin feel. Each shade is designed to be universally flattering and easy to apply with one quick swipe. The creamy Fluffmatte formula is also blendable and breathable—they work well as a multi-stick for your eyes and cheeks too. You can apply the same color on lips, eyes, and cheeks for a monochromatic look or mix your favorite shades to create a unique customized color just for you.
INGREDIENTS: The Fluffmattes are paraben-free, sulfate-free, and alcohol-free. But what caught my attention is Titanium Dioxide which gives a UV protection.
PERFORMANCE
APPLICATION: Apply Fluffmatte lipstick straight from the bullet that was specially designed to fit lips for a more precise application. But you can also use this on your cheeks and eyes. According to Martine Cajucom, one of the founders of Sunnies Face, "We don't talk about it enough but Fluffmatte makes an amazing multi-stick. It makes a beautiful eyeshadow. It's great for the cheeks because the formula is so blendable and creamy and buildable."
SCENT: They don't have a detectable scent.
PACKAGING: The Sunnies Face Fluffmatte has a very millennial design. Most people compared it to Glossier, but it's the trendy aesthetic these days, just like the Holographic Neon Foil Trend in the '80s. The Fluffmattes is packed in a matte bullet-style lipstick with minimalist design in cream color and the logo is only printed on the top of the lipstick. I like the look, but the matte cream packaging gets a little messy. It gets a stain A LOT. UPDATE 10/22/2018: It should have been a red flag when my friend broke 2 Fluffmatte testers when we were in their store and quietly put it back. But those were testers, hundreds of people have probably used it already since the opening so we didn't really care about it and laugh secretly. A month and so later, I heard a lot of people on Instagram complaining that their Fluffmatte easily breaks. Personally, mine didn't (so far) because I don't use them often, but some of my friends' did. One influencer even wrote about it on her Instagram. UPDATE 5/8/2020: They now have glossy packaging but have the same color, so it doesn't get stain anymore.
FORMULA & SHADES: This is now where people are divided, and by that, I mean me and my friends. Prior to our lipstick shopping spree, my friend Kristine haven't used the Maybelline SuperStay Matte Ink yet so for her the Sunnies Face Fluffmatte is too drying on the lips compared to her Etude Mini Two Match (which is not yet available in local Etude Stores). For me and Hanna, both SuperStay Matte Ink users, we don't find it really that drying on the lips.
Personally, I find it velvety, although not at all moisturizing compared to Happy Skin Matte Lippie Stick. Though I haven't compared it to Maybelline Powder Mattes yet, I feel the formula is a little powdery especially when I use it as a multi-stick. Another thing to take note, some shades are not really guaranteed "one-swipe" some needed 2-3 swipes, while some are not the color you expected. Like the shade Major, it looks like a red lipstick that could rival MAC's Ruby Woo on photos but when my friend tried it, she finds it a bit red-orange than deep red-blue we expected. That is why I highly recommend you to visit their stores if you're near them, instead of buying online. But despite that, it's still more pigmented compared to other brands with the same price range. Sunnies Face also claimed they are all universally flattering, but we find some were not as flattering as expected. And take note, my friends and I have different skin tones: C13, N22, and N23 skin tones.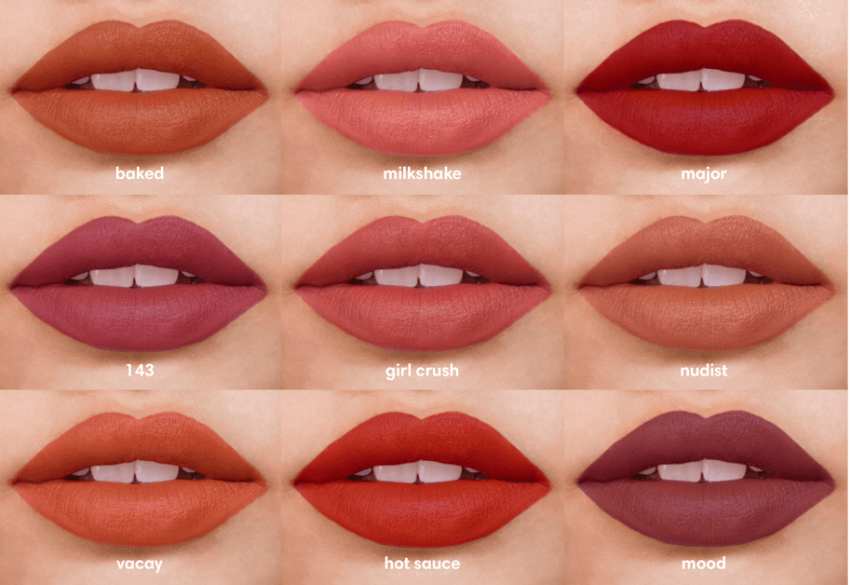 Based on what I have observed in the store from my friends and the other people who were testing it, the shades 143, Girl Crush, Baked, and the sold-out Hot Sauce were the shades that I find truly universally flattering while the Nudist, Vacay, Mood, and Milkshake suits those with paler skin tones. But then, we all have different taste, so YMMV.
MY EXPERIENCE
The staying power of the Sunnies Face Fluffmattes is really poor. Not even going to sugarcoat it. And they never claimed it's long-lasting anyway. It instantly stained my friend's shirt when we were testing them. Though the stain proved how pigmented they are, and some shades like "Girl Crush" and "143" leaves really nice tint colors when faded on lips. But I still find it annoying when I see lipstick on my teeth, straw, spoon, and fork because it all happened to me within less than 24 hours of using the Fluffmattes as seen in my Instagram Stories, I never experienced this with Happy Skin Lippies. (But for the teeth, I recommend putting petroleum jelly on your front teeth to avoid stains from any lipsticks.) On the photos below, I didn't use anything even water to smudge the color.
So is it really worth all the hype, the long lines, and getting through the glitchy website?
Honestly, not really. I like Fluffmattes, don't get me wrong. I just only find it over-hyped. And compared to some affordable local brands with the same price range, the Sunnies Face has a good shade offering. But I honestly don't see the product as "revolutionary" it didn't really change my perspective on non-liquid matte lipsticks. But do I recommend it? Despite what I said, sure, I still recommend it for its beautiful pigmented shades, and multi-purpose. It's perfect for those who like matte lipstick but hates liquid lipstick that dries the lips. But again, don't expect the shade will last longer. Honestly, I prefer Moonshot Honey Coverlet Stick Extreme over this.
WILL I REPURCHASE?
Honestly, even if they release more shades that will suit my Morena skin tone, I will not repurchase the Fluffmatte. But I am not boycotting Sunnies Face, I'm still willing to try other products they will release. As seen on their website, it looks like they will also launch eye and cheek makeup. And if they release a liquid Fluffmatte, I'm still willing to try it.
WHERE TO BUY SUNNIES FACE?
You can purchase the Sunnies Face Fluffmattes for Php345 each in Zalora and Lazada for the same price.
What do you think of this Sunnies Face Fluffmatte review? What kind of lipstick is your favorite? Share it below!