Earlier this year, I received a package from a Hong Kong-based company called Glam-it! Inside was a cute compact that kinda resembles miniature 90's Polly Pocket toys, but when you open it was actually a makeup palette. It is called "GlamPact" and I'm using it for almost a year now. While this is my GlamPact review, everything from what I think about it and if it is worth buying.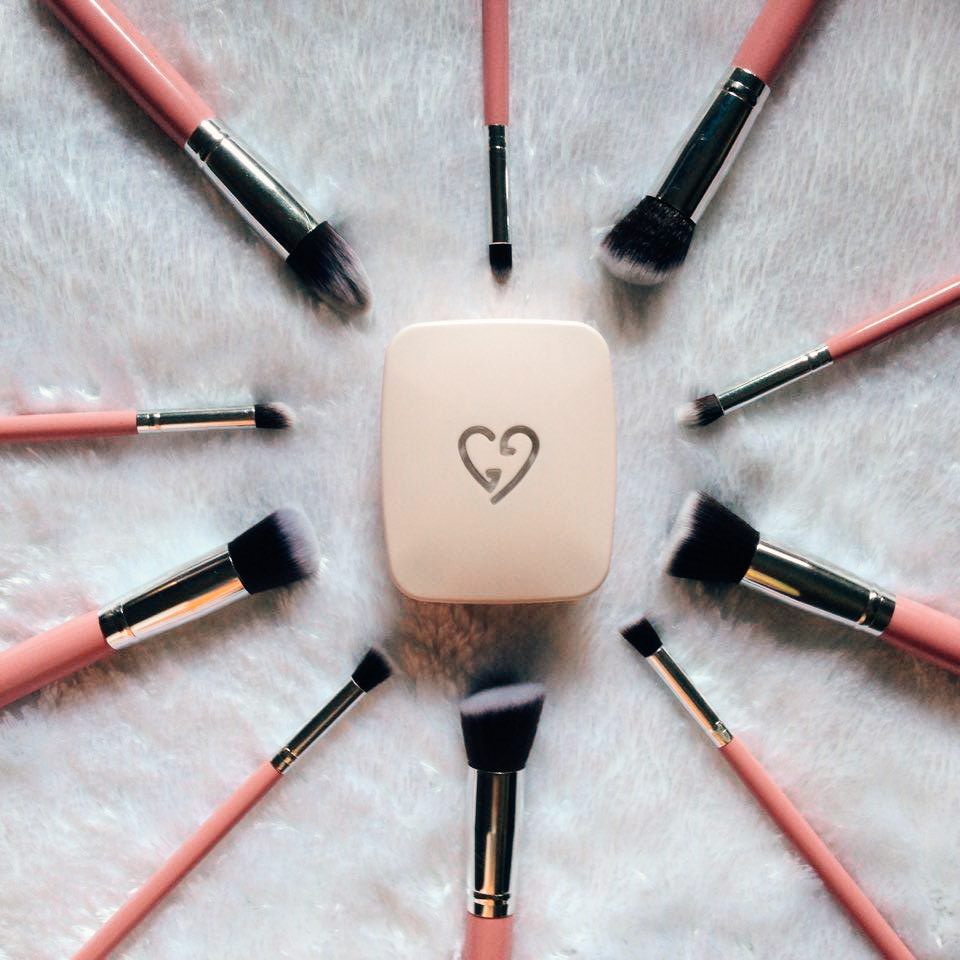 What is it?
GlamPact was launched a few years ago in Hong Kong by beauty maven Jennifer Cheng and her company Glam-it! As I mentioned above, at first it looks like a toy but it's actually a very clever makeup palette. It has three layers and contains everything from pressed powder, lip colors, eyeshadows, and even a contour powder! But unlike most palettes, this one even have mini makeup tools and a mirror that lights up. Yes, you read that right, IT LIGHTS UP.
Another thing that sets GlamPact apart from any other palettes in the market right now is that you you can mix and match the products in any way you like, even down to where they are placed in the compact. You can opt for which eyeshadow and lip colors will be included in your palette. Will it have a CC pressed powder or a highlighting powder instead? It's your choice, you have a freedom to customize it to your heart's content.
Unboxing
Honestly, I didn't had a chance to customize my palette. Instead, I received a preselected palette by the Glam-it! Team which is also available. Probably for those who are overwhelmed with too much freedom on a makeup palette. That said, I received a GlamPact Palette Tan which is amazing because it has the right colors that suits my skin tone.
This preselected GlamPact set comes with 3 big makeup modules which consist of a CC pressed powder, blush, and contour powder. And then 8 small makeup modules which are 3 lip colors, 1 lip balm, 1 concealer, 1 eye shimmer, and 3 eyeshadows.
It also comes with a USB charger, velvet pouch, and 5 mini makeup tools. Lastly, GlamPact makeups are vegan, paraben-free, sulfate-free, gluten-free and cruelty-free as well. For those who are picky with their makeup, you'll have no problem.
Performance
PACKAGING: Don't be fooled by its pastel color and cute look. It may kinda look like a toy, but the case has quality in it. The case is made of hard plastic that typical of makeup containers, think of Maybelline and Revlon foundation cases. But unlike those brands GlamPact comes with a velvet pouch. Personally, I don't really "protect" my GlamPact using the velvet pouch. I used the pouch to protect my watch or other accessories, but in my year of using the GlamPact it never had scratches or got anything broken. Even when I accidentally dropped it a few times.
The GlamPact is refillable. One problem I often encounter with this kind of palette is that the modules gets detached in time, especially when dropped. But it never happened to my GlamPact, and the best part my pressed powder, blush and contour powder never crushed. They really made of good quality stuff. The second layer makeup are protected by the first layer, while the first layer are protected from the mirror by hard plastic covers so you won't encounter blurred mirrors due to makeup dusts.
Speaking of mirror, it is alright. No monkey business on it that zooms your pores or anything, it's just fine. What's makes it special is the small button above the mirror on the underside of the lid, which turns the lights on and off when pressed. Perfect for those places with low light, and it actually helps to see your makeup thoroughly. The lights are LED so you're assured it'll last long and don't need to be changed yearly. It is charged using the USB cable provided. The lights on my GlamPact often lasted at least around 48 hours. It depends on how you use it.
APPLICATION: Now this is where my GlamPact review gets really serious. Some modules are great, some a "nah, okay" while others need more improvement.
What I love:
-CC Foundation: This pressed powder is amazing. It's not cakey, but makes my face looks flawless. Just enough coverage from what you would expect from a pressed powder. This GlamPact CC pressed powder actually became my go-to powder to top my foundation.
-Contour Powder & Blush: These two are highly pigmented and lasts almost all day. I especially love the contour powder because it suits me skin tone well. Having a natural tan color, finding the right bronzing makeup to contour my face is a bit difficult because some are still too light, while others are too dark but doesn't last.
Needs Improvement:
-Concealer: This needs to be improve so bad! It's a cream concealer, and it's easy to apply but it creases in minutes. Even when I finish it off with pressed powder or translucent powder, this concealer still creases like I don't know how to blend my makeup.
-Lip Color: Not so highly pigmented unlike the contour powder and blush. And it doesn't really last that long either. When I use my GlamPact I skip these products, and just opt to my go-to Revlon ColorStay Matte Balm.
-Lip Gloss: I'm not expecting it to be highly pigmented, but it's not impressive either. Don't expect a lip gloss effect from this. Maybe a lip balm.
Nah, It's Okay:
-Eye Shadows & Shimmer: They're not impressive, but they're not disappointing either. Honestly, I'm not much of an eye makeup user but from what I experienced they are okay like a good quality drugstore makeup.
Conclusion
PROS: If you're always on-the-go, GlamPact is perfect for you. You can customize it and tools are included, even the light so you have almost everything you need. You no longer need to bring too much makeup that will just occupy space that you can use for something else. It's also light and compact so it fits in almost all bags.
CONS: The lip colors and concealer are terrible, which is such a bummer because this makeup palette was designed to be the only thing you will need to bring. But instead, I still need to squeeze my concealer and lipstick. Another thing, the whole preselected set like mine is quite pricey. It is currently on discount this December for $500 HKD or US$65 or around Php3,051 which is not actually not bad at all. I suggest buy as many as you can for you and you friends. It can be a perfect Christmas gift. But its regular price is $920 HKD or $119 USD or Php5,627. I'm not sure if they will bring back that price after the Holidays, but it's pricey indeed.
OVERALL: It's a great palette and served me well. I've used it from road trips, even to my friend's wedding. It can stand on it's own and good to use while still holding it. I used it while on a moving car and I didn't have to panic where to put where while putting makeup inside the car because everything is perfectly intact on its case. I never experienced a crushed makeup due to accidental dropping, and my mirror is always clean and clear. And most of all, I'm a minimalist packer and this saves me a lot of space.
Is it worth buying? I say if you have a $65 to spare now, or $119 later, why not?! The refills are actually quite cheap. For a CC pressed powder, blush, contour and highlighter, it costs $100 HKD or $13 or Php615 each. While eyeshadows, concealer & lip colors cost $40 HKD or $6 or Php284 each. For a vegan, paraben-free, sulfate-free, gluten-free and cruelty-free makeup, it's actually cheap.
Where to Buy?
GlamPact are sold in Hong Kong and they are available online on Glam-it! store for a discounted price of $500 HKD or US$65 or around Php3,051. While refills cost from $40-$100 HKD or US$6 to US$13 or Php284 to Php615. And yes, they ship worldwide.
—
*all photos except the first one are from lacedivory.com
**The product for this GlamPact review was sent to me for free courtesy of Glam-it! by JenGlamCo, but all opinions were mine.