I know you haven't heard of this product before and I don't blame you. I didn't know them too until I opened a Charis shop. Aestura is not really a new brand, they've been around since 2006. And they're not an indie brand either, they are owned by AmorePacific Corporation, a South Korean beauty & cosmetics conglomerate, the world's 14th largest cosmetics company which also owns Etude House, Mamonde, Innisfree, Laneige, amongst others.
What makes them different from other AmorePacific brands is that Aestura is made based on the medical expertise and reliable expertise of continuous skin research, they provide a solution for sensitive skin that can be used safely. And I received a total of six products from them, but in this one I will talk about the Aestura Atobarrier 365 Peeling Gel review.
WHAT IS IT?
Aestura Atobarrier 365 Peeling Gel is a hypoactive exfoliating and peeling agent that moisturizes the skin. It claims to strengthen the barrier function of dry skin in everyday life and forms a moist and smooth moisturizing film through daily concentrated high moisturization, and it provides powerful moisturizing to dry skin every day.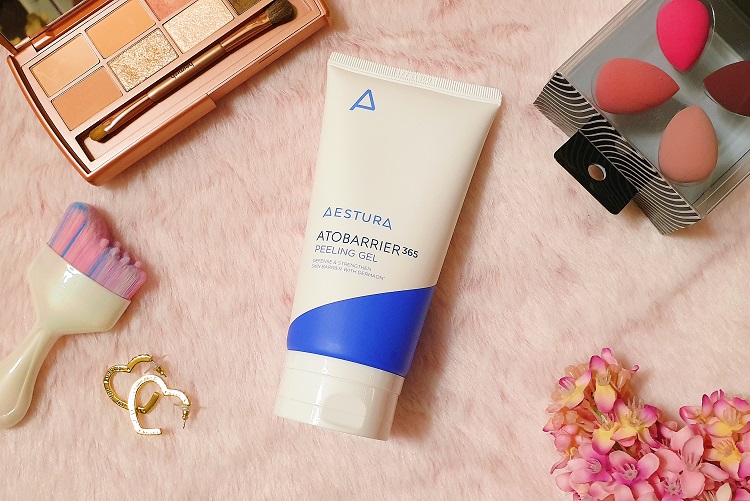 INGREDIENTS
It contains ceramide which provides a deep moisturizing effect on skin, natural cellulose that absorbs keratin and helps smooth skin turnover. However, it also contains alcohol that some people with dry or sensitive skin may not like. You can read more about its full ingredient analysis in CosDNA.
PERFFORMANCE
APPLICATION: After cleansing, wipe off the excess water on your skin and dispense a coin size of the Aestura Atobarrier 365 Peeling Gel. Apply it evenly over the entire face except for the eyes and mouth, and massage so that the old keratin is pushed softly. (Strong rubbing can cause irritation.) And then rinse thoroughly with lukewarm water to remove and apply the moisturizer within 3 minutes. Use it 1 to 2 times a week, and adjust the gap depending on the condition of your skin.
SCENT: I think this is supposed to be unscented, however the scent of the alcohol is quite strong.
PACKAGING: It is packaged in a rubber tube that you can easily squeeze which I like because you can easily cut it if you want to scrape all the remaining product. It comes it a box that has Aestura's signature white and blue colors just like the tube.
TEXTURE: This is not the first peeling gel I tried, and this Aestura Atobarrier 365 is quite different because the texture is not exactly like a gel, it feels a little cream, a mix of gel and cream to be exact. But what matter most is that it's easy to spread.
RESULT: Personally, I didn't felt a sting when using this peeling gel, and it didn't break me out either. Although, I used this when my skin is at its best. Meaning, I never used this while I have lots of acne in my face. And when I have a pimple or two, I try to avoid the area as much as possible. I'm not saying Aestura Atobarrier 365 Peeling Gel will aggravate it, I'm just being careful.
I like about this product is that there's debris appearing when you massage it on to your skin. I'm not really sure if it is dead skin, to be honest, but I like how my skin feels super duper soft after I wash it off. No tight feeling, just soft and moisturized. It definitely gets rid of rough skin. I even asked my mom if she wants to try this. She did, and it never returned to me. She loves it so much, she's asking me to get a new tube before she ran out. She has dry skin, that's why this product suits her well. But despite all that, I did not see that this product reduce my dark spots, my Vitamin C serum still works the best for that. I think what this product does is help get rid of dead skin so your skin will be prep for your routine and help it work better.
VERDICT
PROS: It makes the skin super soft and moisturize after the peel. Helps prep your skin for your routine and help it work better.
CONS: It contains alcohol.
WHERE TO BUY?
You can purchase the Aestura Atobarrier 365 Peeling Gel in Charis for Php1220 or $22.50. They ship worldwide.
What do you think of this Aestura Atobarrier 365 Peeling Gel review? Have you tried using a peeling gel before? share your thoughts below.