Remember my Nacific Real Floral Toner 2-Week Skin Challenge? Well, once again, I was swayed by another advertising where another toner promises to achieve flawless skin in just 30 days! The woman in the advertising video has the same skin problem as mine, acne and dark spots. And at the end of the video, after 30 days as claimed, all of those vanished. Of course, I want to try the toner, I'm desperate and I don't want to undergo another chemical peel treatment again where my skin will be literally peeling off my face for 3 weeks. Luckily, Go Bloom & Glow reach out to me and offered me a bottle of this "30 Days Miracle Toner" to try. But did it work? Scroll down to read my week by week Some by Mi AHA BHA PHA 30 Days Miracle Toner review.
WARNING: This will be a long and detailed review.
WHAT IS IT?
Some by Mi AHA BHA PHA 30 Days Miracle Toner is an exfoliating toner that claims to remove dead skin cells, leaving the skin flawless, smooth, and radiant. It also works to tighten pores to remove blackheads and whiteheads whilst moisturizing and hydrating your skin at the same time.
There's so much hype in this product, it is now the best selling anti-acne toner all over Southeast Asia. Seriously, a lot of people reached out to me recently asking where to buy this toner.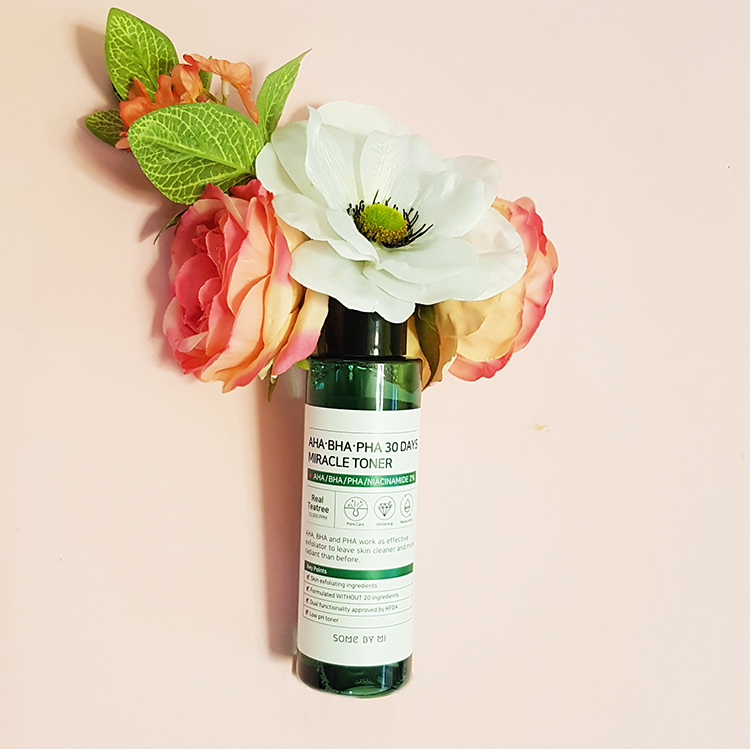 INGREDIENTS
As mentioned in the name it contains AHA, BHA, and PHA which are three known chemical exfoliators. AHA is for improving skin texture, BHA is for targeting the blackheads, while the PHA is honestly something I'm not familiar yet. This is the first time I used a product with PHA but I heard it is an exfoliator created for those with sensitive skin and works like AHA.
Specifically, this toner contains Salicylic Acid and Tea Tree which are known and highly-fave anti-acne ingredients. It also has Sodium Hyaluronate which promotes wound healing. And also Niacinamide which is a known anti-aging ingredient with brightening benefits. It also has Lactobionic Acid, Adenosine, and Citric Acid which are anti-aging ingredients as well.
With all those acid in this toner, it's good to hear that this does not contain alcohol and paraben. You can read more about its ingredient analysis in Skin Carisma.
PERFORMANCE
APPLICATION: After cleansing, apply the Some By Mi AHA BHA PHA 30 Days Miracle Toner on your face and neck using cotton pads.
SCENT: It smells exactly like Tea Tree Water.
PACKAGING: There's nothing really special in the Some by Mi Miracle Toner's packaging, and I find it smaller than I expected for a 30-Day Miracle Toner. It is simply packaged in a common toner bottle, not a pump. But I do like that its label has complete details of its ingredients and effects so you know what's inside already without further research.
FORMULA: The toner is really watery, it does not have any tint too, and non-tacky. So it absorbs fast into the skin. It leaves you with a semi-dewy look.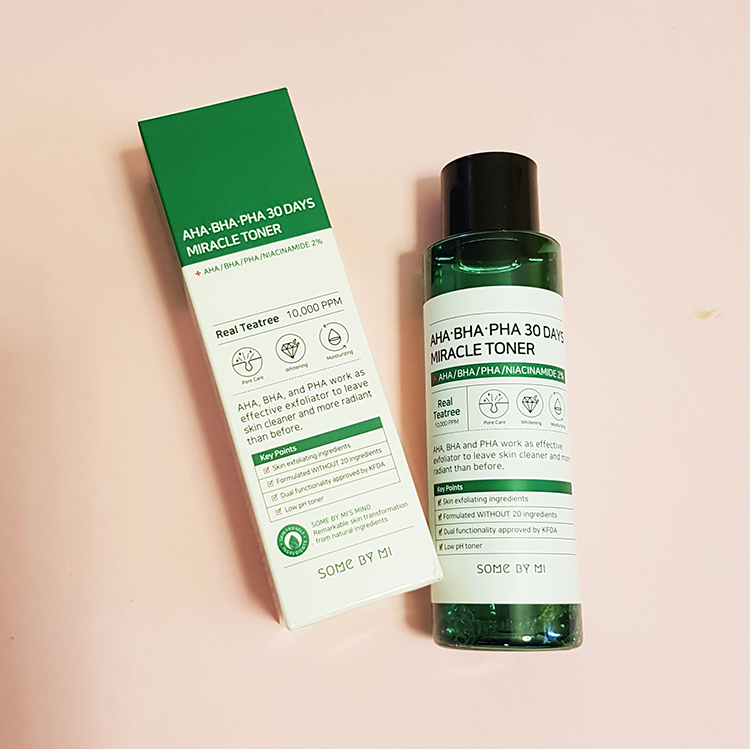 RESULTS
Now this will be a long one. Before using this toner my face has two cystic acne and a bunch of smaller pimples, acne under the skin but has a slight bump and dark spots.
And to really know if the Some by Mi AHA BHA PHA 30 Days Miracle Toner works, I didn't use other Some By Mi products and I cut down my skincare routine too. From five steps, it was down to three: CosRx Low pH First Cleansing Milk Gel for cleansing, this toner, and Benton Aloe Propolis Gel is the last step. I also refrained from using foundation as much as possible, but if I do, I use a cleansing oil before the CosRX cleanser.
FIRST WEEK
The moment I applied the toner, it stings but only on the acne areas. The morning after, I didn't really see any improvement which is understandable. But on my second day, my skin purge! My cystic acne all turned into a head while the smaller ones resurface while some turned also into a head. My skin was more reddish as well.
But I know it's just a purge, not a breakout because it only happened on areas where I previously have pimples. So I continued for five more days and as seen in my before and after photos, I was only left with reddish spots and still a bunch of dark spots. Also, even when I double cleanse, the cotton pad still get tiny gunk on my skin that resembles a blackhead.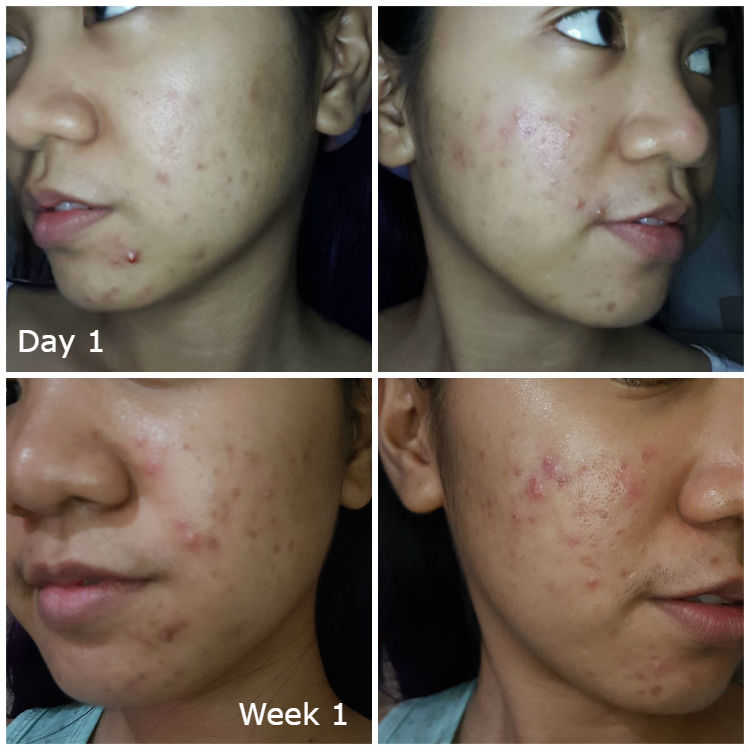 SECOND WEEK
And yes, I still continued for another week. I also take photos of my skin every Sunday morning to see if there are any improvements. I notice the acne all dried up, so I look like I have more dark spots. So using sunblock in daytime was very important, and also using a hydrating and moisturizing cream because even though the toner claims to be moisturizing, it feels really drying on the skin. My skin feels so tight as well.
THIRD WEEK
In week three, that's where I could finally see improvements. I have less acne, and while there are still dark spots I noticed they were lightened. Although, my whole face look much redder. So besides the sunblock, hydrating and moisturizing cream, I was also using a calming sheet mask. But hey! I have less acne. Plus, my skin looks smoother too so I guess the pore-care is true.
By this time, my skincare routine has four steps, but I only sheet mask three times a week.
I was really surprised because I've never seen ANY other toners did that before.
FOURTH WEEK
The final week, which has added two days to make it exactly 30 days. I discovered something really interesting when I apply the toner during this week. I use a hand mirror whenever I do my toner step so I could see it clearly. In one of my small pimple on the chin that turned into a head, I notice while rubbing the cotton pad on it that the painful white circle on top of my pimple slowly getting smaller in every wipe until it just a small red spot which is slightly flatter than a few seconds ago. I was really surprised because I've never seen ANY other toners did that before.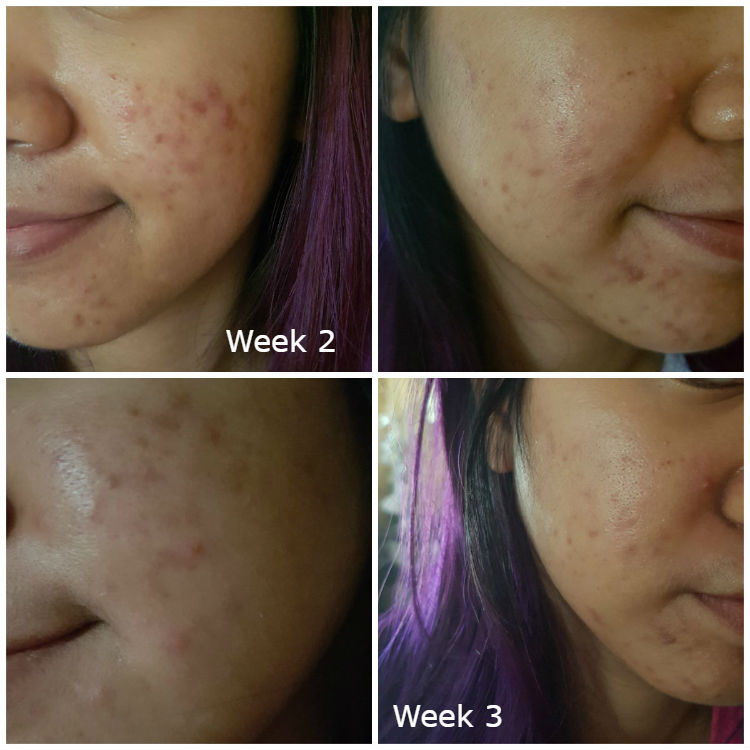 FINAL THOUGHTS
On my 30th day, my skin has fewer pimples and lighten dark spots. It is no longer red as well but I think it should be credited to the sheet mask I used. But my skin also looks much smoother, my pores were really minimized. However, dark spots are still in there. Although they were lighter than my first week of using it. This toner didn't really make my skin truly flawless in just 30 days like on the woman in the advertising video. (TBH: I think she used a tone-up cream in the last part of the video.)
But don't' get me wrong, I'm not disappointed on this toner. I didn't really expect a miracle. I think I just need another 30 days to achieve a truly flawless skin (YMMV!). Plus, it almost did what an expensive chemical peel does: Improved my skin and minimized my pores. In a chemical peel treatment, my skin is literally peeling off my face for around 3 weeks, lighten the dark spots, and reduced the acne but the result is not really that drastic as well. The only advantage of using the Some By Mi Miracle is it has no downtown, but it made my skin look red during the process.
NOTE: I'm not sure if you'll achieve flawless skin in just 30 days like in the video if you use the Some By Mi Serum and Cleansing Bar at the same time with this toner.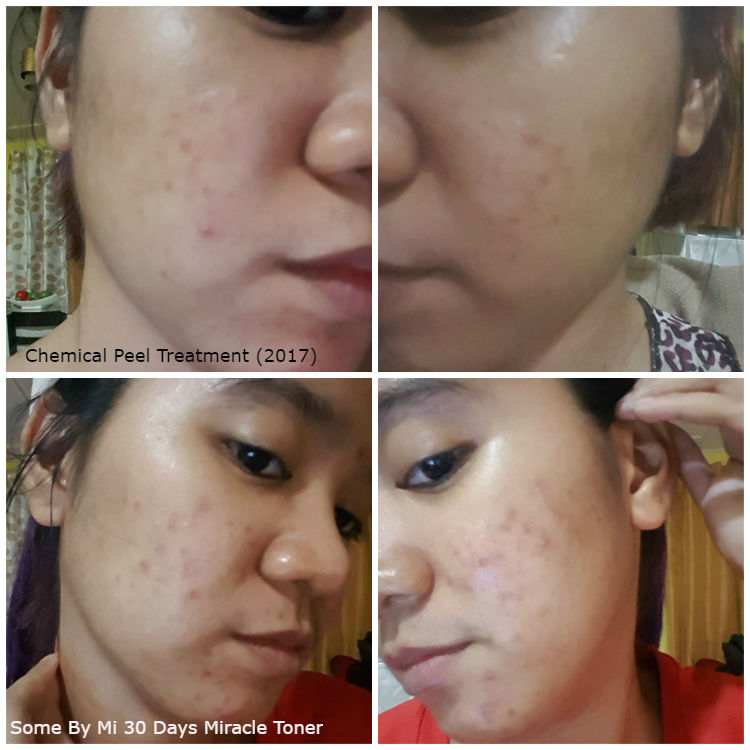 VERDICT
PROS: It purges the acne and then heal them to reduce them, minimizes the pores and smoothens the skin. One bottle goes a long way too. I thought it will not last for 30 days but so far I've only used probably around 60%.
CONS: It is kinda drying, makes your skin a little red, and depends on your skin condition you may need more than 30 days.
NOTE: I will continue to use this toner for 30 more days.
WHERE TO BUY?
You can purchase the Some by Mi AHA BHA PHA 30 Days Miracle Toner in Go Bloom & Glow for only Php899 per bottle! The cheapest I find here in the Philippines. They offer free shipping nationwide for orders Php2000 and above thru JRS. For payments, they accept PayPal, Credit/Debit Card, Bank Deposit, Remittance Centers, and Cash-On-Delivery.
For international customers like the US or other parts of the world, you can purchase this in Style Korean for $18.99. You can also buy the Toner + Soap Set for $30.16 and the 30 Days Miracle Toner + Serum + Cleansing Bar Set for $60. And also the Toner + Moisturizer + Soap Set for $50. They ship worldwide and offer free shipping on a certain amount of orders.
What do you think of this Some by Mi AHA BHA PHA 30 Days Miracle Toner review? Will you try it?
**I received one or more of the products mentioned above for free in the hope that I would mention it on my blog. Regardless, I only recommend products I use personally and believe will be good for my readers. All thoughts and opinions are my own and not influenced by the brand or its affiliates.