I could never properly sleep at night without double-cleansing. I also prefer to use oil-based cleansers than micellar or cleansing waters as my first cleanser because they could thoroughly remove all the sunblock and makeup on my skin easily without drying it out. But I also learned that some oil-based cleansers may contain some ingredients that can feed fungal acne. Although fungal acne is not exactly acne (yes, I know it's confusing but read the link), I still did a research of oil cleansers that are safe to use for those with acne-prone skin and this one from Klairs was mentioned several times, even on Reddit. So when I posted a skincare wishlist in my Instagram Stories, Kbeauty Cafe was kind enough to send me a full bottle. So what do I think of this product? Scroll down to read my in-depth Klairs Gentle Black Deep Cleansing Oil review.

VERDICT
MY THOUGHTS
Klairs Gentle Black Deep Cleansing Oil
PROS
It's light, thin, and deeply cleanses.
It effectively removes sunblock and makeup without drying out your skin.
WHAT IS IT?
Klairs Gentle Black Deep Cleansing Oil is a mild cleansing oil composed of various vegetable oils helpful for skincare. Its easily washable texture allows mild yet effective cleansing of dirt and makeup without causing irritation. Formulated with natural oils extracted from black beans, it controls sebum production and soothes the skin.
INGREDIENTS
The Gentle Black Deep Cleansing oil contains Black Bean Oil, Black Sesame Oil, and Black Currant Seed Oil thus where it got its "black" in the name, not because the cleanser is color black. But according to Skin Carisma, it's most notable ingredient is the Tocopheryl Acetate (Vitamin E) which has anti-aging benefits. Other than that, this oil cleanser is Cruelty-free, Vegan-Friendly, Ethanol-free, Paraben-free, Silicon-free, Steroid-free, and free of Artificial coloring. In short, this oil cleanser contains fewer ingredients than any oil-based cleansers I've tried in the past so, like mentioned in the Klairs Midnight Blue Calming Sheet Mask review, the less ingredient, the purer the product. And in this case, less likely to irritate my skin.
PERFORMANCE
APPLICATION: Pump an adequate amount and gently massage over dry face. Rinse off preferably with lukewarm water 2-3 times.
SCENT: It has a mild scent that kinda resembles a grapefruit.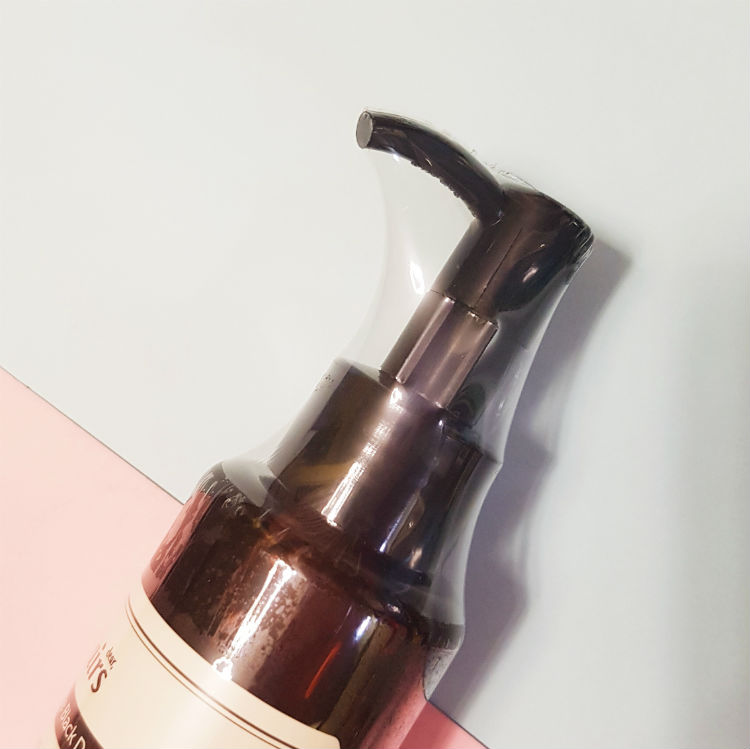 PACKAGING: It is packaged in a plastic pump bottle, slim and light. It is wrapped in a plastic wrapper as well but also comes with black and white box.
FORMULA: No BS, this is the lightest and thinnest oil cleanser I ever used. I'm not saying this is the best ever oil cleanser, but if you're going to choose one, make sure it doesn't feel thick. When you smudge it between your fingers, you should feel your fingers well, not like there's something thick balm between it because the thinnest the oil cleansers the better it can penetrate your skin to deeply cleanse it to remove sunblock, makeup, and dirt.
the thinnest the oil cleansers the better it can penetrate your skin to deeply cleanse it to remove sunblock, makeup, and dirt.
RESULT: The Klairs Gentle Black Deep Cleansing Oil does not emulsify, meaning it does not turn into a milk-like texture and color, unlike most oil cleansers. However, it feels light and comfortable as you massage it on to your skin and effectively removes the sunblock and makeup without drying out your skin. But unlike other oil-based cleansers that don't emulsify, this one rinses off with just water and any second cleanser you prefer easily, with just one wash. No need for a hot towel.
I've been using this product for a week now, and I don't see any negative effects like irritation or breakout. But of course, YMMV! There are some people who are sensitive to oil cleansers.

WHERE TO BUY?
STORE
PRICE
DETAILS
Wishtrend
$22.90
They offer free shipping worldwide on a certain amount
of orders and give freebies. Check the StyleVanity Deals
page for discount coupons
Go Bloom & Glow
Php1200
Use code MARIM60 to get ₱100 OFF
on your entire order (minimum of ₱1000, single-use only).
Kbeauty Cafe
Php1200
Use the code itsmariaalyssa to get
Php100 off for first-time buyers with
minimum orders worth Php1000
Lazada
Php1200
What do you think of this Klairs Gentle Black Deep Cleansing Oil review? Do you double cleanse or use oil cleansers? Share it below!
**I received one or more of the products or services mentioned above for free in the hope that I would mention it on my blog. Regardless, I only recommend products or services I use personally and believe will be good for my readers. All thoughts and opinions are my own and not influenced by the brand or its affiliates.