"Kilay is life," is a popular saying here in the Philippines right now. To those who don't speak Tagalog, the word kilay means eyebrows in Tagalog so it literally translates to "eyebrows is life" in English. That saying has become a thing in our country because of the eyebrow trend, obviously, and the fact that many women spend so much time doing their eyebrows like they can't leave home without it and their lives depend on it. Sounds familiar? Well, thanks to the trend there are now a lot of eyebrow makeups on the market including this one from L'Oreal. But is it good? Scroll down to read my L'Oreal Brow Artist Xpert review and swatches.
WHAT IS IT?
L'Oreal Brow Artist Xpert is a 2-in-1 retractable brow pencil. It is equipped with a triangular-shaped tip and a styling brush to help you achieve a more natural finish. For the list of its ingredients, you can read this CosDNA Analysis.
PERFORMANCE
APPLICATION: Brush your brow hairs upward and into place, to open up the eyes. Begin your application from the inner corner of the eye, lightly brushing color in small strokes. Finish using the sharpest edge of your Brow Artist Xpert to create a clean finish.
FORMULA: L'Oreal Brow Artist Xpert does not have a waxy formula, unlike most eyebrow pencils in the market. It leaves your brows soft and does not clump. It actually feels like it has a powdery/matte finish.
PACKAGING: It is packaged as is but with a plastic wrap. The pencil is sturdy and comes with a spooly to brush your brows. I also screwed it till the very end and saw it contains a total of 1 inch of the pencil.
RESULT: First of all, you have to warm up the L'Oreal Brow Artist Xpert by testing it on your wrist before you directly apply it to your brows for a more even and natural finish. Despite that, it's highly pigmented. I have thick brows that's why I prefer to use eyebrow mascaras like Glossier Boy Brow because brow pencils tend to clump on my brows. But as mentioned above, the formula of the Brow Artist Xpert is not waxy. In fact, it feels like it turns into soft powdery, almost matte, finish when applied to my brows. It's not sticky and does not clump! And if you have thin brows, this pencil is easy to use to shape and define your brows.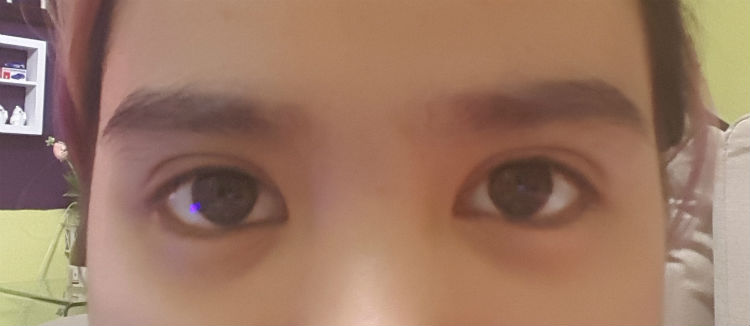 The Brow Artist Xpert does not claim to be smudge-proof, transfer-proof, nor water-proof, but I still tested it anyway. I first rubbed my brows but it didn't smudge and no pigment transferred on to my finger. I swatched all the shades on my arm, rinsed it with tap water, and then rubbed it. The water didn't erase it nor even lightened it but when I rubbed it, it smudges but only very little. It's still intact on my arm but it kinda lightened but still looks pretty good. On my eyebrows, it lasted an impressive 8 hours!

The shades from lower left to top right: Warm Brunette, Brunette, Cool Brunette, Ash Brunette, Ebony, Warm Blonde and Blonde.
VERDICT
PROS: It has a natural finish, not waxy, does not clump, and long-lasting. It can withstand sweat and it does not smudge easily not transfers. Lastly, it's affordable!
CONS: You have to "warm it up" before directly applying on your brows.
WHERE TO BUY?
You can purchase the L'Oreal Brow Artist Xpert in SM Department Store and Zalora for the same price of Php350 each.
If you live in the US and UK, you can purchase this in ASOS for $9.71.
What do you think of this L'Oreal Brow Artist Xpert review? Is eyebrows your life too? And what's your favorite eyebrow makeup? Share it all in the comments below!
**I received the products mentioned above for free in the hope that I would mention it on my blog. Regardless, I only recommend products I use personally and believe will be good for my readers. All thoughts and opinions are my own and not influenced by the brand or its affiliates.