Ever since I had a nasty breakout late last year, I got really conscious of my skin because I had a bunch of acne and dark spots! Although I go to a dermatologist and have chemical peel procedures, I wasn't recommended to do it every month and there are still some dark spots left on my cheeks. So during my downtime, I did research for home treatments and I stumbled upon this Korean beauty product that gets a lot of good reviews and often sold out from shops. Products like those annoy me, I want to buy to know it myself and get it out of my freakin' system. Obviously, I finally got it and used it. Here's my Klairs Freshly Juiced Vitamin Drop review. Learn if it just hypes or really worth it.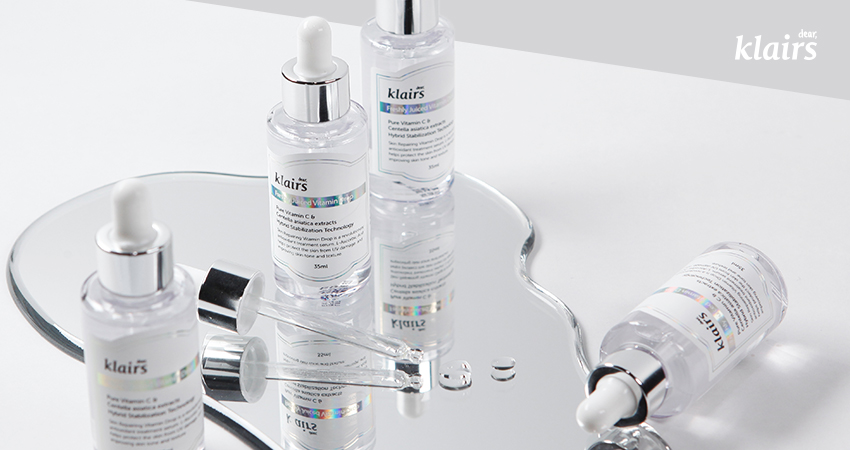 Before you read my review, you should know first the benefits of Vitamin C to the skin and why it is important.
Benefits of Vitamin C
The antioxidant properties of vitamin C (ascorbic acid) and its role in collagen synthesis make vitamin C a vital molecule for skin health. Some studies have shown that vitamin C may help prevent and treat ultraviolet (UV)-induced photodamage and more…
Production of Collagen – Vitamin C is a required component for the production of hydroxyproline and hydroxylysine, both of which are needed to bind the molecules that produce collagen. This, in turn, firms and tones the skin. Collagen deficiency makes the skin dull and lifeless. Collagen rejuvenates the skin from the roots and reduces wrinkles and symptoms of aging.
Protects Against Skin Discoloration – Vitamin C protects DNA from photochemical reactions. It lightens dark discoloration like skin freckles and age spots and helps to get a younger and smoother skin.
Improves Skin Texture – Vitamin C increases the formation of elastin which thickens, protects and heals the skin cells. The thickening effect helps retain moisture, increases the skin circulation and plumps up the skin surface.
MY THOUGHTS
After a few weeks of using the Klairs Freshly Juice Vitamin Drop, I did notice that my dark spots lighten and skin brightens. And a couple more months of using this, my skin did improve
PROS
Brightens skin and rejuvenates
Oil-free
Effectively lightened dark spots.
CONS
It feels warm on the skin
Does not heal acne
Formula is too thick and slippery for those with oily skin types.
It oxidizes fast
What is it?
Klairs Freshly Juiced Vitamin Drop is made to energize and rejuvenate your skin with the power of pure vitamin C. Designed with naturally effective ingredients that are safe and non-irritating. It contains 5% Ascorbic acid and is suitable for all ages and skin types, even if you have the most sensitive skin.
It also claims to be oil-free, breathable and light, so the vitamin drop is perfect for sweaty & hot summer days, and can be used by anyone without worry of stickiness or oiliness!
Performance
APPLICATION: After cleansing, apply an amount of about half the dropper to the entire face area. Gently massage into the entire face using the palms and body heat to work on the skin. It can be slippery but it is oil-free. The slippery feel comes from glycol, a component that increases the absorption of vitamin C into the skin. For those with sensitive skin, apply about 3-4 droplets, and try mixing a few drops of preferred serum or lotion until the skin is used to the product. For the best effect of vitamin C, please use it within 2~3months after opening and store in a cool place.
TIPS:
Vitamin C products are best used during the evenings rather than during the mornings.
Follow up with a sunscreen when using during the day.
If it is your first time using a vitamin C product, a minor tingling may be experienced. This is a normal process due to the difference in pH levels in the skin and the vitamin C and is absolutely safe to use.
A slight warming sensation may be felt upon application. This is a natural phenomenon that
occurs as the pure vitamin absorbs into the skin.
As the skin can easily be irritated, it is not recommended to apply this serum after exfoliators
(AHA, BHA products included) have been used.
PACKAGING: I love the packaging! The serum is in a transparent glass bottle with holographic labels, however, it makes it a bit difficult to photograph. In person, the design of the bottle looks lovely on your vanity and it a real treat to look at and use. Other than that, the serum is dispensed with an eyedropper similar to a baby's vitamins. While the box has a very similar design, featuring a holographic label on the front. It is a bit hard to read, but it is so lovely as well.
SMELL: It has a slight smell of citrus. I love that the scent doesn't sting the nose.
MY EXPERIENCE
My skin is used to Vitamin C and other strong ingredients so I didn't felt any sting after my first time using the Klairs Freshly Juiced Vitamin Drop, however, I did felt the heat. But it was just mild and very tolerable. It was mentioned this was for all skin types and OIL-FREE, but the texture is too thick and slippery for someone with oily skin type like mine. So if you're like me I recommend only use this at night, if you really want to also use this in the daytime, make sure you have a good oil-control powder like Innisfree No-Sebum Mineral Powder.
After a few weeks of using this product, I did notice that my dark spots lighten and skin brightens. And a couple more months of using this, my skin did improve, however, it's not good for those with acne. It doesn't heal acne, in fact, it doesn't do anything with it. Which made me stop using this product and look for something else instead.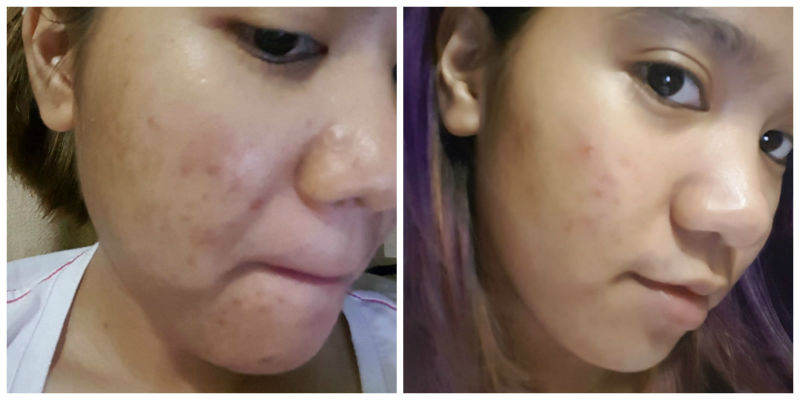 The photo on the left was taken last December 2016, while the photo on the right was taken last June 3, 2016. As you could see my skin really improved but disclaimer: around January to mid-March 2016, I stopped using the vitamin drop because I had a chemical peel treatment. But I resumed using it when my face was fully healed before I switched to a new serum drop specializing in acne treatment, which I will blog later.
OXIDIZING & STORAGE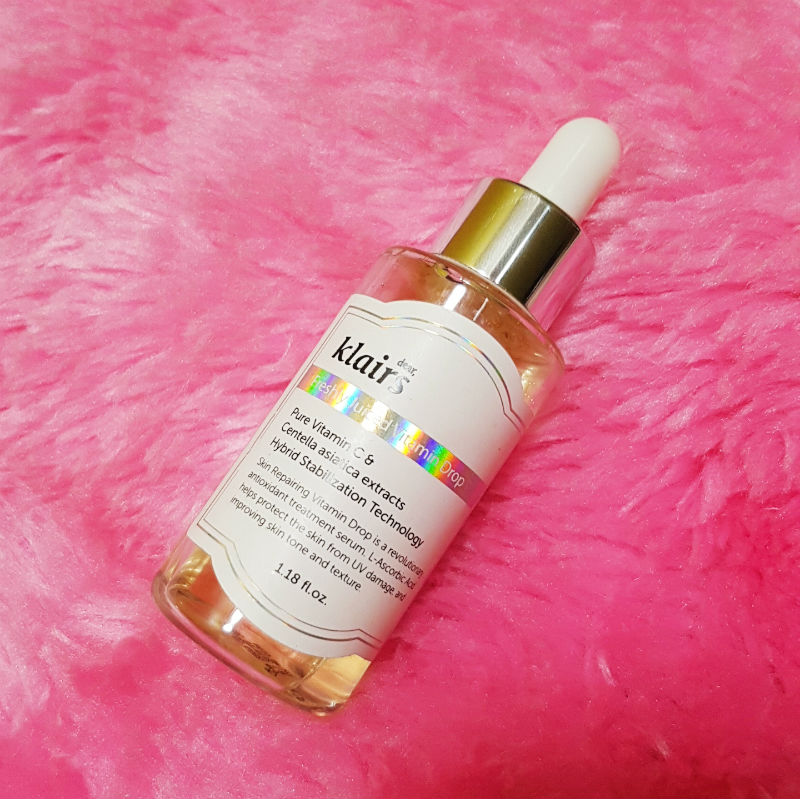 This is why almost all the photos I used in this post are from Wishtrend is because my Klairs Freshly Juiced Vitamin Drop is already yellow. This is totally normal and still safe to use as long as it is still see-through. If you put a drop in your hand and it's already cloudy, that's when it is time to toss it in the trash can.
That is why it is highly recommended to store it in a cool and dry place away from direct sunlight. If a slight color change occurs, the effects of the product will not be influenced. Due to the 5% vitamin C within the product, the color change can occur. To avoid color change, please store in a dark, cool and dry place. I actually keep mine in the fridge.
Will I buy it again?
I have an oily and acne-prone skin, I break out easily especially when I have my period so despite its good results on lightening my dark spots and rejuvenating my skin, I will not buy this again for myself. I gave my bottle to my mom who loves it, she has melasma and she said this product made her skin brighter and even firmer. It helps reduce the appearance of her wrinkles, and so I will buy this again for her. If you're only skin concern is dullness and dark spots, and maybe the same with my mom, then I highly recommend this product to you.
One more thing, my mom really gets crazy when it comes to skincare products so she tried this Vitamin Drop on her lips as well! She patted a drop of her lips before going to sleep and she said it made her lips plump and soft. I don't claim that this is for lips as well, but hey! It doesn't hurt to try. As long as you won't swallow it or lick your lips if you applied this. I wouldn't be responsible if something happened to your stomach!
Where to buy?
STORE
PRICE
DETAILS
Wishtrend
$23
– Free shipping worldwide + freebies.
– Check the StyleVanity Deals page for discount coupons
Go Bloom & Glow
Php1200
Use code MARIM60 to get
₱100 OFF on your entire order
(minimum of ₱1000, single-use only).
Kbeauty Cafe
Php1200
Use the code itsmariaalyssa to get
Php100 off for first-time buyers with
minimum orders worth Php1000
Lazada
Php1200
Soko Glam
$23
Revolve
$23
What do you think of this Klairs Freshly Juiced Vitamin Drop review? Are you going to try it too, or have you used this before? Share it below!