We're stuck in our homes right now, but that doesn't mean that you can skip sunscreen. Joyce Park, a California-based, board-certified dermatologist, told Allure, "standard glass windows block UVB but not UVA rays, which can penetrate deeper into the skin than UVB [rays], [and] are the main contributing factor to photo-aging — which are changes seen as dark spots, wrinkles, and leathery textured skin." And also, UVA rays can contribute to skin cancer, which is the main reason Park recommends slathering on SPF while inside, and especially if you're sitting by a window or in a room with lots of sunlight. That is also why even though we're all in self-quarantine I'm still going to do my annual sunscreen reviews starting with the hyped-up Sunglow Creme Tinted Sunscreen review. Seriously, that product sold out in minutes after their debut launch!
Just in case you didn't know, Sunglow is a new brand by influencers Rei Germar and Mae Layug, in collaboration with Fresh, that skincare brand you often see in Watsons.
MY THOUGHTS
Sunglow Creme Tinted Sunscreen is a good every day tinted sunscreen and an affordable dupe to It Cosmetics CC Cream Matte. However, I will not still 100% rely on it as an actual sunscreen.
PROS
Broad spectrum sunscreen
Non-greasy
Non-tacky
Lightweight
CONS
Turns a little gray on darker skin tones or acidic people.
WHAT IS IT?
Sunglow Crème Tinted Sunscreen provides all-day coverage that claims to be comfortable to wear giving you a radiant, glowing, and natural-looking skin. This sunscreen also contains SPF50 PA++++ to ensure ultimate protection against UVA (skin aging) and UVB (burning) rays.
NOTABLE INGREDIENTS
It contains Centella Asiatica, a good anti-inflammatory ingredient known to soothe sensitive skin and good for acne-prone skin, and Sunflow Oil, which is also a multi-tasker like the Centella Asiatica but moisturizing. This also contains Niacinamide, which is a known brightening and anti-aging ingredient which you can find in many beauty products. Lastly, its sun protection comes from a combination of Zinc Oxide and Titanium Dioxide. You can read its full ingredient analysis in Skin Carisma.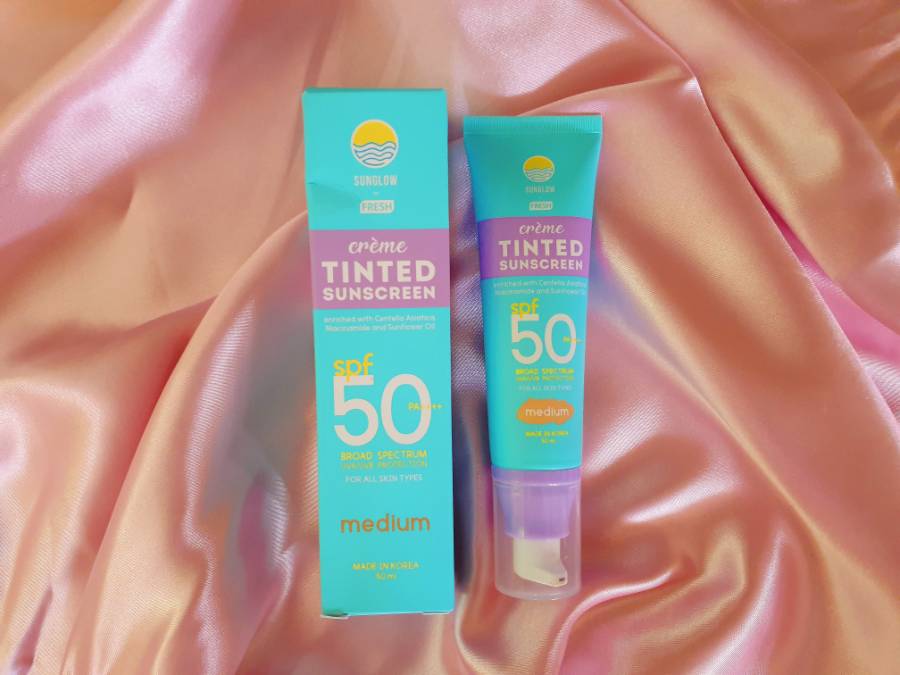 PERFORMANCE
APPLICATION: Pump an adequate amount and gently blend all over the face and neck using your fingertips or a makeup blender. Can be used as a primer substitute. Apply liberally at least 15 minutes before sun exposure. Reapply as needed.
SCENT: Sunglow has a very mild powdery scent that even "scentsitive" will like.
PACKAGING: It comes in an easy pump and mess-free tube, which resembles It Cosmetics CC Cream. And that's not their only similarities. Keep reading.
TEXTURE & FORMULA: Sunglow Creme Tinted Sunscreen has a satin-finish. Meaning it's not too thin but not too thick, and not too dewy but not too matte either.
These are both Medium shades of the It Cosmetics CC Cream (top) and Sunglow Creme Tinted Sunscreen (bottom). As you could see, It Cosmetics has a cool undertone and pink while the Sunglow has a warm and yellow undertone.
MY EXPERIENCE
The Sunglow Creme Tinted Sunscreen doesn't feel heavy or tacky at all which is perfect for the Philippines' hot and humid weather, especially for those who have oily skin. This tinted sunscreen also has a light to medium coverage and comes in 3 shades: Light, Medium, and Dark. This one I have is the medium shade.
Relying on makeup with SPF or tinted sunscreen is like USING UMBRELLA WITH HOLES
Honestly, the Sunglow feels more like a BB Cream rather than a sunscreen, and I don't mean that in a negative way. I also find it as a good and affordable dupe of the pricey (yet cult-fave) It Cosmetics CC Cream, the Matte version though. Having said that, the Sunglow indeed made my skin look glowy and even. However, after approximately 3 hours while I was on my way to the supermarket, I noticed my skin tone turned a little grey. Which is actually common for women of color and especially those who are acidic like me.
But overall, I still find the Sunglow Creme Tinted Sunscreen is a good every day tinted sunscreen. Having said that, I still would not rely on it 100% as a sunscreen because a dermatologist once said to me that "relying on makeup with SPF or tinted sunscreen is like USING UMBRELLA WITH HOLES" because you're not sure if the pigments used on those products will not affect the actual sunscreen. That is why even though I use a BB cream, tinted sunscreen, or any makeup with SPF, I still use a separate sunscreen.
WHERE TO BUY?
You can buy the Sunglow Creme Tinted Sunscreen in Lazada for Php429 each and in Watsons Online and its branches nationwide for the same price.
In my next post, I will be reviewing the Sunglow Tinted Lipscreen, but I will not be reviewing the compact powder or the Sun Mist since I have trust issues with sunscreen sprays that aren't aerosol. I like applying my sunscreen evenly covering my entire face and some sprays couldn't guarantee it.
What do you think of my Sunglow Creme Tinted Sunscreen review? Do you use a tinted sunscreen? Share your thoughts below!