I was ecstatic to learn about box braid wigs because I've always battled to maintain healthy, gorgeous hair. In addition to looking amazing, they shield your natural hair from harm and let you experiment with various looks without committing to a permanent change.
In essence, box braid wigs are wigs with braided sections of synthetic or human hair. They are intended to resemble the conventional box braids that black women have long been drawn to. The distinction is that a box braid wig may be used to get the same style without requiring hours in a hair salon.
The benefit of box braid wigs
Protect your own hair
The benefit of braided wigs is that they shield your natural hair from the damaging effects of heat and chemicals. Regular exposure of your hair to harsh chemicals from hair dyes or high heat from styling tools can dry out and break your hair. Box braid wigs give you the option to rest your hair while maintaining your stunning appearance.
Versatile
Box braid wigs have the added benefit of being highly customizable. They can be worn in a multitude of styles, ranging from a simple updo to a daring and dramatic design. You can also experiment with different colors and textures without jeopardizing your real hair. This is especially useful for persons who want to change their appearance on a regular basis because you can easily swap out your box braid wig with a new one whenever you want.
Here are some hints to help you wear your box braid wig naturally:
Select the appropriate size
Make sure your wig fits your head comfortably. A wig that is uncomfortable and looks strange can be too tight or too loose. I suggest that you can try 36 inch box braids.
Cut the lace: Make sure to cut the lace front on your box braid wig if it has one so that it fits your hairline. This will help to produce a section that appears more natural.

Blend your edges: Use a tiny bit of concealer or foundation to blend the wig's edges with your skin to give it a more realistic appearance. This will make it easier to hide any visible wig cap or lace.

Use baby hairs: Using baby hairs along the hairline could aid in achieving a more natural appearance. Around the outer edge of your hairline, place some of the wig's shorter strands. To achieve a more natural-looking hairline, comb them down with a toothbrush or a small comb.

Style it to fit your face shape: Try out different looks to determine which one suits your face shape the best. You can try with a side part, an up-do, or even a center part.

Avoid bulky braids: Keep the braids from becoming too heavy when you are braiding the wig. This could give the wig an unnecessarily thick appearance.

Maintain the wig: you keep your box braid wig looking natural, make sure you properly care for it. Use products designed specifically for synthetic hair and avoid using too much heat.

Add accessories: A wig can look more realistic by wearing accessories like headbands, scarves, or hats. They can be used to hide defects as well.
If you've never worn a wig before, it could take some getting used to the way a box braid wig feels and looks. You can pull off this look like a pro with a little work, though. You also can choose a wig suitable for you on FANCIVIVI.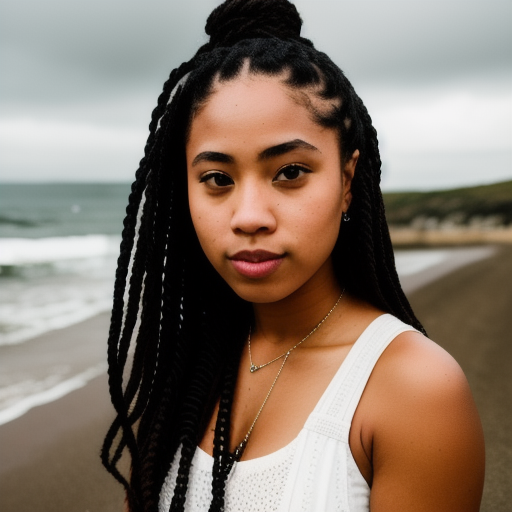 The following are some maintain guidelines for your box braid wig:
Maintain cleanliness: A dirty wig can break and suffer damage, just like genuine hair can. Depending on how often you use it, wash your wig every few weeks with a mild shampoo and conditioner. Make sure to rinse it thoroughly to prevent product buildup.

Wash your box braid wig with lukewarm water and a mild shampoo. Be careful not to twist the braids as you gently massage the shampoo into the wig. After thoroughly cleaning the wig, let it air dry on a wig stand.

Protect it while sleeping: To keep your wig from tangling or getting damaged as you sleep, wrap it in a satin or silk scarf or cap. Additionally, this will help to maintain its aesthetic.

Avoid heat: On your wig, you should avoid using heat styling products because they can harm the fibers. If you want to change the style of your wig, think about using additional techniques like braiding or twisting.

Store it properly: Put your box braid wig on a wig stand while you're not using it to properly store it. This will aid in maintaining its shape and preventing it from twisting.

Remember the edges: Even if the wig conceals your real hair, the hair around your hairline still shows through. Use a light edge control or gel to moisturize and protect them to prevent breakage.
When wearing a box braid wig, bear in mind that it needs some maintenance. You still need to take care of your wig to keep it looking beautiful even though you don't need to wash and style your natural hair as frequently.
Here are some recommendations for caring for your natural hair while wearing a box braid wig:
Moisturize: Maintain your natural hair's moisture levels even if you're wearing a wig. Apply a leave-in conditioner or oil to keep your hair nourished and healthy.

Protect your hairline:When your hairline is revealed, you must take special care to keep it safe. To prevent damage, modest edge control or gel can be used to smooth down your edges.

Avoid leaving your wig on too long: Even though box braid wigs are a great protective style, it's important to occasionally let your natural hair rest. Every few days, take off your wig to allow your hair to breathe and receive some TLC.

Avoid tight styles: In spite of the fact that box braids are a protective design, avoid wearing them too tight. To prevent breakage, make sure your braids aren't pulling too hard on your hair or scalp.

Trim your ends: To maintain the health of your hair, trim your ends frequently. Trim your hair every few months to prevent breakage and split ends.
Remember to maintain the health of your natural hair while wearing a box braid wig. While the wig shields your hair from harm, you still need to maintain a good hair care regimen to keep your real hair strong and healthy.
Conclusion
In conclusion, box braid wigs are a fantastic way to preserve your natural hair while still looking great. For those looking to experiment with different hairstyles without damaging their hair, they offer a wide variety of low-maintenance options. You can rock a box braid wig like a pro while still protecting your natural hair with a little work and the right maintenance.