It's party time. You've got a dress picked out. Now, you need some statement jewelry to complete your look.
There are many options to pick from. However, you'll have to tread carefully. Depending on what you're wearing, a simple necklace mightbe better than a bold cuff or jewelled belt. Additionally, regardless of thesize of jewelry you choose, you want to ensure that you're putting emphasis in the right place. The following are four options to consider;
1. Going with a sweetheart neckline? Choose a simple necklace
If you're wearing a dress with a sweetheart neckline, a bold statement necklace will do your frame the needed justice. Just ensure that it's a little on the shorter side. This way, the necklace will draw attention to your face without overlapping with your cleavage. Some excellent options include; a princess length necklace, a simple choker, and a gold or silver chain with a delicate drop. Pro tip: add a decorative clasp to the necklace. This way, you're still keeping it simple, albeit with a little glamour.
2. Going Deep V? Pendant necklaces work best
The trick with deep V necklines is to repeat the shape of your neckline while drawing attention to your cleavage. This is why pendants work so well. Make sure the pendant is of optimal length. It should end around 5 cm (2 inches) above the V. Excellent options to pick from include; a family heirloom, a strand of beards of pearls, a "Y" drop necklace in pearl or crystal, or something special such as Swarovski crystal. Pro tip: add a tiara or twine a hair vine accessory through your tresses for added sparkle!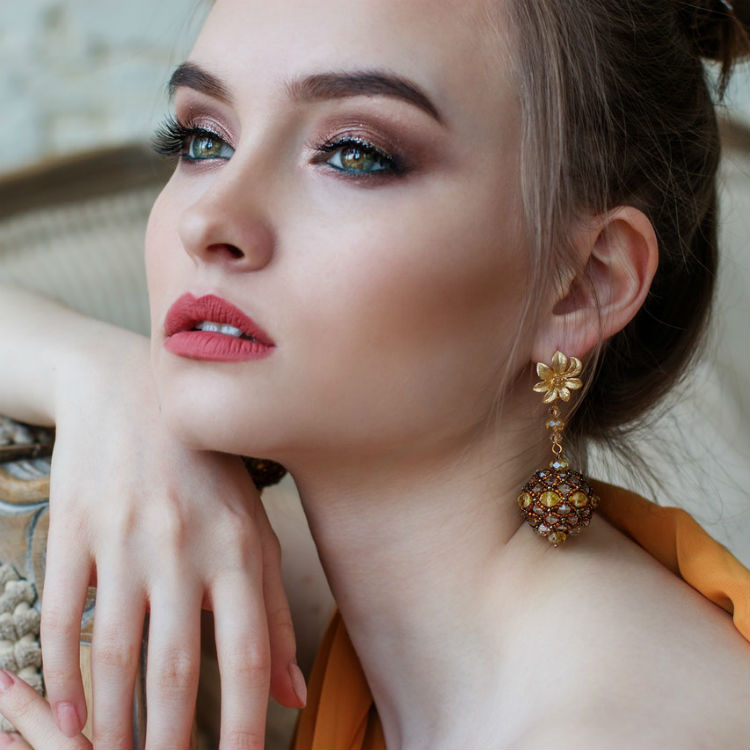 3. Chosen Strapless? Consider statement earrings or a choker
Strapless dresses are an excellent pick for most statement occasions. They have the advantage of being able to stand out on their own even without accessories. Additionally, they can be complemented by all styles of jewelry. You just need to be careful as the dresses expose a lot of skin and can attract attention to your burst in case you have a large chest. Pro tip: select a statement pair of earrings to complement the dress. Or, go with a choker. A choker in small, translucent glass beads, gems, and crystal will leave you looking stunning!
4. For a tank dress, ear cuffs and layered rings work best
There's something special about good tank dresses. They are light, cool and are casual enough to be worn to summer activities. They can also be dressed with jewelry for formal occasions. If you choose to wear your super tank dress to that special occasion, you want to pay attention not to interrupt those loose flowing lines with heavy jewelry. So, choose an ear cuff to draw attention to your face and a couple of cool layered rings to bring balance to your look. Pro tip: Pick something from a top jewelry store. Saint Laurent has an unprecedented standard of luxury so can consider them. Other types of dresses work best with other types of jewelry. The big advice is to always keep it simple. When it comes to jewelry, less is better.
**