Looks like Philippine local celebrities are following the steps of Hollywood celebrities like Rihanna, Kat Von D, and Jessica Alba by starting their own line of beauty products starting with Anne Curtis who does not need any introduction if you're Filipino. For my non-Filipino readers, she's a Filipino-Australian actress, TV Host and fellow K-Drama junkie who's a household name in the Philippines. Check out her very chic Instagram account for more info. But back to her beauty line, why is it called "BLK" and is it worth your money, and will you really achieve "uncomplicated beauty" as it says in the brand's tagline? Keep reading this BLK Cosmetics review to learn more.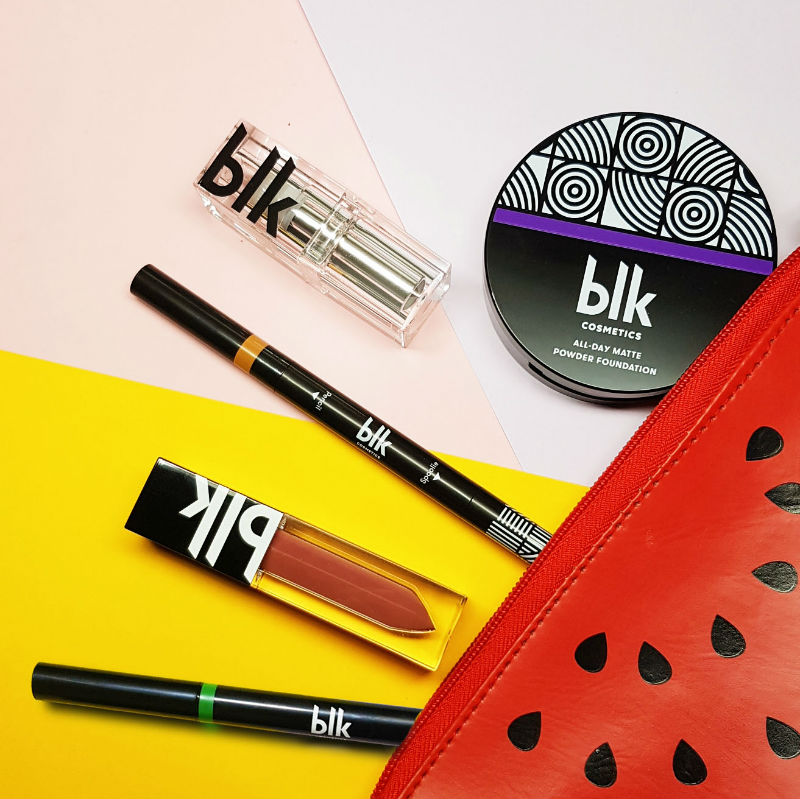 What is it?
The BLK in the name stands for "Black" which is "something timeless, elegant, and uncomplicated," explains Anne. But unlike other cosmetic products, blk cosmetics aims to stand out by going back to basics. Explains Jacqe Yuengtian Gutierrez (Anne's business partner), "Our goal is to keep things simple. Plus, I'm also proud of the fact that we are one of the few local brands that have an official cruelty-free certification from PETA."
The Uncomplicated Beauty BLK Cosmetics Review
Usually, I review products individually, but since people are excited to know more about them, I'm reviewing them all in one post! Starting with my favorite to my least favorite. SPOILER: I did not buy everything from the line, just only what I need.
blk Long-Lasting Liquid Matte Lipstick
WHAT: Proclaimed as the "the most comfortable matte lippie ever," it has intense color and the mousse texture dries to a freshly-blotted look with a soft matte finish—never tight or dry, thanks to hydrating Vitamin E and softening rosehip seed oil—and the pigment stays put all day long.
SCENT: It's unscented but I kinda smell a tinge of oil smell.
SWATCH & WAND
PACKAGING: I super love the packaging of blk long-lasting liquid matte lipstick. It's rectangular, transparent, and elegant. It definitely looks expensive than it looks! Plus, I love that you could see the liquid lipstick inside in a shape of a lipstick tube. It looks like it's packaged in glass, but it's actually a sturdy hard plastic, that almost feel like glass but not heavy.
RESULTS: It's sticky at first, and it takes a while to dry so if you drink, eats, or rubs your lips after application, it will surely smudge. But as soon as it dries, it can last ALL DAY, no bulls***! I demonstrated it on my Instagram Stories and the liquid lipstick stayed until the next day.
PRICE: Php349 or $7
VERDICT: Uncomplicated
blk all-day intense matte lipstick
WHAT: Claims to have intense color at first swipe, this lipstick has a true matte finish—zero sheens, just all-out boldness—and a non-drying, all-day wear. It is enriched with Vitamin E and camellia oil, moves comfortably with your lips, never caking or feathering as you go from day to night.
SCENT: It's also unscented but it has the "generic new lipstick smell" if you know what I mean.
SWATCH & SHAPE
PACKAGING: Just like the liquid lipstick, the matte lipstick is also packaged in a rectangular transparent tube. Even the cap is transparent!
RESULT: It really does have intense color, although it can last all-day, it still smudges and easily vanishes when you drink and eat. And despite being matte, the creamy formula feels soft on the lips. However, it's kinda hard to swipe on the lips, you have to put an effort. Plus, it feels kinda heavy as well.
PRICE: Php299 or $6
VERDICT: Kinda Uncomplicated
blk all-day matte powder foundation
WHAT: Compact foundation that claims to have has ultra-fine pigments for seamless, buildable coverage—go medium or full, it's up to you. It claims to give you a fresh, soft matte finish –a gorgeously even complexion that looks like real skin, perfect for that awesome selfie. Bonus benefits: It also has built-in SPF 15 and is infused with anti-aging Vitamin E.
SCENT: It has a powdery smell that's a little sweet like a baby powder.
PACKAGING: The compact powder and the sponge are packaged separately. The sponge is stored in the bottom where with tiny holes to prevent your sponge from smelling bad.
RESULT: On the left is my bare face, in the center is my face with the blk all-day matte powder foundation which removed the shine/oiliness from my face but the coverage was just medium. I tried to add layers for full coverage, but my face just looks cakey and some dark spots on my face are still visible. So I tried spraying some setting spray/primer onto my sponge and I got a full coverage that looks less cakey. However, it feels too heavy on my face. Although, I think all powder foundations will feel heavy on me because I'm used to liquid foundations.
PRICE: Php399 or $8
VERDICT: Kinda Uncomplicated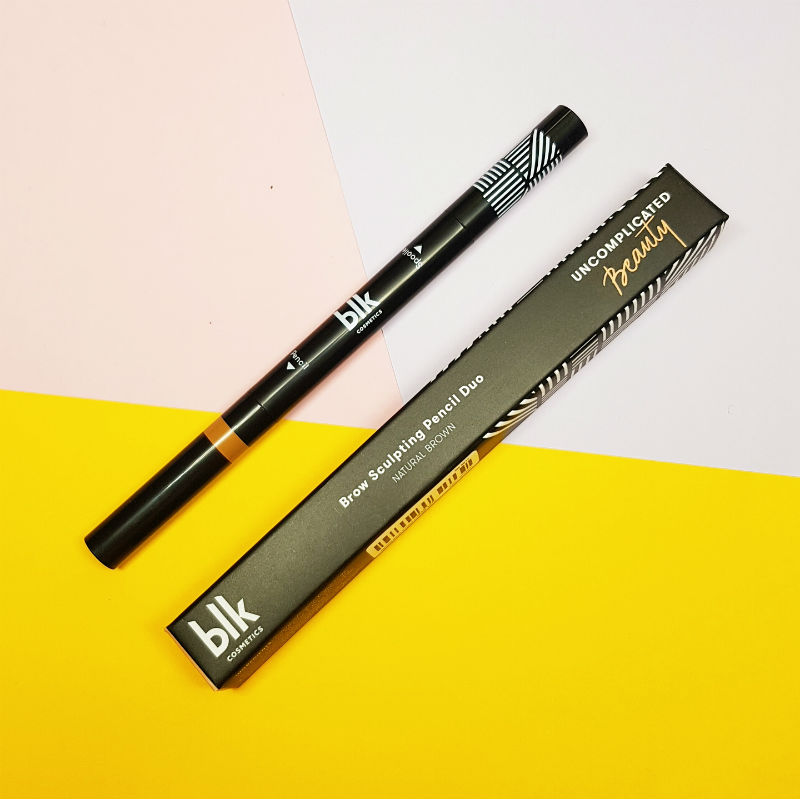 blk brow sculpting pencil duo
WHAT: Define, fill in, and groom brows in place with this pencil-and-brush duo. The triangle tip has a pointed end to create thin lines and a flat tip for thicker strokes, while the creamy pencil is infused with aloe vera to gently condition your strands.
PACKAGING: It's a nice sturdy-looking pen, and the spooly brush at the bottom works well in spreading the product for those with bushy brows and comb it at the same time.
RESULTS: For the record, I did not use the eyebrow pencil like shown in the right photo. I just want to show you how much product you'll get. Anyway, for someone with bushy eyebrows like mine, the creamy formula clumps on my brows so I really have to use the spooly to even it out. One problem I noticed is the pencil feels fragile. And it was confirmed when I gave this product to my mom (she has thinner brows than mine), and said the pencil keeps breaking! So what she did, is put the broken pieces in a small container and apply the product with a cotton bud. Despite that, she said the eyebrow pencil last long but it smudges when she sweats.
PRICE: Php249 or $5
VERDICT: Complicated
blk long-lasting liquid eyeliner
WHAT: Smudge-proof, foolproof liquid eyeliner glides like velvet, delivering intense pigment that lasts all day while also soothing your lids' delicate skin with aloe vera. It claims that you will no need for touch-ups—it can literally take you from your a.m. workout to after-work cocktails.
PACKAGING: This is like a marker pen with a pointy tip. No scent as well.
RESULT: I can vouch that this product is highly-pigmented, and smudge-proof, only if dry. When wet, it kinda smudges, and then it eventually vanished. On the 4th photo on the lower right, I tested it with another eyeliner, which has a tinnier tip than the BLK. Lastly, I also gave this one to my mom and I noticed while we were eating dinner in a restaurant that her eyeliner was running down her eyes. It smudges on its own when she sweat!
PRICE: Php249 or $5
VERDICT: Complicated
OVERALL VERDICT
My favorite is the liquid lipstick and it's the one I only kept, the rest, my mom took them. Although, I kinda like the matte lipstick and the powder foundation which both kind of products I don't normally use but good when I'm in a hurry and wants a simply lovely look. While for the eyebrow pencil and eyeliner, it's a pass for me. My mom used them both and she said the pencil breaks, while the eyeliner is not sweat-proof at all, and she goes to the gym regularly FYI. Below, I tested the liquid lipstick, matte lipstick, and foundation to test: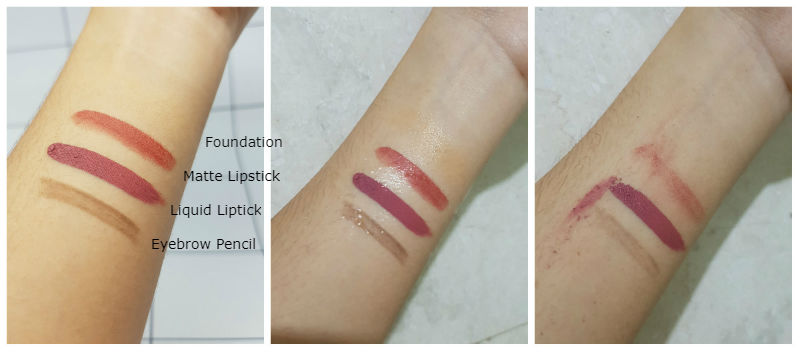 The second photo was taken after I put my arm onto running water and the products stick well. But then on the third photo, I rubbed it with my index finger and it smudged. As you could see, the liquid lipstick lasted longer among the four. The foundation vanished in the third photo, while the matte lipstick and eyebrow pencil were barely there.
Lastly, BLK also sells a Contour, Highlight & Blush Palette which comes in 2 shades and cost Php499 or $10 which I didn't buy for the only reason that I don't contour.
Where to buy?
You can buy BLK Cosmetics in Zalora website here which offer free shipping when you order Php1000 and above, not just with BLK Cosmetics but with any other products on their site. But you can also buy BLK in select Watsons and SM Department Store and on their official website which is BLKCosmetics.com.ph They ship internationally which is good for our fellow OFWs who wants to try the products. And starting February 1, 2018, they are now available in BeautyMNL too.