Introducing the RESIST Triple Active Total Repair Serum – the latest addition that is clinically proven to improve lines, discoloration and firmness–with prescription-like potency
Aging is a natural process that everyone has to go through. The many, fruitful years that we have lived show on our bodies, especially our faces. Although aging is not something to be inherently fearful of, it's a good thing that there are products that can help resist and disrupt the aging process to retain our youthful look. One such product is the latest anti-aging serum from Paula's Choice. Launching here in the Philippines on August 22, read on to find out more about this new product and see how you can address the signs of aging on your skin!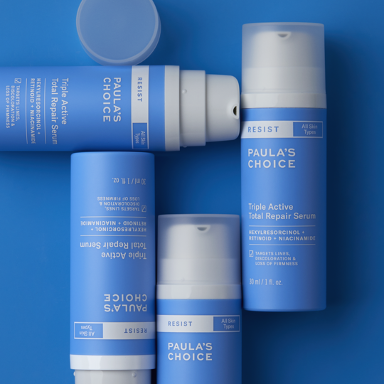 Resist the Signs of Aging
The NEW RESIST Triple Active Total Repair Serum is clinically proven to visibly improve lines, discoloration, and firmness in as little as one week with its potent blend of hexylresorcinol, retinoid, plus niacinamide.
The 0.3% retinyl propionate visibly firms and smooths the skin, the 5% niacinamide evens out skin tone and enhances the efficacy of retinoids, and the 0.4% hexylresorcinol targets and fades dark spots that can develop on the skin. With this highly potent blend of ingredients, this advanced, anti-aging serum takes cues from its synergistic blend of key actives that build on each one's remarkable results. A light, hydrating serum for all skin types, it signals the skin to renew and re-energize what time and environmental damage have taken away.
Triple Active Technology That Works
To experience the powerful blend of triple active ingredients, the RESIST Triple Active Total Repair Serum can be used up to twice a day. After cleansing, toning, and exfoliating, apply an even layer to the face and the neck. It is also suitable for use on the undereye area, and if you are using it with other skincare products, layer them from the thinnest to the thickest texture. For daytime use, always top off your skincare routine with SPF 30+ or higher.
With regular use, visibly improved lines, lessened discoloration, and enhanced firmness can result in just one week based on clinical studies.
Disrupt aging in just one week with the RESIST Triple Active Total Repair Serum. It retails for ₱3,150 on the Paula's Choice Philippines website: https://www.paulaschoice.ph/.
From 22 to 28 August 2023 take up to 25% OFF Glowing Essentials and with every purchase of the new Paula's Choice RESIST Triple Active Total Repair Serum, receive a complimentary Paula's Choice Deluxe CLINICAL Niacinamide 20% Treatment, while stocks last.
You can find Paula's Choice Philippines on Instagram, Facebook, and TikTok.
With Paula's Choice, Beauty Begins With Truth.
@paulaschoice.ph #PaulasChoicePH #SkincarePH