Not everyone can sew, but you can still make a DIY face mask with filter without sewing at all! All you need are materials that probably already in your closet.
In light of new evidence that shows asymptomatic carriers may still be able to spread coronavirus without knowing they have it, people are now advised to use face masks in public places especially when they buy groceries and other necessary errands during this pandemic. But the use of surgical masks and N-95 respirators are not recommended for the general public because they are critical supplies that must continue to be reserved for health care workers and other medical first responders.
HOW TO MAKE A NO-SEW DIY FACE MASK WITH FILTER
What you need:
Bandanna or any 16″x16″/20″x20″ handkerchief, scarf, or cloth.
Two pieces of hair tie or rubber band.
PM2.5 Filter Mask – you can buy this in Amazon for $13 (50 pcs) and Yes Style for $21 (20 pcs) or you can use a Coffee Filter, whichever is easier to find.
I'm not taking credit for thinking of this idea, this is actually originally shared by hairstylist Bridget Brager, you can check her demo below:
And here's an illustration how to put a filter in the middle of your DIY face mask according to Healthline: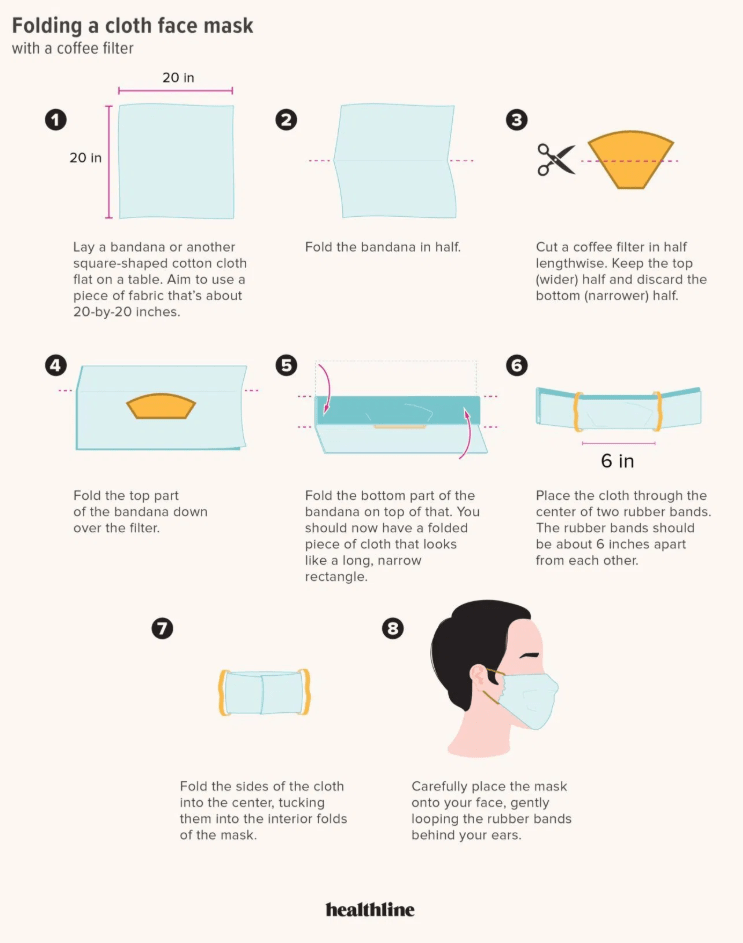 When you use your DIY face mask, make sure to toss it on the laundry, clean it as soon as you got home so you won't take the coronavirus inside your home. Also, make sure your face is prep for wearing the face mask because it can also cause some skin problems.
You can make a DIY face mask with filter or you can buy a ready to use stylish one, whatever your choice, make sure to wear it every time you go out and wash your hands. Stay safe and healthy!
While you're here…
13% of the COVID-19 positive in the Philippines are the healthcare frontliners which even the WHO admitted is very alarming. Please help our medical frontliners by donating money to buy PPE for their protection. Here are the details on how to help: