More and more women are embracing wavy virgin human hair extensions lately. The natural wave patters have made many to go for Brazilian wavy hair, simply because of the versatile ways in which it can be styled.
Young women and girls have come to embrace the comfort that comes with this hair. Most of the Brazilian wavy hair bundles come in a healthy state, giving one a natural-looking, and low maintenance look.
If you are considering switching up your look, then Brazilian wavy hair is your perfect choice. This is why you need to know every little detail about this hair. Enjoy your read!
Why has Brazilian Wavy Hair become so popular?
Every woman wants the best hair extension. Brazilian virgin human hair extensions are among the best that one can find in the market. Its healthy cuticles and ends make it a favorite among many. This means no more worrying about the hair matting up or tangling. In its natural, untreated state, it is among the most healthy hair extensions in the market.
This hair extension has a natural shine to it and is quite thick. It can be used by women from versatile ethnic origins owing to its texture. It lasts for long and if well taken care of, it should serve you for at least one year.
What traits are associated with Brazilian Wavy hair?
Easy styling without necessarily curling it as it already has a natural wave to it.
It is 100% Brazilian virgin hair
High-quality pieces are soft and smooth
Has high elasticity, is full and lasts long
It's low maintenance and hardly tangles
Great versatility
Available in varying lengths, from 8" to 30"
Brazilian Hair Extension Types
Brazilian wavy hair comes in versatile options, such as the deep wave, body wave, loose wave, and water wave. Let's learn more about these options.
Brazilian Body Wave
This hair has the most natural wave, with a slight angled bend. However, the waves don't last after a number of washes, and one may need a flat iron or curling rod to redefine them. It can easily be styled into whatever form you'd prefer.
Brazilian Loose Wave
This has big, loose waves that are quite similar to the Brazilian body wave. However, its curls are more defined, making it ideal for the woman going for a big, sexy wave look. The styles into which one can manipulate it are endless, as these curls do not limit anyone.
Brazilian Water Wave
The Brazilian water wave hair extensions are made from 100% virgin Brazilian Remy hair. Its style lies in between the curly wave and the deep wave. It resembles the pattern made by wavy water, hence the name "water wave". The Brazilian water wave is ideal for those going for a full, thicker look. It is a favorite among fashion girls and women who tend to take their looks to the next level.
Brazilian Deep Wave
The curls of the deep wave hair are less dramatic even though they can be seen from afar. It is ideal for women that are just getting into the curly hair affair for the first time. It can be installed by women of all ages, and it is used to highlight the perfect features of your beautiful face.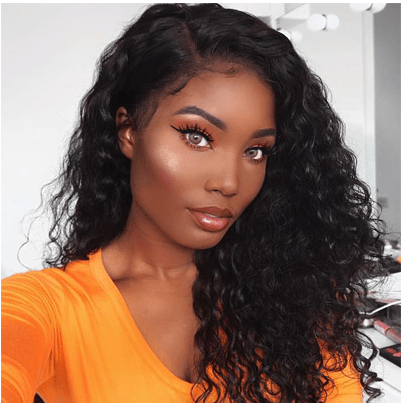 How to take care of your Brazilian Wavy Hair
Properly caring for your Brazilian wavy hair determines how long it is going to serve you. The process outlined below is a simplified version and should help you have clean, refreshed hair at the end. For optimum results, it is recommended that the process is completed before going to bed. This allows your hair to air-dry overnight, allowing you to style it as you please the next morning.
Regularly wash it using a sulfate-free, moisturizing shampoo and deep conditioner. This helps in preventing product build-up, which leaves the hair looking dull. Before starting the washing process, comb out any knots that may be present using a wide-tooth comb.
Apply a natural oil such as olive or coconut oil to both your natural hair and scalp. All portions of hair left out should be covered in this oi.
Damped your extension using water in a spray bottle. Once all the hair is damp and wet, comb through it once again.
Generously apply your deep conditioning treatment to both your leave out and your hair extension. Clip your hair in place and put on a shower cap.
Let the shower cap sit for at least one hour before thoroughly rinsing off the products using warm water and a sulfate-free shampoo.
Gently towel dries your hair and applies a natural oil or straightening balm. Ensure the product is uniformly distributed in your hair.
Set your blow drier on the low and start the blow drying process. Ensure the tracks are completely dry and the hair fully detangled.
Gently brush through the hair to ensure there are no tangles at all. Apply your leave-in conditioner and lightly go over your hair again.
Add your desired natural oil and style as desired.
These are just a few of what Brazilian wavy hair has to offer. Its popularity can be attributed to the versatile styles in which it comes, and the various styling options it leaves you with. If you are looking to take your look to the next level, try our Brazilian wavy hair extensions. You will definitely fall in love!