Those with sensitive skin knows how hard it is to find the right sunscreen. That's because certain SPF ingredients can cause itching, tingling, and inflammatory red rashes. But you should never skimp out on sunscreen altogether. There is a skin-loving formula that will provide you the right amount of protection without causing a reaction. Before you scroll down to read my Cell Fusion C Laser Sunscreen 100 review and know where to buy it. (PS: I have a promo code.) Let me tell you what you should look for a sunscreen when you have sensitive skin.
Which Sunscreen Ingredients Are Safe For Sensitive Skin?
According to New York City-based dermatologist Shari Marchbein, in her interview with Allure, "People with sensitive skin can have a hard time finding sunscreens, as most are made with chemical UV blockers that can cause stinging, burning, irritation, and redness when applied to the skin," She then recommended, "Instead, you want to look for physical blockers like zinc oxide and titanium dioxide, which can be found in baby sunscreens and most that are labeled for sensitive skin."
MY THOUGHTS
The Cell Fusion C Laser Sunscreen 100 was one of the best selling products in South Korea in 2018. It is really formulated for those people who have skin that is too sensitive for sunscreens.
PROS
Non-greasy
Feels lightweight on the skin.
It doesn't irritate sensitive skin or causes redness.
It also contains collagen to fight premature aging that UV causes.
CONS
Can leave a mild white cast.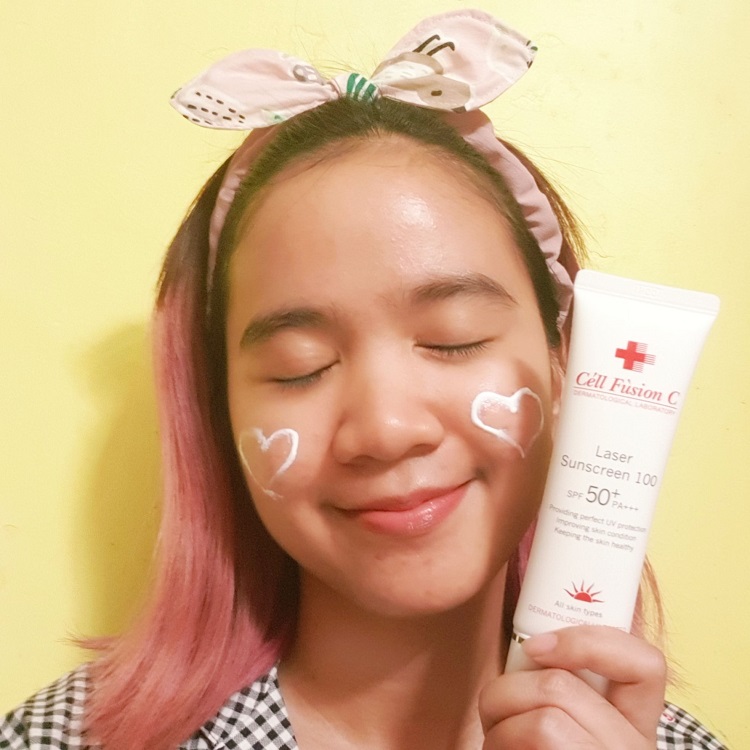 WHAT IS IT?
Cell Fusion C Laser Sunscreen 100 is a low-irritant UV protector with SPF50+ PA+++ that perfectly protects stressed skin damaged by the external environment with the golden ratio of inorganic and organic UV filters. It also helps prevent skin aging caused by the UV rays.
And more importantly, this is a physical sunscreen that contains both zinc oxide and titanium dioxide which are the best UV blockers for those with sensitive skin according to the dermatologist I mentioned above. It also contains peptide and hydrolyzed collagen that makes the skin firm and healthy, and Acetyl Hexapeptide-8 which is an ingredient similar to Botox. It provides elasticity to sagging skin. You can read its full ingredient analysis in CosDNA.
PERFORMANCE
APPLICATION: Apply onto the entire face at the last stage of your skincare routine, before applying makeup. Reapply frequently and generously to maintain
SCENT: It has that generic physical sunscreen scent but with a hint of baby powder.
PACKAGING: Just like most sunscreen, it is packaged in a rubber tube. But it also comes with a box with the same white and red design. Nothing really extraordinary.
TEXTURE & FORMULA: Don't be deceived by its white color, the cream does not leave a white cast and it feels really light on the skin. It doesn't feel tacky or greasy but it has a dewy finish, as expected with physical sunscreens.
MY EXPERIENCE
I wasn't really planning on trying this sunscreen because based on the photos of its texture, I assumed it will be too thick and greasy for my oily skin. And I also thought it may irritate my sensitive skin as well. But someone from Charis Shop told me it's great for sensitive skin. And when I Googled the Cell Fusion C Laser Sunscreen 100, I learned it was one of the best selling products in South Korea last year!
I have been using it for almost two weeks now, and my skin is great. No redness, itchiness, or breakout. I love that it doesn't ruin my makeup either. Actually, I recommended this to someone in Asian Beauty subreddit and here's her feedback:
Card
WHERE TO BUY?
What do you think of this Cell Fusion C Laser Sunscreen 100 review? Share your thoughts below!
**Some of the links in the post above are "affiliate links." This means if you click on the link and purchase the item, I will receive an affiliate commission. Regardless, I only recommend products or services I use personally and believe will add value to my readers.