I have some issues with tone up creams. First, they are so dewy! I have oily skin and lives in a humid country, they were never comfortable for me. And second, they are always too bright or grey (yes, grey) for my skin tone even though the brand claim it's color correcting and for all skin tones. Despite that, I always try a new one from different brands when I see it, like this one. But is it good, or the same as others? Scroll down to read my Unpa Peach Me Up Tone Up Cream review.
For those of you who are not yet familiar with tone up creams, as mentioned in my previous post, it is a treatment step so it's more like a skincare product than a makeup. Tone-up products are specifically made to balance and brighten skin tone as well as fight hyper-pigmentation and discoloration.
WHAT IS IT?
Unpa Peach Me Up Tone Up Cream is made up of 71% peach extract, not purified water. It can be used as makeup base or mixed with base makeup products like foundation or cushion compact. Lastly, it gives a natural toning up.
INGREDIENTS
Notable ingredients are Niacinamide which is known to have a brightening and anti-aging benefits. It also contains Arbutin which is a brightening ingredient too. Interestingly, this also contains Titanium Dioxide which gives a UV protection. You can read more about its full ingredients and analysis in CosDNA.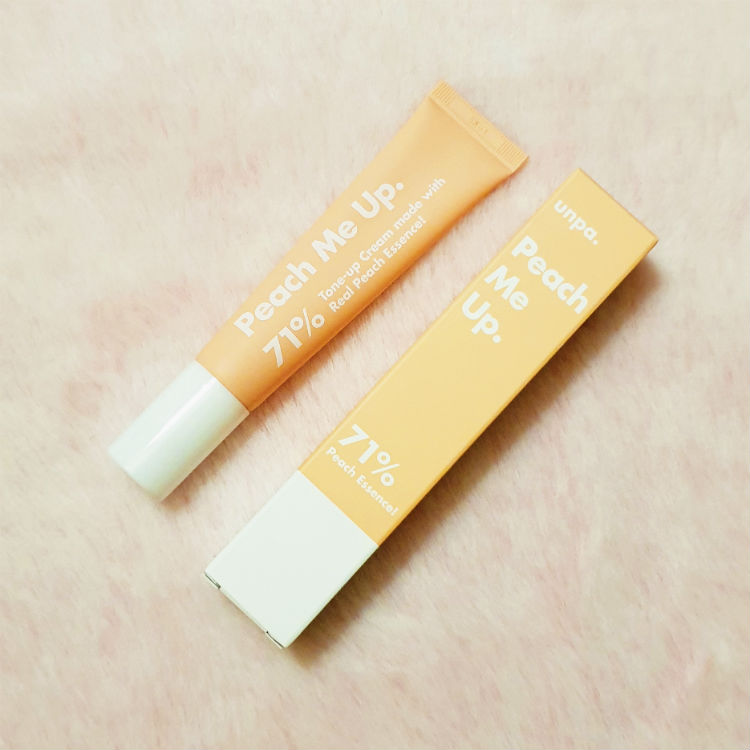 PERFORMANCE
APPLICATION: After washing your face and using products such as toner and serum, apply Unpa Peach Me Up Tone Up Cream evenly all over your face. You can apply once again to any remaining redness spots on face such as sides of the nose. Lastly, you can also apply it on your neck to even out your skin tone.
SCENT: With 71% peach extract, of course, it smells like peach. And it's a quite a strong scent. Almost like a peach candy scented perfume to be honest.
PACKAGING: It is packaged just like any Unpa products, it has minimalist design but cute. The tone up cream itself is pack in a tube, but you don't need to control your squeeze to get the product unlike most tone up creams because it's a comes with a pump!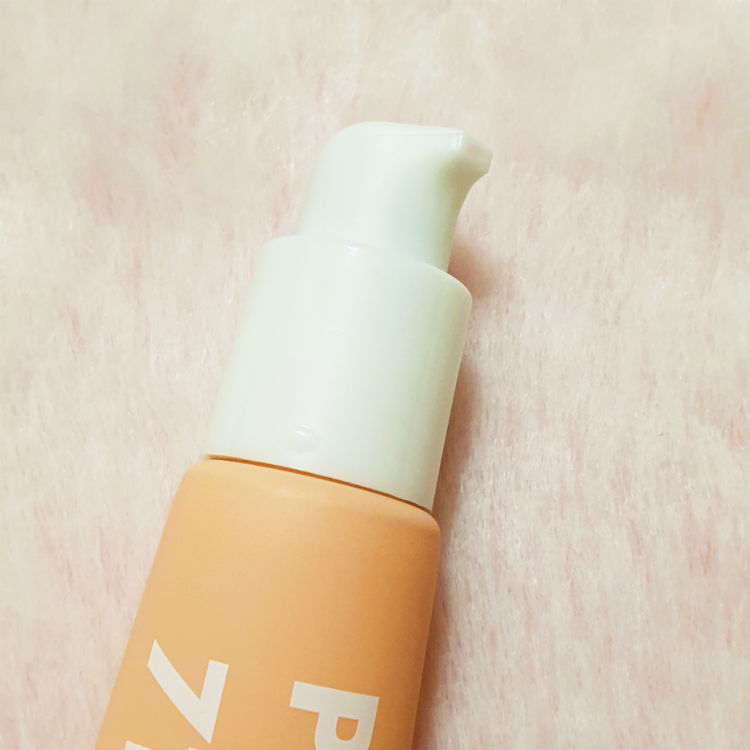 FORMULA: Finally, I found a non-greasy tone up cream! It does not exactly have a matte finish, it's more like a semi-matte. It absorbs fast into the skin without leaving a greasy feeling yet feels moisturizing.
RESULT: The Unpa Peach Me Up Tone Up Cream is really easy to spread on to your skin. It's also lightweight and does not oxidize on my skin. It does not turn grey yet the brightening it gives looks natural on my brown skin tone with a neutral undertone and acidic. (NOTE: Cosmetic products tend to oxidize on acidic people.) The brightening it gives looks really natural on me. So yes, I finally found the tone up cream that suits my skin!
I like to use this on its one before sunblock on days I don't wear makeup. And I mix this too, sometimes, with my foundation if I want a more glowy look. But does it reduce redness and dark spots? Well, it does reduce redness but not sure yet on the dark spot because I am only using this for half a month.
VERDICT
PROS: It is lightweight, absorbs fast into the skin, non-greasy with a semi-matte finish. It gives skin a natural brighten look for those with pale to morena skin tone and reduces redness. Overall, it works and feels comfortable on the skin with moisturizing benefits.
CONS: The Titanium Oxide in this product is now enough to make this a sun protection. I highly suggest you use a separate sunscreen. While I did mention above that it is moisturizing, but if you have super dry skin, it may not be enough.
NOTE: I will update this post after a month or two to see if it does reduce dark spots.
WHERE TO BUY?
You can purchase the Unpa Peach Me Up Tone Up Cream in Amazon for $12, and in Urban Outfitters for the same price.
In Asia, you can purchase this in your local Shopee. You can see the list of stores in Unpa Cosmetics official website here.
What you do you think of Unpa Peach Me Up Tone Up Cream review? Have you used a tone up cream before? Share your thoughts below!
**I received one or more of the products mentioned above for free in the hope that I would mention it on my blog. Regardless, I only recommend products I use personally and believe will be good for my readers. All thoughts and opinions are my own and not influenced by the brand or its affiliates.