I have a love/hate thing with Glossier. First, they products that seem to be more suited for white women with perfect skin even though they feature models with brown (and perfect) skin tones. And second, their prices are too high for a basic product. But of course, that didn't stop me from trying their products. Yesterday I talked about the Milky Jelly Cleanser, and now I'm doing a Glossier Cloud Paint review. And the biggest question here, as always, is it worth it? Scroll down to know!
WHAT IS IT?
Glossier Cloud Paint has a pillowy, gel-cream formula and is designed to be the most user-friendly cheek color in existence. If you can finger paint, you can Cloud Paint—simply dab it onto cheeks wherever you please. It's seamless, sheer, and buildable (i.e. it's hard to accidentally apply too much). Inspired by gradient pink NYC sunsets, the shades are optimized to work across a wide range of skin tones for a healthy, flushed-from-within glow. You can read about its ingredients in this CosDNA Analysis.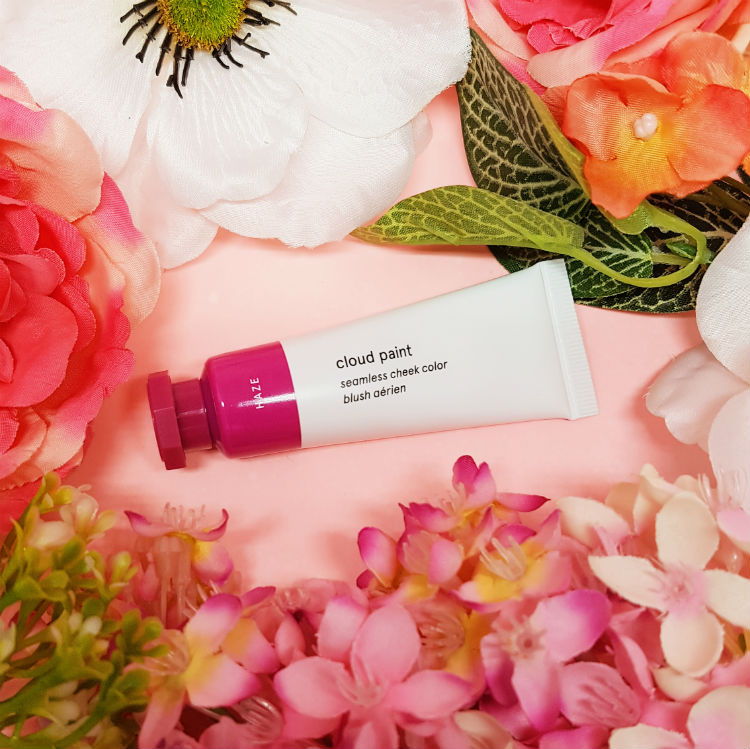 PERFORMANCE
APPLICATION: For best results, apply with fingertips—gently squeeze a tiny dot onto finger and blend into skin.
SCENT: I didn't detect any scent.
PACKAGING: The tube really resembles those paint tubes so if you also paint like me, make sure to put it far away from your paint tubes or you might get the wrong one. It has the signature minimalist design of the Glossier and packaged in a silver and plastic box. My only problem is the control. You really have to be careful when squeezing the product out, because you'll either get too many or too few, there's not in between! You'll see it in some Glossier Cloud Paint review vlogs on YouTube. So my technique is only squeezing it really light and only get a dot. I'll just squeeze more if I needed more.

RESULT: It does really have a one-of-a-kind, lightweight gel-cream texture that makes for silky, even application. Plus, I love how sheer it is, and even when you add more Cloud Paint, the shade does increase yet you still see your skin underneath so the blush looks very natural! Personally, I don't really use a blush unless it's a special occasion because no matter what shade I use they look unnatural on me. But this one isn't!
I bought two shades. First was the Haze, it may look like a strong shade of pink but it looks like I have a natural blush like when you're in love, kinikilig, or just had an orgasm. And this is the best shade for morenas too, or those with brown skin tone. While the Beam has a peach shade that will give you a subtle glow like you were sunkissed. I prefer the Beam shade for summer and I like applying it as well in the middle of my nose bridge to look like I'm glowing yet blushing.
A tube of Cloud Paint only contains 10ml and that's too small for its price but a dot actually goes a long way. Despite its sheer appearance, I still find it highly pigmented. Plus, this is the only blush I ever use, so far, that lasted my oily skin and the humid weather of the Philippines.
Squeezing the product out may be challenging, but applying it to the skin isn't. It is really true that there's no such thing as "accidentally applying too much" when it comes to Cloud Paint because no matter how much I apply, it'll end look natural with a seamless finish and no streakiness.
VERDICT
PROS: Hypoallergenic, paraben-free, fragrance-free, and cruelty-free. It has a natural sheer finish but buildable. It suits all skin types, and last long on oily skin even in humid weather. This is the best blush I ever tried so far so if you haven't tried any Glossier products before, I highly recommend starting with Cloud Paint.
CONS: Although a dot goes a long way, still, for a 10ml tube, it's too pricey. But this isn't a drugstore product anyway so I'm not expecting a lower price from Glossier.
WHERE TO BUY?
You can purchase the Cloud Paint only in Glossier Official Website for $18. But you can buy 2 shades for the discounted price of $30, also on the Glossier website.
In the Philippines, I bought mine in Cult Beauty Ph for Php1100 each tube. Or check this post for a list of stores that sells Glossier in the Philippines.
What do you think of my Glossier Cloud Paint review? What is your favorite blush? Share your thoughts below!