This post isn't about a new skincare routine for acne-prone skin. This is about the tried and tested routine that many dermatologists have been telling us about: use products that will target your skin problem and be patient.
According to dermatologists and skin care experts, the skin takes at least a month to start showing results, and you must follow a new skincare routine for at least three months to understand if it has been effective.
Since my problem was acne breakout due to mask mandate and lockdown anxiety, I decided to be patient. I was not going anywhere anyway. And these are the four products that helped me get rid of my acne breakout:
1) QuickFX Pimple Eraser Gel Cleanser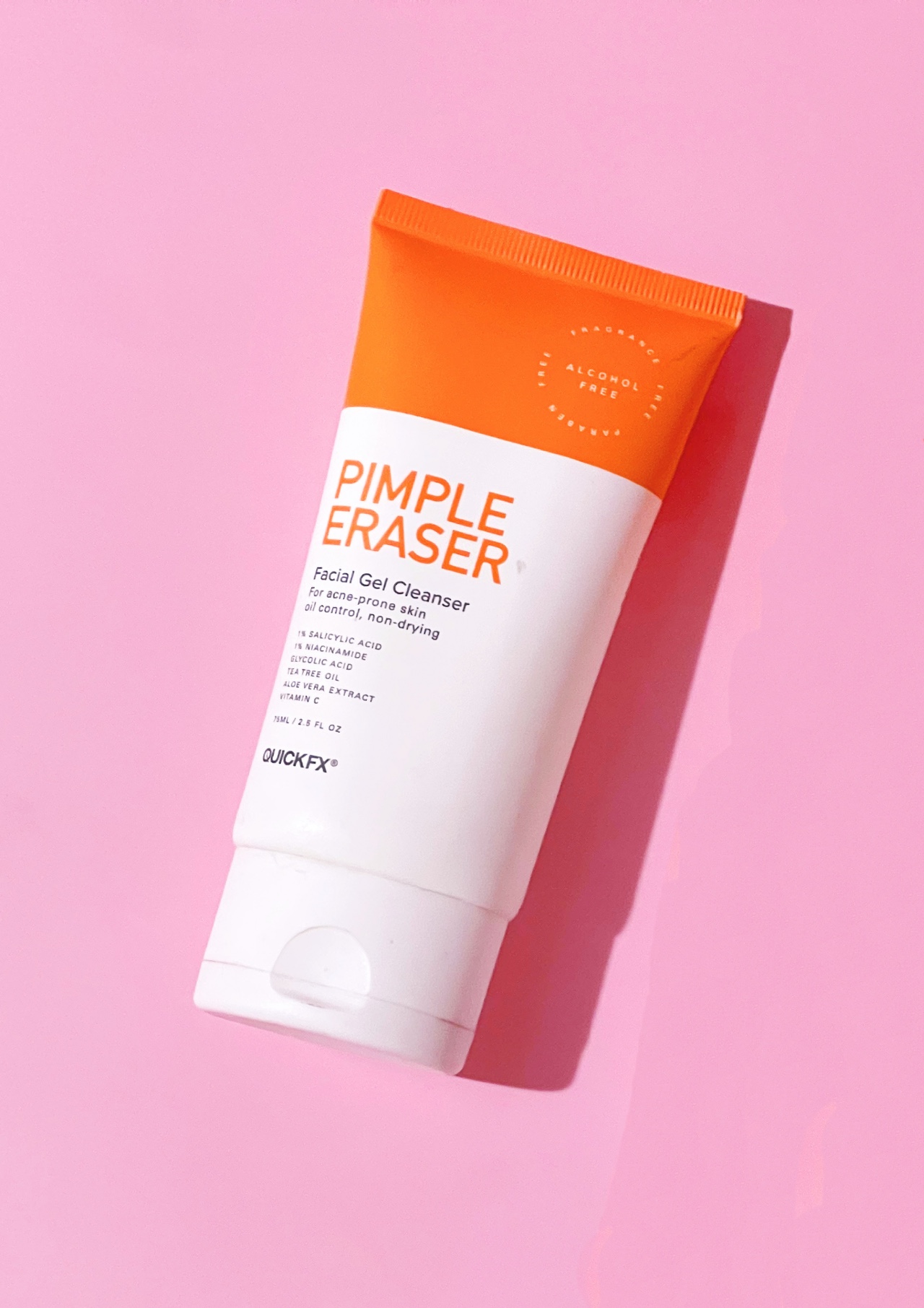 In my experience, salicylic acid is the most effective chemical exfoliator for oily and acne-prone skin while Niacinamide is really good at diminishing dark spots left by acne. And both of these are in this gel cleanser.
Not sure if it really helped with oil control since I love slathering moisturizer on my skin despite having oily skin, but it is truly non-drying and helped reduced my acne ever since I started using it. It is also affordable and locally available since it is a Filipino brand, but despite that, it is often sold out in Watsons and even online. Better buy 2 if you can.
2. Good Molecules Niacinamide Serum
Using a toner is actually a personal preference. Toners were originally used to pH balance the skin after using a cleanser. And since you can easily get pH-balanced cleansers these days, toners are no longer necessary in a skincare regimen. Most people I know who still toners are those with dry skin because they need that extra moisture and hydration. I have oily skin so I decided to skip it and use a serum with good hydration instead.
Good Molecules is a brand a lot of my skincare enthusiast friends with sensitive and acne-prone have been telling me to try. I finally did when they officially launched in the Philippines. I actually got this full bottle of Niacinamide Serum as a freebie from my first purchase and it immediately became my top favorite product from the brand.
It is hydrating and helps lessen the dark spots on my face. My skin also looks dewy, glowy, and feels very healthy. I am already on my third bottle now. Would have been fourth if it doesn't sell out fast.
You can really my full review of the Good Molecules Niacinamide Serum here.
3. Good Molecules BHA Clarify Gel Cream
This gel cream is the main reason why I got interested in Good Molecules and as of the moment, the one beauty product I couldn't live without. I am thankful to Ira of Sammieskin for introducing this product to me.
After a month of using this product, I did notice that my face is less irritated, and have less acne. And after 6 months, although I have dark marks, I'm almost free of acne. I only get acne or two during my period but sometimes I do not. You can read my full review of this product here.
4. QUICKFX Pimple Eraser Oil-Free Sunscreen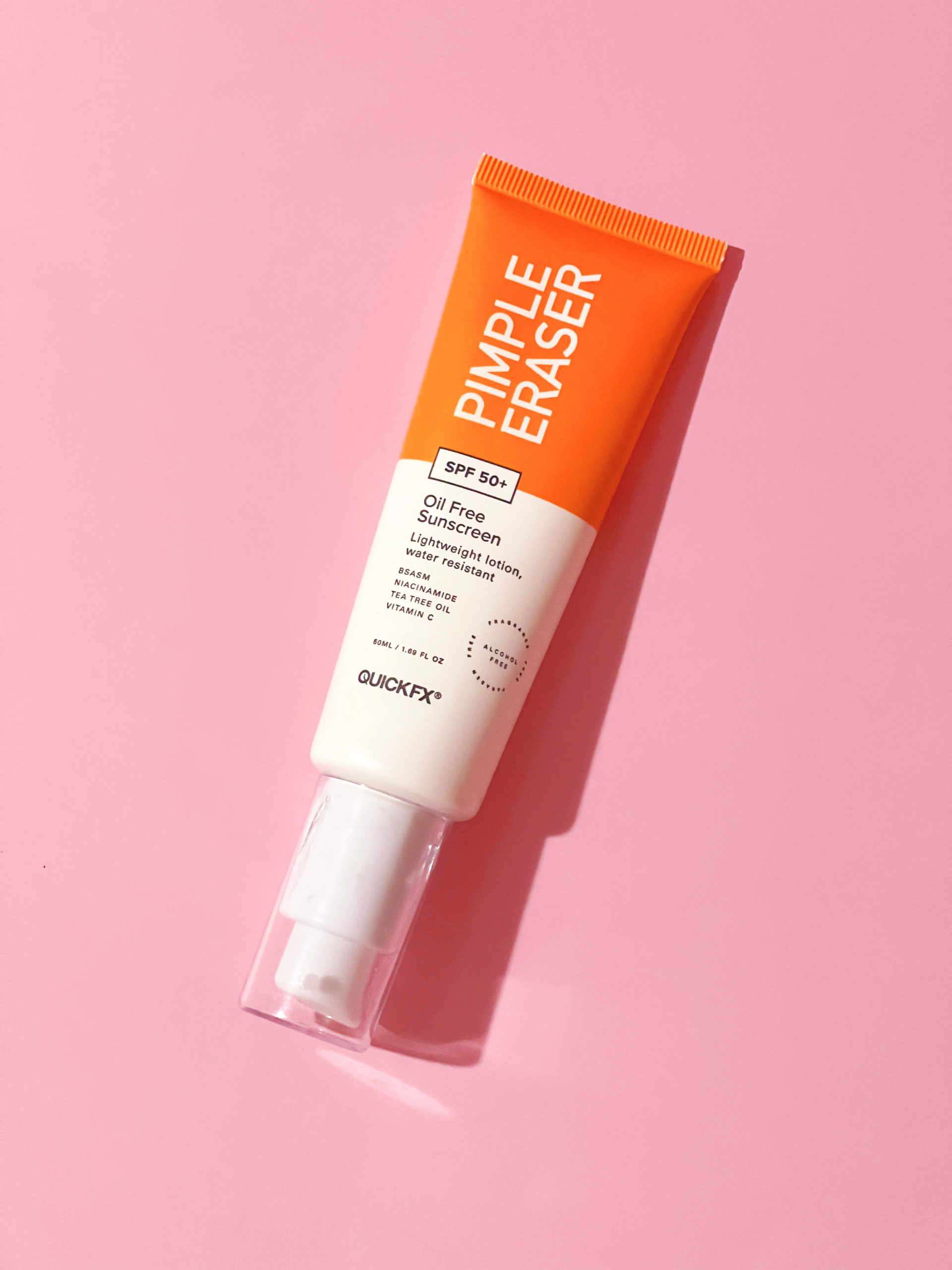 There's a saying that no matter how expensive the serum you are using or how many skin treatments you get if you don't use sunscreen, what's the point?
A sunscreen prevents so many skin problems from cancer, dark spots, and premature aging. So as the last step of my daytime skincare routine, I always apply a good amount of sunscreen starting on my face and then to my neck.
But as someone with oily, sensitive, and acne-prone skin, it wasn't easy to find a sunscreen that will not break me out and feel greasy. So when I heard good reviews of this QuickFX Pimple Eraser Oil-Free Sunscreen, I know I must try it myself. And I'm glad the claims are true. It is lightweight and doesn't feel greasy on the skin. It is really comfy for the Philippine humid weather. It has a little white cast upon application but it disappears in less than a minute once it settled on the skin.
This is also the most affordable lightweight sunscreen I know. You can read my full review here if you want to know more.
RESULT
Of course, I'm not going to end this post without receipts. I started using these products around September to October of 2021. Around the end of November, I'm already starting to see some improvement in my skin. And by May of 2022, my skin improved A LOT.
Before: June 2020 // After: May 2022
I did use Lactezin, an over-the-counter anti-acne pill around June 2021. It did dry my pimples faster than any spot treatments I used, however, the process is quite mentally exhausting for me. First, I had a purge. All my pimples came out. Some people like this but I do not. I prefer treating my acne from under my skin and never have a chance to surface. After a month of use and purging, my skin started to get dry. Dark and red spots were rampant. Red spots are still a sign of acne not being fully healed. So I stopped taking it after 3-4 months.
I just decided to focus on using salicylic acid, niacinamide, and sunscreen. I keep my routine minimal and hydrating but most importantly, I was patient. I didn't jump on the next newly launched product that claims results in 2 weeks. I stuck to my routine for 3 months to know if there was really a result or not. Luckily, the result is good.