We're living in the golden age of plastic-free beauty products. As more and more consumers wake up to the beauty industry's massive waste problem, they're demanding zero waste alternatives to their favorite skin, hair and makeup products. These days, you can wash your hair with plastic-free shampoo bars, elongate your lashes with refillable mascara and protect your skin from harmful UV rays with reef-safe sunscreen in a reusable tin.
Source: Milleflore Images/Shutterstock.com
But while there's no shortage of plastic-free beauty products to choose from, finding ones that work as advertised is often a much more difficult task. That's why we've done all the hard work for you by rounding up a few plastic-free beauty products that work even better than their plastic counterparts. Once you say hello to these sustainable beauties, you'll never go back to plastic again!
For Sweet-Smelling Underarms: Natural, Plastic-Free Deodorant –

Have you ever tried to recycle a tube of deodorant? Let us tell you, it's not a simple task. Conventional sticks of deodorant usually have multiple plastic parts — the lid, casing and the inner cap — and each part can be made with a different type of plastic.

Basically, it's a recycling nightmare for the consumer. Fortunately, a slew of Earth-conscious brands now offer

plastic-free deodorant in a cardboard tube

that can be easily composted at the end of its lifecycle.

Best of all, these eco-conscious deodorants typically have natural formulas that can make you smell clean and fresh without coating your armpits with a bunch of toxic chemicals.
For Your Best Shave Yet: A Safety Razor –

Disposable razors don't last long — 10 shaves at most. Any more than that, and you're just asking for nasty nicks and cuts from a bacteria-ridden blade (and an even nastier infection). Not to mention all the waste! In 2018, in the U.S. alone, more than

$1.2 billion disposable razors

were tossed in the trash. Reusable safety razors look way better in your bathroom than plastic and can help you achieve a buttery-smooth shave every time. When your blades start getting dull, swap them out for a new set and recycle the old ones. It's that simple.
For Irresistibly Smooth Skin: Coconut Oil in a Glass Jar –

Coconut oil is one of those essential items that every beauty lover should have in their medicine cabinet. It's perfect for removing makeup, soothing cracked heels, calming frizzy hair — you name it. If you're not a fan of coconut oil for whatever reason, consider incorporating jojoba oil or grapeseed oil into your routine instead.
For Easier Makeup Removal: Reusable Cotton Rounds –

Makeup wipes need to go the way of the dinosaurs. That may sound a tad harsh, but the reality is that most makeup wipes are terrible for your skin and

may even contain formaldehyde-releasing ingredients

. Plus, they're made from synthetic materials, which means they're technically single-waste plastic. If you want to erase every last bit of makeup without harming your skin or the planet, pick up a pack of reusable cotton rounds and remove the day away with some coconut oil. You'll make your skin, the planet and your wallet happier.
For Stronger, Healthier Hair: Shampoo Bar –

If you haven't added a hydrating shampoo bar to your haircare routine yet, what are you waiting for? Lightweight, travel-friendly and packed with nourishing ingredients, these plastic-free pucks are giving liquid shampoos a serious run for their money. Unlike conventional shampoo you'd buy from the drugstore, shampoo bars come in minimal packaging and are typically free of harsh detergents that strip your skin's natural oils. For silky smooth tresses sans plastic,

pair it with a moisturizing conditioner bar

.
For a Rosy Glow: Refillable Blush –

We love adding a bit of rosy warmth to our cheeks. One thing we don't love? Throwing away the plastic case after we run out of our favorite shade. Fortunately, the refillable makeup trend has exploded in the last decade, making it easier than ever to achieve a sustainable glow. Thanks to sustainable beauty companies like Kjaer Weis and Elate Cosmetics, you can now buy blush in a gorgeous-looking case and order refills as needed. Try their blush to start or go all in with a refillable eyeshadow palette, cream foundation and lipstick.
For a Hydrating Clean: Plant-Based Soap Bar –

In case you missed it, soap bars are cool again. Once considered old-fashioned and dehydrating, modern soap bars contain gentle, plant-based ingredients that eliminate stink without making skin feel tight or irritated. Plus, they're an easy way to knock out one more plastic bottle from your beauty routine. If you're thinking about welcoming bar soap back into your life, make sure you store it on a nice soap dish to avoid a mushy mess.
For Tangle-Free Tresses: A Bamboo Comb –

When you eventually break your comb trying to get the stubborn knots out of your hair, you won't regret replacing it with a wide-toothed bamboo comb. On top of being an incredibly sustainable material, bamboo causes less static and more easily distributes the natural oils in your hair to help you achieve smoother, glossier tresses. Another reason to love bamboo combs? They add a trendy wooden element to your bathroom that gives it instant boho vibes.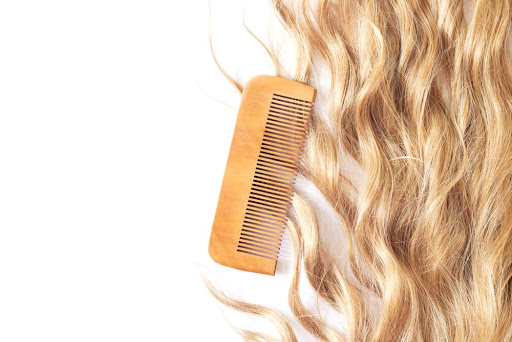 If you haven't already incorporated these plastic-free items into your beauty routine, you should seriously consider doing so. They're effective, easy to use and, best of all, better for your family and the planet.