Making your fashion store stand out will help attract the attention of customers who happen to be walking by. Here are some beautiful ways to brighten up stores so you can turn people walking by into walk-in customers. From an LED mirror to a full-length mirror with lights, to set up displays at the storefront.
Display Best Selling Pieces at the Storefront
It is important to display your best-selling pieces at the storefront, so they are the center of attention. Remember, they are your best-selling pieces for a reason. If a product is performing well for your business, you want to capitalize on its success as much as possible.
Rather than putting too much focus on products that aren't doing well for your business, stick with what works. If your other products are good, they will get their chance at some point. You want to put your effort towards what will make the most sense for the wellbeing of your business.
Multi-Faceted Light against Dark Background
Setting up a multi-faceted light against a dark background will beautifully create a focus on products you want customers to see. For example, if you are looking to feature clothing items or footwear, this will bring shades of focused lighting onto the product, steering customers' eyes onto them. If they see them and they like them, then ultimately they will be more likely to buy them.
Must Incorporate Frameless Mirror with Lights
A frameless mirror with lights can really steal the show when you have one set up in your store. Within your business, a frameless LED mirror can help add the illusion of extra space. There are many different options in terms of what kind of mirror you want to set up in your store. This makes them versatile, working well in many unique settings.
The lighting also works to create a contrast between things in your store through light color and light intensity. Using lighting well within your fashion store can invoke emotions in your customers subconsciously as they look at your products, putting them in the right mindset to shop and make purchases.
Other LED mirror options
If you want to give your fashion store a unique and stylish appearance but can't fit in a full-length mirror with lights to your display, there are smaller LED mirror options available as well. So add a luxurious feel to your fashion store, while also giving customers the appealing aura of LED lighting.
A Focal Point Brings More Sales
Creating a focal point is a great way to showcase your amazing products to customers that are walking by. This is a great thing to do if you have certain products on sale, products that need to be sold, or featured products. There are so many ways that you can create focal points, so let's go over some of them so you can come away from this with some ideas.
Use negative space
Negative space is one of the best ways to lead your customers' eyes to a focal point. There are unique options when it comes to how you use negative space, providing you with flexibility in terms of how you want to set up your display. The brief explanation is to use the absence of things to put emphasis on one important thing, such as a featured product.
Bold colors that grab attention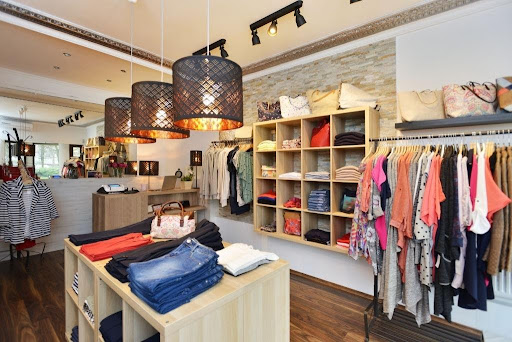 Using bold colors is a tried-and-true way to get the attention of people. Now don't go overboard and throw too many colors at potential customers and overwhelm them with stuff to look at. Just use some splashes of bright and attractive colors to complement your product display. Color is so important that a study conducted found that 85% of shoppers noted that color is a primary factor in their purchase decision.
Use complementary lighting
Lighting is another great way to make potential customers look at your products. Lighting is also one of the easiest ways to create a focal point. You can either set up background lighting, accent lighting, or even spot lighting to get people to look at something. Be creative and definitely incorporate lighting in your product displays and store fronts.
Play with the physical aspects of objects
Using the physical aspects of objects to create a focal point is something that will take a little more practice or design experience. However, when done correctly, it can beautifully complete the scene of your storefront. When we're talking about physical aspects of objects, think of size, height, geometry, etc.