Sponsored
COVID-19 has changed many of our daily routines in a way no one anticipated. Many of us are at home more to minimize exposure and when we do go out, we wear a face mask. Most countries even require a face shield. Besides those, according to the World Health Organization, proper nutrition and hydration are also vital during this pandemic. We still have a lot to learn on exactly know how to prevent COVID-19 since there are reports of a new more contagious strain, but people who eat a well-balanced diet tend to be healthier with stronger immune systems and a lower risk of infectious diseases. Avoiding sugar, fat, and salt will lower your risk.
However, isolation and being at home can ellicit the temptation to eat snacks with high sodium content, junk food, and low-quality meals that provide instant gratification for our taste buds rather than nutrient-dense whole foods that can also be delicious. This is a challenge for many in these times of social distancing and self-isolation.
Luckily, iHerb (you'll earn a 5% off discount on your order when you click my link), my go-to store for supplements and superfoods has all the healthy stuff I need. They have over 30,000 natural products from vitamins and supplements to healthy snacks, and they ship to over 180 countries from climate-controlled distribution centers to ensure the quality of their products. Plus, they also provide customer service 24 hours a day / 7 days a week in 10 different languages.
How to stay healthy when stuck at home?
There are many ways to stay healthy. The challenge is sticking with it. So my first tip is to find a healthy routine that will fit your lifestyle so you can stick with it long-term. Some people stay active using apps and YouTube videos from fitness influencers since many gyms are temporarily closed. While some walk their pets in the morning, meditate, or started gardening, my approach is a little different. I'm not an active person, so I focus on having a proper diet and nutrition with delicious healthy smoothies, taking vitamins, and eating healthier snacks.
1. Drink Immunity Boosting Smoothies
Below are some of my favorite Immunity Boosting Smoothie Recipes. They are made of dark, leafy greens, and fruits that are loaded with vitamins, fiber, and minerals. I make it a habit to try to eat more whole nutritious foods instead of processed snacks or fast food.
INGREDIENTS:
STRAWBERRY SPIRULINA SMOOTHIE
CHOCO SANCHA INCHI SMOOTHIE
ISLAND DREAM SMOOTHIE
– California Gold Nutrition, Freeze-Dried Strawberry
– Milk yogurt (or plain or flavored your choice)
– Rice or coconut milk, unsweetened
– 1/2 tsp. California Gold Nutrition, Superfoods, Organic Spirulina Powder
– 2 Tablespoons honey (optional)
– Handful of ice cubes
– 1/2 spinach (powdered also okay)
– Frozen banana
– Handful of ice cubes
– 2 Tbsp. California Gold Nutrition, Superfoods, Organic Cacao Powder
– 1 Tbsp. California Gold Nutrition, Superfoods, Organic Sacha Inchi Powder
– ½ cup coconut milk (may need a little more)
– 1 dash cinnamon or coconut sugar (optional)
– 1 cup coconut water (or sub in regular water or coconut milk if you want)
– 1-2 tbsp. California Gold Nutrition, Cold-Pressed Organic Extra Virgin Coconut Oil
– 1 tbsp. California Gold Nutrition, Superfoods, Organic Spirulina Powder
– ½ cup California Gold Nutrition, Freeze Dried Pineapple
– ½ cup frozen banana
– A dash of coconut sugar (optional)
– Handful of ice cubes
In these immunity-boosting smoothie recipes, I focus on using 3 ingredients:
Spirulina – This is an organism that grows in both fresh and saltwater. It is a type of cyanobacteria, which is a family of single-celled microbes that are often referred to as blue-green algae. But 7 grams of spirulina powder contains:

Vitamin B1 (thiamine): 11% of the RDA

Vitamin B2 (riboflavin): 15% of the RDA

Vitamin B3 (niacin): 4% of the RDA

It also contains decent amounts of magnesium, potassium, and manganese and small amounts of almost every other nutrient that you need.

Virgin Coconut Oil – Department of Science and Technology (DOST) in the Philippines conducted a study that showed Virgin Coconut Oil (VCO) helped reduce the symptoms of probable and suspect COVID-19 cases. But they're still studying this further with the COVID-19 patients in Philippine General Hospital. Because of these findings, more and more people are taking at least a daily tablespoon of VCO just to be safe, including my father. But while we're all waiting for the study, VCO has already some evidence-based health benefits so taking it daily still has benefits.
Sacha Inchi – This is a plant that produces large, edible seeds rich in omega-3 and omega-6 fatty acids, protein, and other substances such as vitamin E and beta-sitosterol. Native to Peru, sacha inchi is also known as sacha peanut, jungle peanut, or Inca peanut.
Cacao Powder – Provides more nutrition than cocoa powder and can be a healthier substitute in recipes. Cacao powder is also an excellent source of Iron, Protein, Potassium, Magnesium, and Fiber.
2. Take vitamins daily
Do I need to explain this more? Since we are toddlers, doctor or not, people say we have to take vitamins daily to be healthy. And it is more important now during these times. Starting withGummiology Adult Vitamin D3. Did you know that Vitamin D is recommended for people who don't go out much and are not exposed to the sun? This is practically all of us these days. Other vitamins we need to boost our immune system are Iron, Protein, Vitamin C, Vitamin A, and Zinc which you can from Gummiology Adult Mega Multivitamins Gummies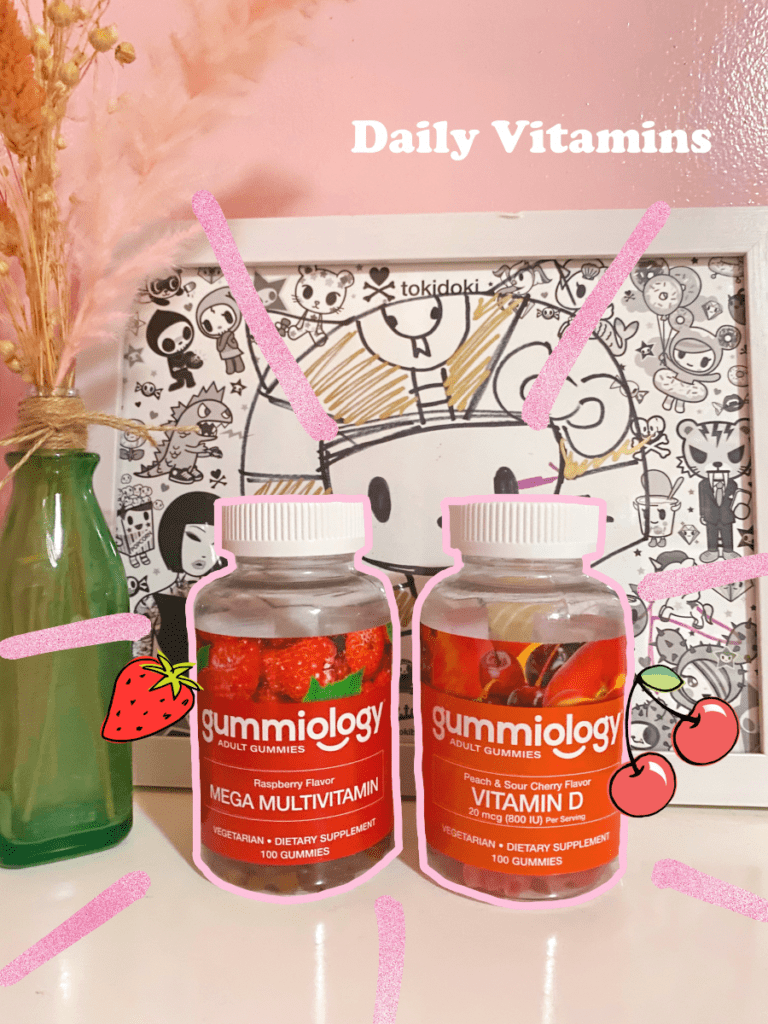 3. Eat fruits during breakfast
Breakfast is called 'the most important meal of the day' for good reason. As the name suggests, breakfast breaks the overnight fasting period. When you wake up from your overnight sleep, you may not have eaten for up to 10 hours. Breakfast replenishes the stores of energy and nutrients in your body. That is why my grandmother instilled in me to eat fruits during breakfast. Fruits are rich in Vitamin C that helps boost your immune system.
Also, don't forget your drink! These days, I opt for Matcha Road, Matcha + Vitamin C, Superfood Drink Mix which has more antioxidants than coffee and it contains Turmeric that is known to have anti-inflammatory properties that help boost immunity.
4. Opt for healthier snacks
My mom, a former fitness consultant, and gym instructor, always tell her clients to never deprive themselves. For her, deprivation can cause the worst relapse. So besides giving a cheat day, she also recommends alternative snacks that have less sodium and sugar for a "semi cheat day" as she calls it.
Luckily, I'm not that into sweets, but I'm always craving salty snacks. And it's hard to find a good alternative to potato chips! It's a good thing I discovered California Good Nutrition Seaweed Rice Chips. So when I'm craving chips while I work or binge-watching a series on Netflix, instead of potato chips, I opt for these. They're not salty but it's so yummy it satisfies the cravings. And you can add this to your salad for extra crunch and flavor.
California Gold Nutrition Seaweed Rice Chips comes in several flavors like Cheese, Wasabi, and Hot & Spicy.
All these tips above can help boost your immunity to stay healthy while stuck at home. However, don't forget that social distancing, washing your hands regularly for at least 20 seconds each, and wearing a face mask when going out is still important on how to prevent COVID-19 from spreading.