During this anxiety-inducing grip of a global health pandemic alongside social and political unrest, our boundless appetite for emotional support shows no signs of waning. If you haven't noticed already, especially on TikTok, tarot readings are the latest wellness trend. Either you turn to them for spiritual advice, or meditation, or you just like to collect them, then this will post will tell you where to buy tarot cards in the Philippines. And yes, these stores also sell oracle cards.
NOTE: If you like daily readings, follow my TikTok account here.
But first, what is the difference between Tarot and Oracle cards?
According to Practical Magic, Oracle is the general term and refers to any cards used to divine answers to a question. The word oracle gets its roots in Greek and Roman times. In mythology, oracles were the people who said something that happened in the future. So any card used to tell you something—regardless of the system—is an oracle card. While tarot cards follow a system. It's 78 cards, 22 of which fall under the Major Arcana, and 56 of which fall under the Minor Arcana. The Minor Arcana is further divided into four suits, each with 10 pips and four court cards. Even though some modern tarot decks do add a random card or two to the 78, tarot is and always will follow this set system. You can read more on their website here.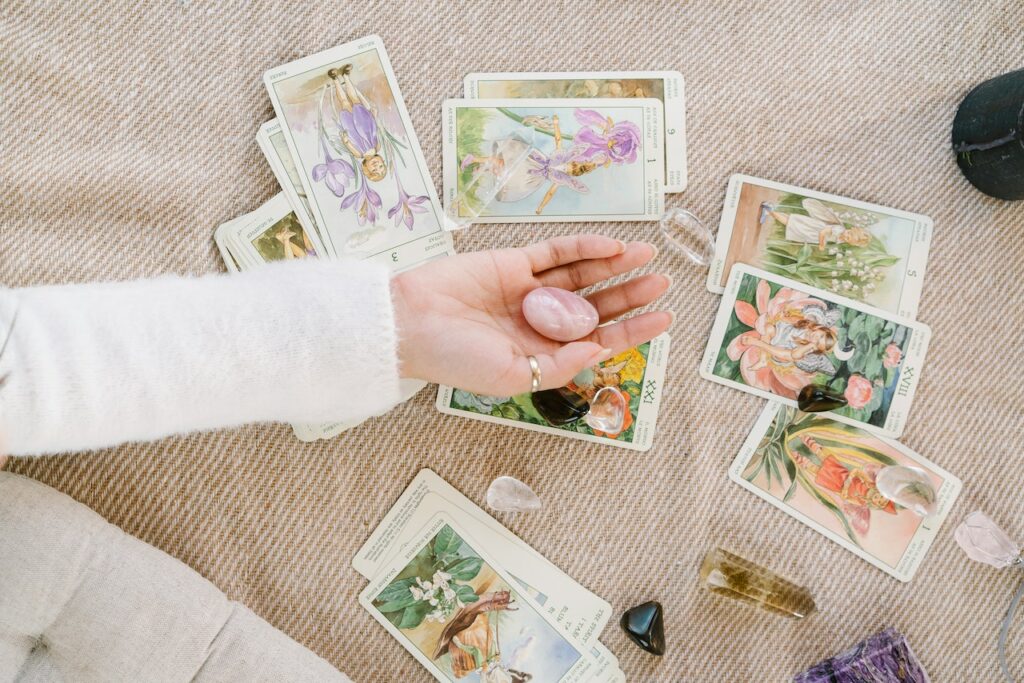 Where to buy Tarot Cards in the Philippines?
1. SCARLO PHILIPPINES – There are A LOT of fake tarot and oracle decks online that are made in China with low-quality prints, especially popular decks like those by Gabrielle Bernstein. This Shopee seller is one of the most trusted tarot and oracle deck resellers. I shop here often and their decks are legit.
2. ARTEMIS PAINTS – They're an art supply store and they also sell authentic tarot and oracle decks. I also shop from this Shopee seller and I can guarantee they're also legit. But their stocks are limited so you better check out fast if you want something.
3. SHELSCAPE – Another Shopee seller that sells Tarot and Oracle Decks. This is where I bought Shine From The Inside Oracle Deck that I've been eyeing for so long but couldn't find a legit local seller. They sell legit decks from the artists but they also sell other stuff like books.
4. FULLY BOOKED – If you're from the Philippines I think this bookstore doesn't need more any introduction. And yes, they also sell tarot and oracle decks. Actually, I bought almost half of my collection from their official Shopee and Lazada stores. I prefer to shop on those shopping apps because they have free shipping and discount vouchers.
5. LOVE MAGIC SPARKLES – This one is based in Singapore but they ship to the Philippines via Aramex. I recommend this shop because they sell a lot of tarot and oracle decks from different artists all over the world. If there's a deck I want that I couldn't find in Shopee or Fully Booked, I find it here.
6. PRACTICAL MAGIC – Unlike the stores, I mentioned above, this shop sells decks that are made by a local artist and the artworks are truly Pinoy.
So far these are the only stores I know where to buy tarot cards in the Philippines that are authentic and also have oracle decks. As always, if I found more, I'll update this post.
AD: 6.5 billion greeting cards, 10 billion business cards, and 2.3 billion postcards are printed each year. This is the annual number of cards printed and purchased. These data are only for the more well-known types of cards. If you need to make any form of a card, from ID cards to birthday cards, you've come to the right place. At Template.net they have curated professionally designed and fully customizable Sample Card Templates. With the help of their well-written card designs and template, you can quickly and easily craft your personal correspondences or direct mailers.