Sponsored
Are you wondering which is better for reducing dark spots, Vitamin C or Niacinamide? To be honest, both have a lot in common and does the job, it just really depends on your preference and skin type. Personally, I recommend Niacinamide more to those with sensitive skin types because Niacinamide has anti-inflammatory benefits. Based on my experience it's more soothing for sensitive skin and can reduce redness. It is also the main ingredient of this new serum I'm using. Curious? Then scroll down below to read my detailed AXIS-Y Dark Spot Correcting Glow Serum review.
MY THOUGHTS
The Axis-Y Dark Spot Correcting Glow Serum made my skin smoother and look brighter. However, it takes a little more time to reduce dark spots. But it works slower a little slower than Vitamin C serums because it is formulated with sensitive skin in mind.
PROS
Soothing
Lightens dark spots
Hydrating
Moisturizing
Non-Tacky or Greasy
Cruelty-Free and Vegand-Friendly
CONS
May take some patience because this is formulated for sensitive skin. Which is totally not a bad thing, to be honest.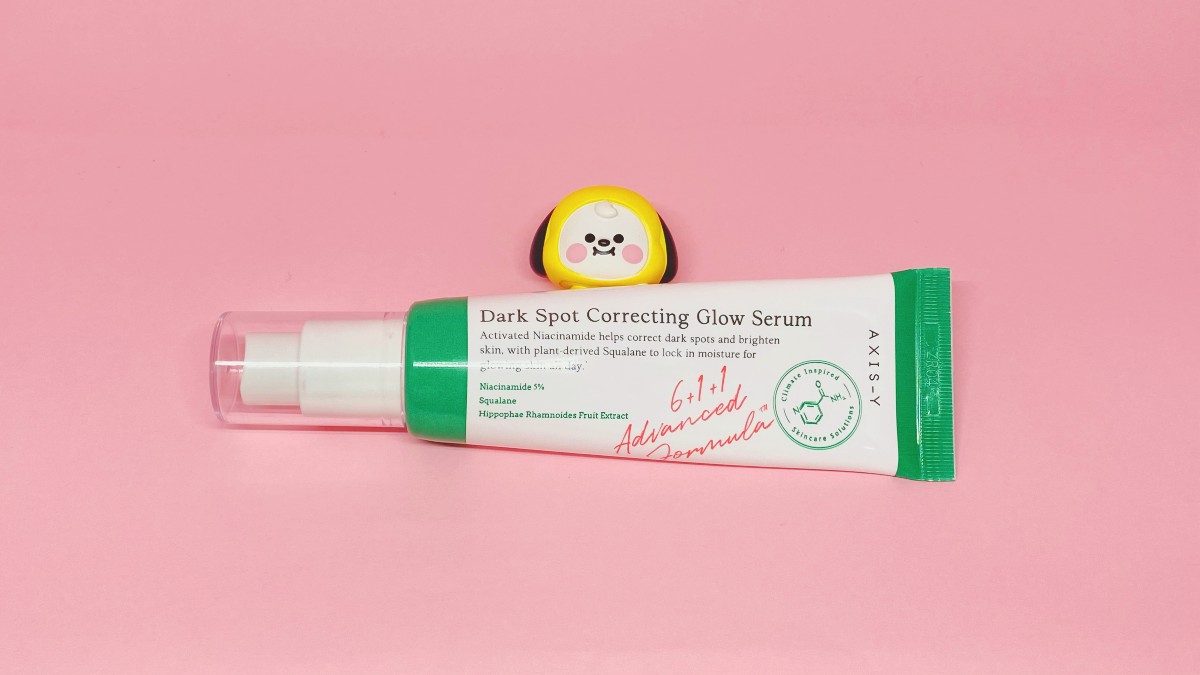 WHAT IS IT?
AXIS-Y Dark Spot Correcting Glow Serum is a lightweight spot-correcting serum that brightens as it moisturizes the skin. Formulated with five percent niacinamide, also known as vitamin B3 to help clear up common pigmentation concerns including dark spots and uneven skin tones.
It is also packed with powerful botanical extracts such as squalane, papaya, sea buckthorn, rice bran, allantoin, and calendula to soothe skin, clear up blemishes for a radiant look, retain skin's moisture, and help it glow.
PERFORMANCE
APPLICATION: Apply a small amount to entire face or problem areas. Pat until completely absorbed. This serum can be used both day and night.
SCENT: It has a mild yet soothing herb scent. Kinda minty in my opinion.
PACKAGING: Unlike most serums, this is packaged in a tube but still comes with a pump. I like it, it's easier to bring when you travel. Less fragile too.
TEXTURE & FORMULA: It is so lightweight yet feels so hydrating and moisturizing without the tacky or greasy feeling. Almost feels like a light gel than serum.
MY EXPERIENCE
Ever since I started using the AXIS-Y Dark Spot Correcting Glow Serum three weeks ago, my skin felt so smooth and look brighter like I had a facial treatment. I think in Japan people call this Mochi Skin. I started to notice that in just less than a week of using.
However, I need more than three weeks to completely vanish the mark that my cystic acne left. Although this serum has lightened my dark spots, some haven't completely vanished yet. And I wasn't expecting that this serum will work as fast as Vitamin C Serums anyway. This AXIS-Y serum works slower because it is formulated with sensitive skin in mind. It will correct dark spots, but it will do it in a gentler way without causing redness or heat sensation.
So yes, it may take some patience. But another reason why I prefer this serum is because of the shelf like. It will not oxidize fast unlike vitamin c serums which feels like has a countdown clock the moment you opened it.
WHERE TO BUY?
What do you think of this AXIS-Y Dark Spot Correcting Glow Serum review? Have you tried a dark spot correcting serum that suits sensitive skin? Share your thoughts below.
**This is a "sponsored post." The company who sponsored it compensated me via a cash payment, gift, or something else of value to write it. Regardless, I only recommend products or services I use personally and believe will be good for my readers.