A red lipstick signifies the female strength. Even the act of applying red lipstick is empowering. Though it's like a case of chicken and egg, it may require confidence to wear, but confidence can actually be a result of putting on the red lipstick – and no one really knows which comes first.
But personally, I never really like red lipstick on me. I find it too bold for my brown skin tone, and yes, even that famous MAC Ruby Woo. Until I stumbled upon these lipsticks. Every red-based shades seem to compliment every skin tone and best of all, they're comfortable to wear. Read my Secret Nature Flower Button Lips review to know more about it.
MY THOUGHTS
I do not like red lipsticks. But the Secret Nature Flower Button Lips changed my mind. All five shades, in my opinion, can flatter all skin tones.
PROS
It has pigmented shades that last up to 6 hours.
Compliments all skin tones.
Non-drying
Velvety
Lightweight
CONS
It's a click pen. Once out, it never goes back. So remember to click twice to three times only.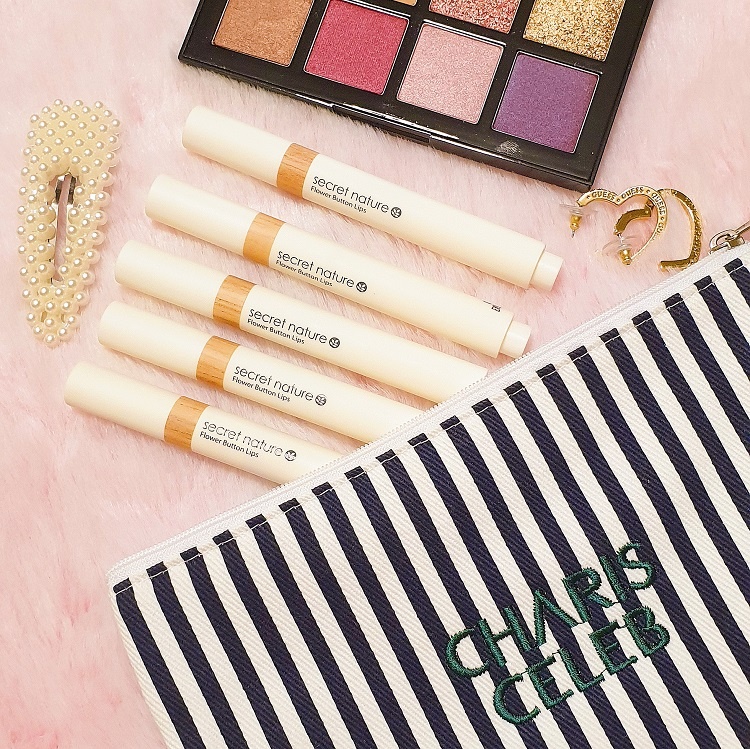 WHAT IS IT?
Secret Nature Flower Button Lips is a soft and velvety lipstick that will paint your lips in vivid colors after a single cheerful click. No need to worry about dryness, because it has moisture from natural Jeju cherry blossom and rape blossoms that also helps its 5 vivid colors to softly fit the lips.
PERFORMANCE
APPLICATION: It has this avocado-like shape where the top serves as a lip liner while the wider part will perfectly fill the rest of your lips.
SCENT: It has this generic "K-beauty Lipstick Scent" by that I mean it has this strong floral scent with a hint of sweet candy smell. It actually reminds me of the Amok Lovefit Whipped Lips which is one of the best lipsticks I love but couldn't find it anywhere anymore.
PACKAGING: It comes in a skinny stick with a button. In short, it's a click pen. Every click, 1mm comes out. But be aware that it never goes back once it comes out, so click a few times at once. Though it has a roomy cap so if there are remaining lipsticks, you can just cover it.
FORMULA & TEXTURE: It's not as moisturizing as I expected, but it's not that dry either. It indeed feels velvety and also lightweight. Once set on the lips, it doesn't transfer that much. But of course, its shade will fade once you eat or drink just like most lipsticks.
MY EXPERIENCE
As mentioned above, I do not like red lipsticks. But the Secret Nature Flower Button Lips changed my mind. It comes with five shades that are named after flowers and predominantly red. There are pink and orange too but they have a mix of red pigments as well. But all five shades, in my opinion, can flatter all skin tones.
The shade "Water Lily Petal" is my favorite and it lasts up to 4-6 hours on my lips, depends on my activity. And when I eat or drink, sometimes it fades away, but most times it just blurs a little. Actually, if you've heard about models and actresses wearing red lipstick on the bed so they'll wake up with a beautiful shade of red on their lips, I AM DOING THAT with these Secret Nature Flower Button Lips.
SWATCH
From top to bottom: RD01 Dicentra Petal, RD02 Pansy Petal, OR01 Smile Rosebay Petal, PK01 Peony Petal, and CR01 Water Lily Petal.
WHERE TO BUY? (And Special Promo)
The Secret Nature Flower Button Lips cost Php940 or $17 each. But I HAVE A SPECIAL PROMO. In my Charis Shop, you'll get 20% off. So it is now Php750 or $15 each + FREE SHIPPING to the Philippines. And yes, we accept COD. You can shop it here.
What do you think of this Secret Nature Flower Button Lips review? What is your favorite red lipstick? Share it below!