You may not have heard of this brand before, but surely you've heard about Propolis before. For those who are not familiar with it either, Propolis is a resin-like substance made by bees and mainly used to fill in honeycomb crevices for protection. Bees collect tree sap and combine it with beeswax to make propolis, which beekeepers then scrape away from the hive boxes (no bees are harmed in the process). But before my Serlando Bee Perfect Propolis Kit review, here's some of its benefits.
Skin Care Benefits of Propolis:
Antibacterial, anti-fungal, anti-viral: Propolis is known for its ability to fight against a lot of powerful bacteria. Some studies conclude that the reason propolis is so effective against various microbes is that it's so rich in flavonoids (the same antioxidant found in coffee). That is why this is also a fave anti-acne ingredient in South Korea.
Smoothing and softening: Since propolis has such powerful healing properties, it works quickly to regenerate skin to help make skin texture smoother and suppler.
Moisturizing
Soothing: Because of the healing abilities, propolis is great for sunburns; it soothes and helps to speed up the recovery process.
Actually, some use this as a remedy for wounds.
Free radical fighting: Propolis is also packed with antioxidants, helping to keep free radicals (which are an almost inevitable reality with everyday pollutants and sun exposure in the intense summer sun, even if you're an avid SPF user) from causing cellular damage.
Controlling oil production: Overactive sebaceous glands could be helped by the bees as well.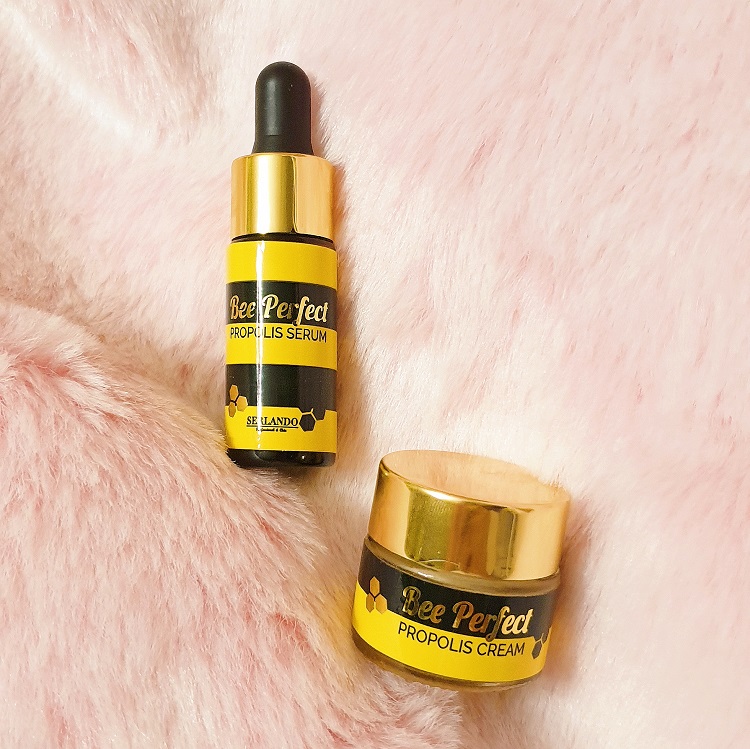 WHAT IS IT?
Serlando Bee Perfect Propolis Kit claims to be the perfect acne problem solution. It contains a serum and cream that has a high concentration of propolis from Germany. This is for all skin types, and with regular use of the serum it will help skin flaws to fade away and the complexion will get clear and clean. While the cream can help vanish blemishes, pimples and help the acne heal faster and be gone sooner as it hides them from view and heals them inside out.
PERFORMANCE
APPLICATION: For the Bee Perfect Propolis Serum, after cleansing, apply it directly on the pimple and dab it till absorbed. And then, apply the Bee Perfect Propolis Cream to cover your blemishes and acne while healing it. You can use both daily, but I prefer to use them cream on daytime only.
SCENT: The cream has a very mild scent, it almost smells nothing. But the serum, ugh, it has a very strong scent. Have you smelled a man's aftershave like Old Spice? Imagine that but times 10!
PACKAGING: When I post my Serlando unboxing in Instagram, a lot of people comment that the packaging is so cute. And I agree, they are indeed cute. The boxes have a shape of a bee's beehive in a color of yellow and black.
FORMULA: The serum is quite thick at first but it absorbs fast into the skin and becomes weightless. However, the color is too dark, it can stain some clothes. While the cream is quite runny, almost a liquid, so it is lightweight.
RESULT: I haven't use the Bee Perfect Propolis Serum long enough to know if it can really vanish my acne and dark spots like my old propolis ampoule did. To be honest, I wasn't able to bring myself to use it every day because of its scent which puts me off (I will update this when I used this one long enough). However, it's not the same with the Bee Perfect Propolis Cream, that one is like a BB cream, to be honest, and I wish it comes in much bigger packaging. The coverage is sheer, but it's buildable but don't expect it can cover as much as a concealer. Despite that, I still love using it every day with my Serlando Rosy Pink Moisture Dew for an almost flawless makeup-free look.
WHERE TO BUY?
You can purchase the Bee Perfect Propolis Kit in Serlando for $54. And you can purchase these products separately. The Bee Perfect Propolis Serum cost $31.68, while the Bee Perfect Propolis Cream cost $28.80
What do you think of this Serlando Bee Perfect Propolis Kit review? Have you tried using a product with propolis before? share your thoughts below!
**I received one or more of the products mentioned above for free in the hope that I would mention it on my blog. Regardless, I only recommend products I use personally and believe will be good for my readers. All thoughts and opinions are my own and not influenced by the brand or its affiliates.