I've been using modeling masks for a while now, but only at the esthetician clinic applied by a facialist while I'm laying down as the last part of my anti-acne facial. But if you've tried it yourself at home, you'll find them too messy, too difficult, and well, frankly kinda ANNOYING. But this one claims it might change our minds. Besides the adorable oversized pill container, this one promises to achieve esthetician results at home in just 20-30 minutes. Is it true? Scroll down to read the Let Me Skin Ultra H20 Modeling Mask review.
WHAT IS IT?
Let Me Skin Ultra H20 Modeling Mask is a 2-step, super easy-to-do modeling mask that go on like a gel and then start to firm up, sealing in all the nutrients of the serums applied beforehand. It has four variants, the pink (this one I got) is for brightening, and comes with two pre-measured gel essence packets. So you never have to worry about whether you're mixing the right proportion of water and powder.
Easy to use and easy to apply, and super "Instagrammable" modeling mask that will leave your skin super soft and super hydrated while brightening uneven skin tone with licorice extract, lime extract, and rice bran extract. It's suitable for all skin types, lightweight and boosts skin's moisture level by an average of 67%. It claims you'll look like you stepped out of a Korean facialist clinic for the best skin of your life!
INGREDIENTS
Besides those mentioned above, other notable ingredients in this mask are Niacinamide which has anti-aging and brightening benefits; Centella Asiatica Extract that soothes the skin and promotes wound healing; and Glycyrrhiza Glabra (Licorice) Root Extract which has both anti-acne and brightening benefits too. It is free of paraben and silicon, however, it also contains Algin which can be irritating for those with sensitive skin and Potassium Chloride which can block pores for those with oily skin. You can read its full ingredient analysis in CosDNa.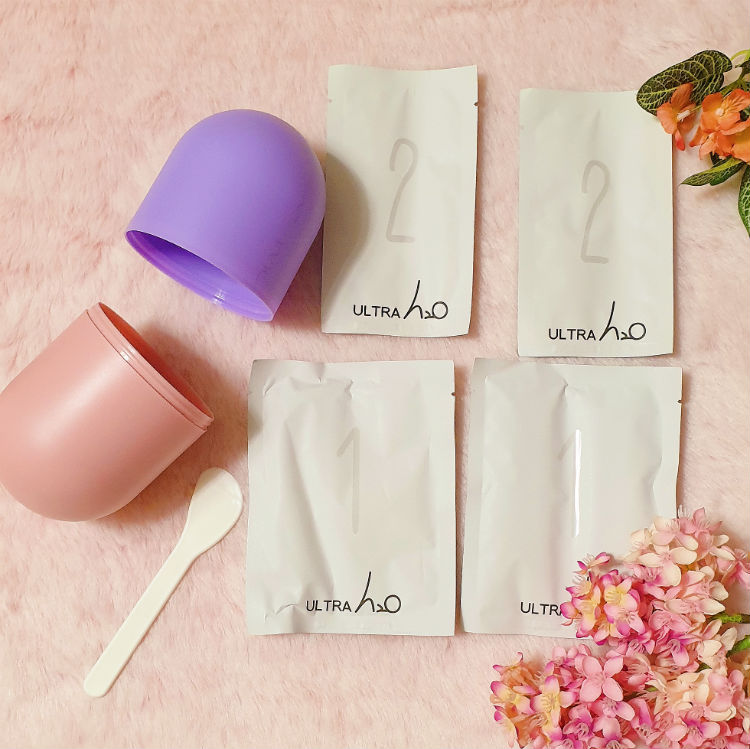 PERFORMANCE
APPLICATION: Open the capsule and pour essence 1 into the capsule. Then pour essence 2 into the capsule. Mix the two essences and apply the mask on the face with the spatula. Apply in a thick layer, avoiding the eye area. After 20 to 30 minutes, when the modeling mask has dried, start peeling the mask off starting from the chin area.
SCENT: It has a mild candy scent at first, I think. But upon applying I couldn't really smell it at all.
PACKAGING: Let Me Skin Ultra H20 Modeling Mask is packed in a sealed oversize plastic capsule that you can use as a bowl or a pen or makeup brush storage after you used it. It contains a spatula and 2 sets of modeling mask mixture which are labeled 1 and 2 so you'll know which one will go to the bowl first.
FORMULA: The essence 1 has a slimy texture than a gel, while essence 2 is like milk, both the texture and the color. Once you start stirring the 2 essences it'll start to get more thicken so I suggest to apply it as soon as possible.
RESULT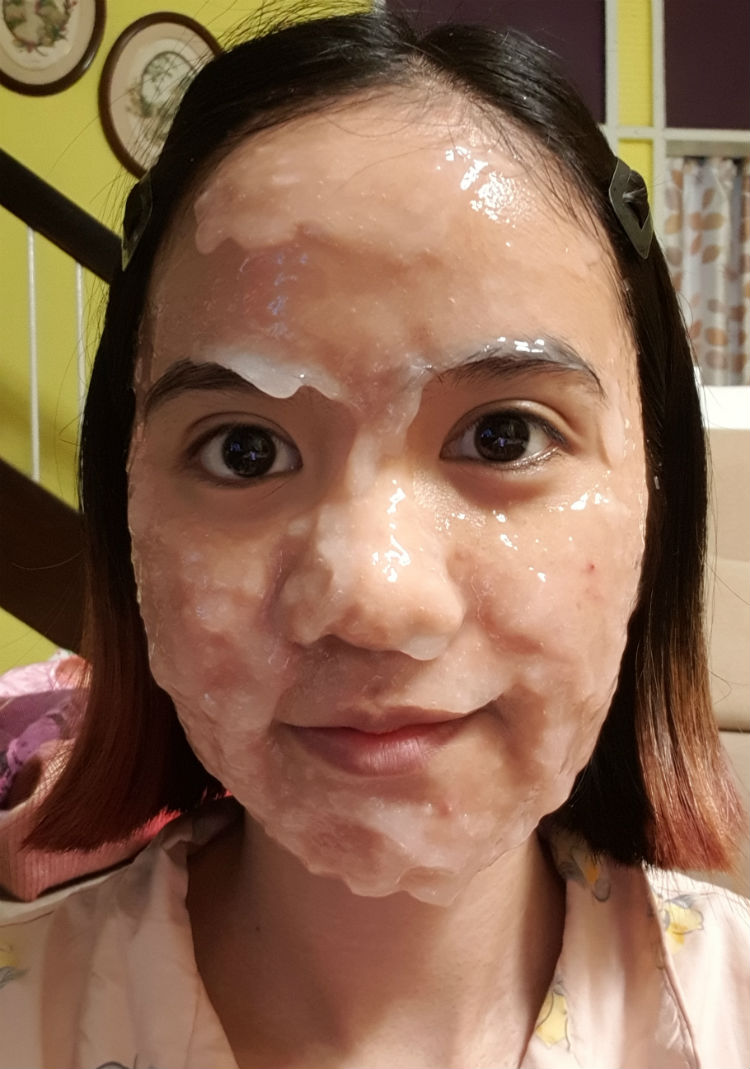 It gets thick fast while stirring so I immediately apply it thickly on my face, but unlike in the clinic after my facial, I am not laying down. Instead, I was seated straight up facing a mirror. It feels so slimy so it was dripping, as expected, but not as much as I actually expected. Maybe because it's not as droopy as other at-home modeling masks, or I just started on my forehead going downward, so before the Let Me Skin Ultra H20 Modeling Mask reach my chin, it already hardens.
Once harden, and it dries fast, it feels like jelly instead of rubber. And surprisingly, no single drip on my shirt! I left it for 20 minutes instead of the maximum 30 because this is my first time using this product and I tend to use untested products on the minimum time. It feels really cool on the skin even though I didn't store it on the refrigerator. But here's the tricky part, peeling off the mask.
I guess I didn't put it thickly enough. There was like around 20ml left of the formula that I wasn't able to apply on my face due to fear it may be too heavy it'll drip. So when I was peeled it off, it was a full face. It was ripped in half, plus a few little debris was left on the corners of my face, so remove it with a cotton pad soaked with hydrating toner. Despite that, my skin felt so smooth and looks glowing. I highly recommend using this a night before a special occasion or in the morning if you have 20-30 minutes to spare.
VERDICT
PROS: It feels cool on the skin, almost soothing. It made my skin feels soft and look glowing. It's easy to mix, no need for water, not as droopy as other modeling masks, and it comes with a container than you can reuse.
CONS: It's tricky to peel off. It rips and small debris are left on the corners of the face.
WHERE TO BUY?
You can purchase the Let Me Skin Ultra H20 Modeling Mask in Hi Charis for $15.88 or Php860 which contains 2 packs, good for sharing or two uses. They ship to the Philippines thru LBC straight to your house so you don't have to wait too long in the Postal Office.
This is also available in Style Korean for $16 and Beauty Tap for $14.
What do you think of this Let Me Skin Ultra H20 Modeling Mask review? Have you tried using an at-home modeling mask before? Share your thoughts below!