I love oil cleansing because it's the easiest way to get rid of makeup especially thicker layers, and sunblock. Plus, oil cleansing has skincare benefits. I also prefer those that emulsify because they're easier to wash off. However, not all are actually suitable for oily and acne-prone skin. Many of oil cleansers in the market are comodegenic that can potentially block pores of those with oily skin because it is hard to wash off. And blocked pores can cause acne. So I always wonder if there will be an oil cleanser with BHA. And after several months of search from several stores, I finally found it! But is it what I expect? Scroll down to read my Hanskin Cleansing Oil & Blackhead review.
WHY DID I NEED AN OIL CLEANSER WITH BHA?
BHA is an acronym for "beta hydroxy acid" also known as salicylic acid. But don't let the word "acid" scare you. According to Paula's Choice, BHA is completely non-abrasive, and has soothing and calming properties. It is gentler on your skin than virtually any scrub or cleansing brush could be.
BHA is oil soluble, so it can reach in to clear excess oil and other substances that clog pores. The result is fewer bumps and, in a short period of time, minimized pore size. It's even suitable for skin prone to Keratosis Pilaris, especially when paired with a gentle, water-soluble body wash. And just like AHA, it is also hydrating, diminishing the look of lines and wrinkles, improving skin's firmness, texture, and tone.
MY THOUGHTS
Hanskin Cleansing Oil & Blackhead BHA can remove thick makeup and sunscreen. It also feels cooling on the skin and soothes inflamed acne instead of irritating them unlike most oil cleansers.
PROS
Cooling
Soothing
Removes makeup, sunblock, and dirt without drying out the skin or clogging the pores.
CONS
Contains Alcohol Denat which makes this not suitable for those with dry or sensitive skin. For those who prefer alcohol-free, try the Hanskin Cleansing Oil & Blackhead PHA instead.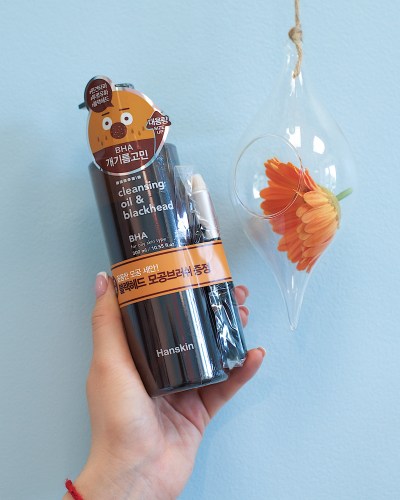 WHAT IS IT?
Hanskin Cleansing Oil & Blackhead BHA is a multitasking oil cleanser that actively fights blackheads for clean skin. It uses a blend of fruit oils, including orange, lemon, and grapefruit, as well as olive and jojoba oils to deeply clean pores. The addition of salicylic acid helps to lightly exfoliate, control sebum, and help remove and prevent the reoccurrence of blackheads.
INGREDIENTS
Besides Salicylic Acid, other notable ingredients are Grape Seed Oil which is an anti-inflammatory that promotes wound healing, and Citric Acid which has an anti-aging benefit. It is free of parabens, but it contains Alcohol Denat isn't suitable for those with dry and sensitive skin. You can read its full ingredient analysis in Skin Carisma.
PERFORMANCE
APPLICATION: Begin with dry hands and a dry face. Add 1-2 pumps into the palm of your hand and massage onto your face, including around the eyes. Rinse off with warm water and massage to help dissolve surface impurities and makeup.
PACKAGING: It is packaged as is in a 300ml plastic pump bottle, but it is wrapped in plastic with a sticker which has some writing I don't understand because I don't read Korean. But it also comes with a pore brush. I don't use it, but it can be helpful exfoliating the nose area for better blackhead removal.
TEXTURE: It does not have any tint, it is clear yet really thick. It does not emulsify it either with water.
SCENT: It smells like grapefruit. Not that strong, but soothing.
MY EXPERIENCE
First of all, I prefer thin oils so it can penetrate my pores better, and most of all something that emulsifies so it's easy to wash off. But I found out something with Hanskin Cleansing Oil & Blackhead BHA that other oil cleansers couldn't do. After massaging it on my dry face, I can add a little water and massage it again to thin out the oil. You see, other oil cleansers, it will emulsify already so it'll be washing off already no longer cleansing. But with this one, it's like the water helps with the deep cleaning too and after just 2-4 washes of water, it's gone without emulsifying. And I don't often use warm water and it still washes off!
NOTE: To those not familiar with "emulsify" it is a formula that turns into a milk-like color and texture which is common with cleansing oils and balms thus making it easy to wash off.
Hanskin Cleansing Oil & Blackhead BHA is also cooling on the skin. I just store this in our bathroom vanity which has a normal room temperature yet whenever I apply this oil cleanser, it feels so cooling and soothing.
But the most important thing is, this oil cleanser can remove sunblock and thick makeup even those waterproof ones effectively without drying out my skin or clogging my pores. It really cleanses my skin without breaking out and NO MORE BLACKHEADS. The only blackheads left are those that only a facialist could see. I use this as a first cleanser, but sometimes I just use it on its own. However, this oil cleanser is perfect for combination and oily skin types ONLY due to Alcohol Denat and other ingredients, so those with drier and more sensitive skin or just anyone who prefers alcohol-free should try the Hanskin Cleansing Oil & Blackhead PHA instead.
WHERE TO BUY?
What do you think of this Hanskin Cleansing Oil & Blackhead review? Have you tried using an oil cleanser with an acid like BHA, AHA or PHA? Share your thoughts below!
*This product may or may not help you. If the pimple persists, you may need to know the type of pimple you have or better, consult a doctor.