NOTE: It turns out, Krave Beauty is included in the many Korean-made sunscreens that didn't actually match the SPF claims. So for now, I don't recommend buying this product. More details about this issue on the Krave Beauty Founder's post here and in the Krave Beauty Instagram post here.
---
Whenever I blog about sunscreen I always say that it is the most important skincare product, and also the product that many people skip. Let's be honest, a majority of them are really uncomfortable to wear. But think about the benefits, protecting you from the harmful UV rays, lowering the risks of skin cancer, and prevents sunburn, hyperpigmentation, and premature aging. That is why I am always on the hunt for the right sunscreen for my oily and acne-prone skin and safe for my zinc allergy. Before I found what I dub "the best sunscreen I ever used" I was using this one by Krave Beauty, but is it as good as their beloved facial cleanser? Scroll down to read my Krave Beauty Beet The Sun review.
WHAT IS IT?
Krave Beauty Beet The Sun (or Beet The Shield if you live in the US) is a sunscreen that contains SPF 47 PA++++ and advanced chemical (organic) UV filters that are known to be less irritating and far more photostable than the traditional ones.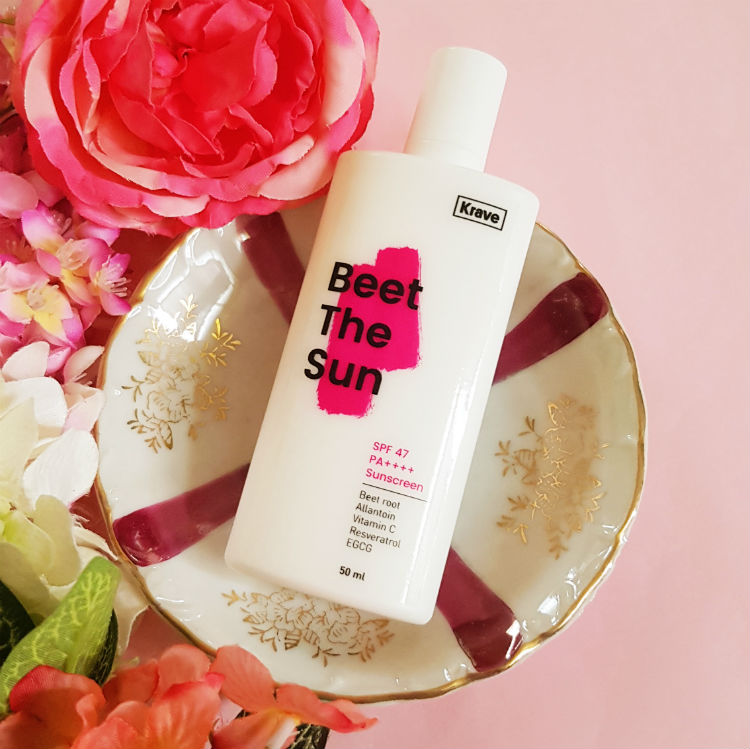 INGREDIENTS
As the name suggests, this sunscreen contains Beet that contains a natural antioxidant. But for UV protection, Krave Beauty used these five active ingredients Diethylamino Hydroxybenzoyl Hexyl Benzoate/DHHB (Uvinul A Plus), Ethylhexyl Triazone (Octyl triazone), Isoamyl p-Methoxycinnamate (Amiloxate), Bis-Ethylhexyloxyphenol Methoxyphenyl Triazine/BEMT (Tinosorb S), and Polysilicone-15. No zinc unlike physical sunscreens so this is safe for those with that rare zinc allergy. In addition to those, this also contains Sodium Ascorbyl Phosphate which has anti-aging and brightening benefits. You can read more about its full ingredient analysis in Skin Carisma.
PERFORMANCE
APPLICATION: In the morning, after your last skincare routine step and before makeup application, apply an adequate amount of sunscreen to your face. Ideally, apply it 15 minutes before sun exposure and reapply every 2-3 hours.
SCENT: It has a generic sunscreen smell. But it's not detectable upon applying.
PACKAGING: Unlike most skincare products, Krave Beauty Beet The Sun comes in a plastic wrapper that resembles a postal mail. It is also packaged in a plastic minimalist white plastic squeeze bottle with a screw cap that is light and slim enough to fit most bags. Easy to bring when you're on the go.
FORMULA: The texture of Beet The Sun is like a light cream, think of the most lightweight cream moisturizer you ever use, it resembles it. It has a white color with a slight tinge of yellow.
RESULT: Krave Beauty Beet The Sun, despite containing Lauric Acid and Sorbitan Oleate that can both clogged pores for those with oily skin, I still find this a good sunscreen for all skin types. I have oily skin, yet it feels comfortable on my skin. It does not have a matte or even a semi-matte finish unlike the Klairs UV Essence, but it does not have a greasy feeling on the skin. Although, I think it depends on the weather. Right now it's not that hot and humid in the Philippines. But I can with confidence that it's really lightweight and hydrating. Actually, I also find this as a good primer. The makeup sits well on top of it and gives your skin a smoother look.
VERDICT
PROS: It contains organic UV filters that are less irritating than common UV filters used in a chemical sunscreen. It is also moisturizing, lightweight, and hydrating. It does not have a matte finish but it is non-greasy and comfortable on the skin. It works as a good primer too.
CONS: I don't find any cons. Although, if you have really REALLY oily skin and lives in a very humid country since this isn't a mattifying sunscreen, this might not be the right sunscreen for you.
WHERE TO BUY?
STORE
PRICE
DETAILS
Krave Beauty
$20
Ships to the US, South Korea & Singapore
Go Bloom & Glow
Php1450
Use this coupon code MARIM60 to get
₱100 OFF on your entire order (minimum of
₱1000, single-use only).
Lazada
Php1350
Beet The Sun vs. Beet The Shield
As mentioned before, the Krave Beauty Beet The Sun is previously only available in South Korea. It is because the formula they used is not approved by the US FDA because the chemical filter they use is not included on the list that the FDA accepts, and the FDA does not accept new claims yet. Here's Krave Beauty's explanation.
So does that mean the Beet The Shield has a different formula from the Beet The Sun?
According to Liah Yoo's vlog, no, they don't have different formulas. They are completely the same but Beet The Shield has an SPF 50 compared to Beet The Sun's SPF 47.
What do you think of my Krave Beauty Beet The Sun review? What is your favorite sunscreen? Have you tried one with organic UV filters?