Recently, I have been obsessing over the Honey Propolis Extract in skincare products that is why I hoarded a bunch of Papa Recipe sheet masks. The first one I used, the Rose Gold variant, was really good. This time I'm reviewing the Black variant which contains Manuka Honey with high expectations. Scroll down to read my Papa Recipe Bombee Black Honey Mask Pack review.
WHAT IS IT?
Papa Recipe Bombee Black Honey Mask Pack is a highly nourishing mask that contains Manuka Honey, propolis, and royal jelly extracts to moisturize the skin and give it a lit-from-within look. It's also infused with peat water, a powerful anti-aging ingredient, which shields the skin from free radicals and boosts collagen production. It tightens pores while reducing inflammation, making it suitable for all skin types. Its expertly made mask sheet (Tencel cupra) adheres to skin perfectly, helping the essence sink in more effectively.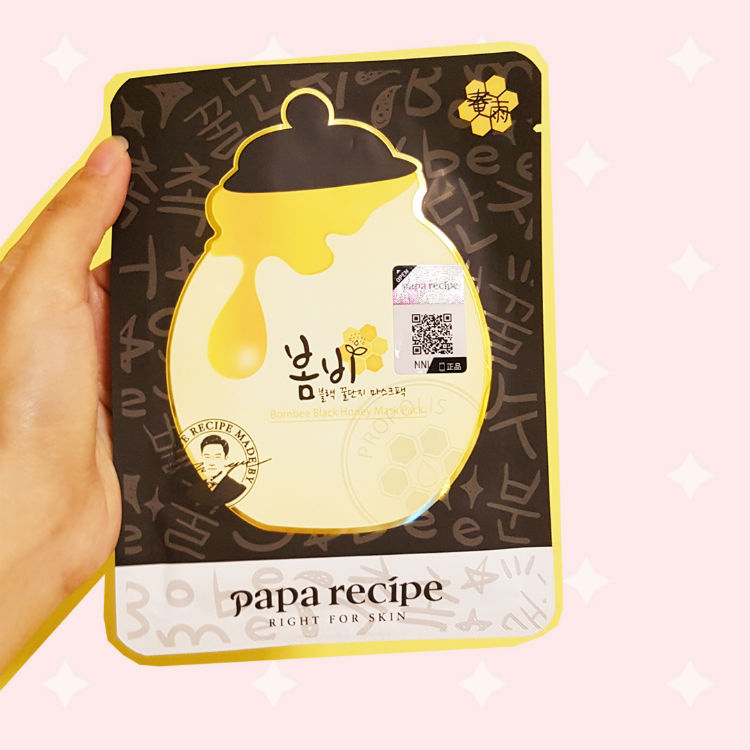 SKIN BENEFITS OF MANUKA HONEY
Manuka Honey is a raw honey produced by bees that feed on the manuka shrub of New Zealand's remote North Island. The difference between raw and regular honey is that raw honey hasn't been processed. When honey is "processed," it's heated, or pasteurized, in order to achieve the golden, syrupy look we're accustomed to. But, like other pasteurized foods, honey loses a lot of its beneficial nutrients when exposed to heat high enough to kill potentially harmful bacteria. Raw honey is also known to contain vitamins B, C, and live enzymes.
So Manuka Honey is a known anti-aging product which can also heal acne. repair skin, and hydrate. It can be used as a mask, cleanser, or a spot treatment. You can learn more about it in WebMD.
OTHER INGREDIENTS
Besides the Manuka Honey, the Papa Recipe Bombee Black Honey Mask Pack also contains Glycyrrhiza Glabra (Licorice) Leaf Extract which has acne-fighting and skin brightening benefits. It also has Ceremide which has anti-aging benefits; Panthenol and Sodium Hyaluronate which promotes wound healing. You can read more about its ingredient analysis in CosDNA.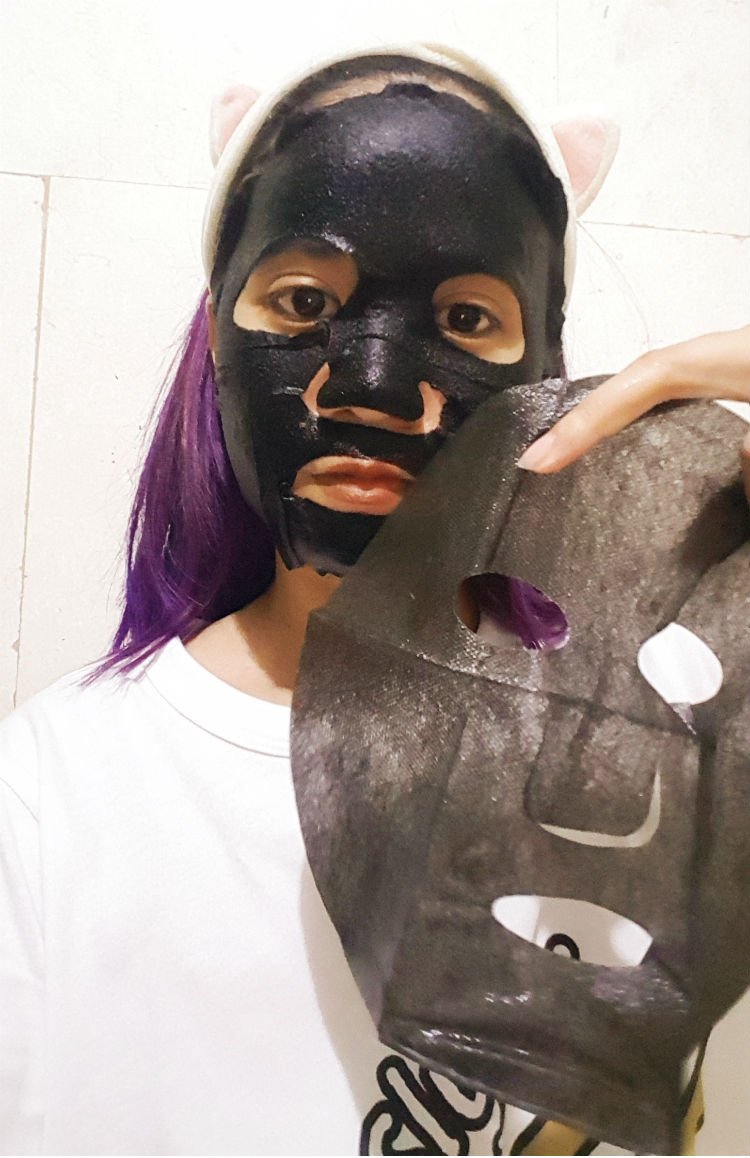 PERFORMANCE
APPLICATION: This mask is to be used after cleansing and other hydrating steps. Carefully remove the mask from the packet, it drips a lot. Unfold it and smooth on to face. Leave on for 15-20 minutes. Remove the mask and discard. Gently pat in the remaining essence until fully absorbed.
SCENT: I'm not familiar with the scent of the Manuka Honey, but its smell resembles a raisin bread. Yes, you read that right.
PACKAGING: Just like every Papa Recipe Bombee Masks, this one also has the same cute yellow honey pot illustration but with black color and graphics. The mask is folded with a net that has the exact same shape and color of the sheet mask. But don't be confused, use the softer one that feels like cotton, not the one that has a rough/net texture.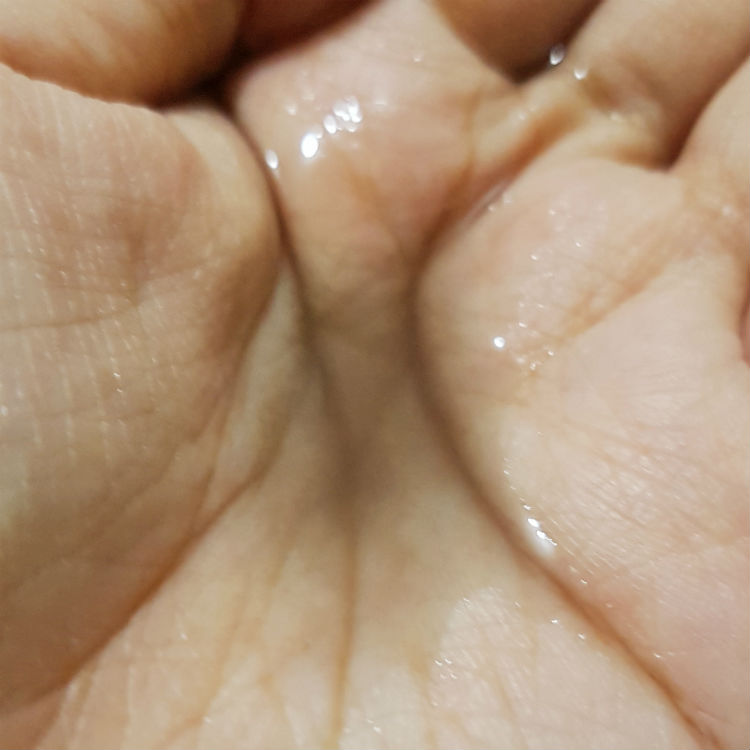 FORMULA: The essence of the Bombee Black Honey Mask Pack is quite thin and runny compared to all the masks I used before. It's actually dripping the second I remove it from the packet. And just like the Bombee Rose Gold Honey Mask Pack it is lightweight, absorbs fast into my skin, and does not feel tacky after a few minutes. But what's interesting is, the essence on this one has a color grey! Even charcoal sheet masks I used before doesn't have that color. But don't worry, it will not stain your shirt.
RESULT: While the Bombee Rose Gold Honey Mask Pack made my skin glowing in 20 minutes, the Bombee Black Honey Mask Pack made my skin smoother and soothed at the same time. Before I applied this sheet mask, my skin has inflamed pimples and looks really red. But a few minutes after I removed the mask and my skin fully absorbed the Black Honey Essence, my face wasn't reddish anymore and all my inflamed pimples were flattened. My skin looks smoother, a little brighter, and hydrated. All the Papa Recipe Bombee Mask Packs are suitable for acne-prone skin, but I think this one is the best for acne.

VERDICT
PROS: It is lightweight, absorbs fast into the skin, doesn't feel tacky, and hydrating. It flattens inflamed pimples, reduces redness, and smoothens the skin.
CONS: I don't see any cons besides the net folded with the sheet mask might be mistaken to the actual sheet mask.
WHERE TO BUY?
STORE
PRICE
DETAILS
YES STYLE
$23 or Php1300
Use this coupon code ALYSSA12 to get
5% off discount on your first order
and 2% off discount on your future orders.
iHerb
$22 or Php1163
They ship internationally and offers the lowest
possible shipping fee.
Kbeauty Cafe
Php160 per sheet
Use the code itsmariaalyssa to get
Php100 off for first-time buyers with
minimum orders worth Php1000
Style Korean
$21
They offer free shipping internationally.
What do you think of the Papa Recipe Bombee Black Honey Mask Pack review? Have you tried using Manuka Honey on your skin before? Share your thoughts below.
*This product may or may not help you. If the pimple persists, you may need to know the type of pimple you have or better, consult a doctor.