Finding a good moisturizing product for someone who has oily and acne-prone skin who lives in a warm humid tropical country is kinda hard. Moisturizing products can either too heavy for oily skin or too tacky for warm and humid weather, and some other more factors. That is why I'm so thrilled with the Pyunkang Yul Moisture Cream that Go Bloom & Glow Shop gave me, but it's not the only product from the set that impressed me. This time I'm writing my Pyunkang Yul Moisture Serum review so you'll know more about it.
WHAT IS IT?
Pyunkang Yul Moisture Serum is a hypoallergenic moisture serum that helps maintain the skin's oil-moisture balance and prevents the evaporation of hydration for a longer lasting dewy effect. It has Barberry root extracts that soothes sensitive, irritated skin as well as olive oil that offers an intense hydration effect and prevents skin from becoming dry. As a result, it leaves the skin softer, smoother and silkier.
According to Skin Carisma ingredient analysis, it has no notable effect or ingredient. But it is free of paraben, alcohol, and silicon.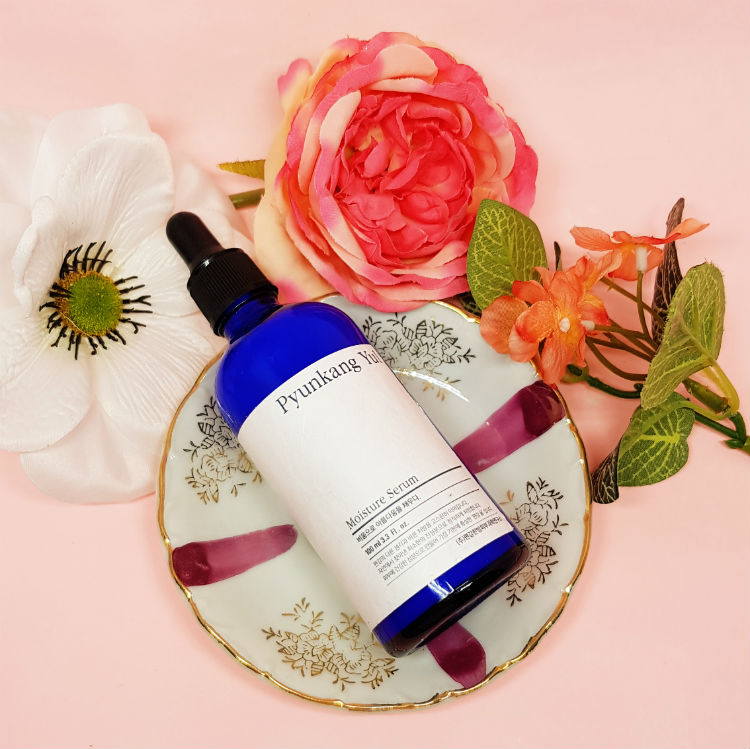 PERFORMANCE
APPLICATION: After cleansing and toner, dispense a small amount and apply all over the face. Tap gently for absorption. Apply one more layer for better results.
SCENT: Just like the Moisture Cream, this Moisture Serum is also unscented but it has the detectable "generic unscented beauty product" scent.
PACKAGING: Since this is from a set, it is packaged in a signature Pyunkang Yul blue box. But the Moisture Serum comes in a blue glass bottle with a black pipette with a white label. Nothing fancy about its design, it is just nice and minimalist.
FORMULA: The Pyunkang Yul Moisture Serum has a lightweight lotion-like texture. It's quite thick compared to most serums. In fact, it's so thick, its pipette is having a hard time getting the product. But it is surprisingly light and absorbs fast into the skin, no joke! It doesn't even leave a tacky finish.
RESULT: The Pyunkang Yul Moisture Serum is the perfect product to apply after you use a chemical exfoliator because it instantly gives moisture to my skin, it made my skin feel softer and smoother. And also because it doesn't have fancy schmancy ingredients, it will not irritate your vulnerable skin. But what made me love this Moisture Serum is it's lightweight, non-tacky finish. It doesn't even leave a white cast. Perfect for summer, especially those who live in a humid tropical country.
It really does make my skin feels softer and look smoother, and a little bit brighter just after one use. Another thing I noticed, since I put a few drops on the back of my hand before applying to my face, I also noticed it makes my hand really soft. That is why I do not only use this on my face, I also use this on my hands! It's better than my current hand cream.
VERDICT
PROS: It is lightweight, does not leave a tacky finish or a white cast yet highly moisturizing. It instantly softens and smoothens the skin. It also makes it look a little brighter.
CONS: No cons! Although some people might find this product boring because it has no fancy-schmancy ingredients.
WHERE TO BUY?
You can purchase the Pyunkang Yul Moisture Serum in Go Bloom & Glow for Php1085. The nationwide thru JRS and offers free shipping on orders Php1800 and above. And don't forget to this coupon code MARIM60 to get ₱100 OFF on your entire order (minimum of ₱1000, single-use only).
If you're not from the Philippines, you can still purchase this in Style Korean for $21. They ship worldwide and offers free international shipping on a certain amount of orders.
What do you think of this Pyunkang Yul Moisture Serum review? Do you use a serum? Share your thoughts below!
**I received one or more of the products mentioned above for free in the hope that I would mention it on my blog. Regardless, I only recommend products I use personally and believe will be good for my readers. All thoughts and opinions are my own and not influenced by the brand or its affiliates.