Are there products you've been wanting to try since its release, even though it doesn't have reviews yet? This mist is something I've been wanting to try since its release. I was already a huge fan of the Heimish All Clean Balm so I wanted to try this one too, and also because I was suffering from dry patches all over my face. Luckily, I had a chance to get this for free as one of the reviewers for Style Korean Pink Blossom Box. But did it lived up to my expectations? Scroll down to read my entire Heimish Bulgarian Rose Water Mist Serum review!
WHAT IS IT?
Heimish Bulgarian Rose Water Mist Serum is a mist with skincare function. It provides strong moisturization and nourishment supply. Comprises of 88% Bulgarian Rose, it boasts a highly viscous texture with a gentle yet relaxing rose fragrance and impressive hydrating properties. It releases fine mist spray that spritzes equally and evenly on your skin to provide not only hydration but also nutrition.
INGREDIENTS
As mentioned above, it contains 88% Bulgarian Rose which is hydrating, moisturizing, and soothing. But it also contain Niacinamide which is known to have a brightening and anti-aging benefits. And speaking of anti-aging, the Hemish Bulgarian Rose Water Mist Serum also contains Adenosine and Citric Acid which are both anti-aging ingredients as well. You can read more about its ingredient analysis in Skin Carisma.
PERFORMANCE
APPLICATION: You can use the mist wherever and whenever your skin feels dry. Shake sufficiently before use, hold the bottle 15~20 cm away from your face, close your eyes and lightly spritz in a circular motion. Pat to absorb. This can be used before and after makeup.
SCENT: It literally smells like rose petals.
PACKAGING: At first, I thought the bottle was glass because it looks so elegant on the photos. But it's actually just made of plastic. Obviously, I'm loving its minimalist pink packaging especially its box. The only thing that I didn't like it the cap that holds the spray nozzle kinda moves whenever I shake it. Not sure if it's really their packaging or it's just my bottle.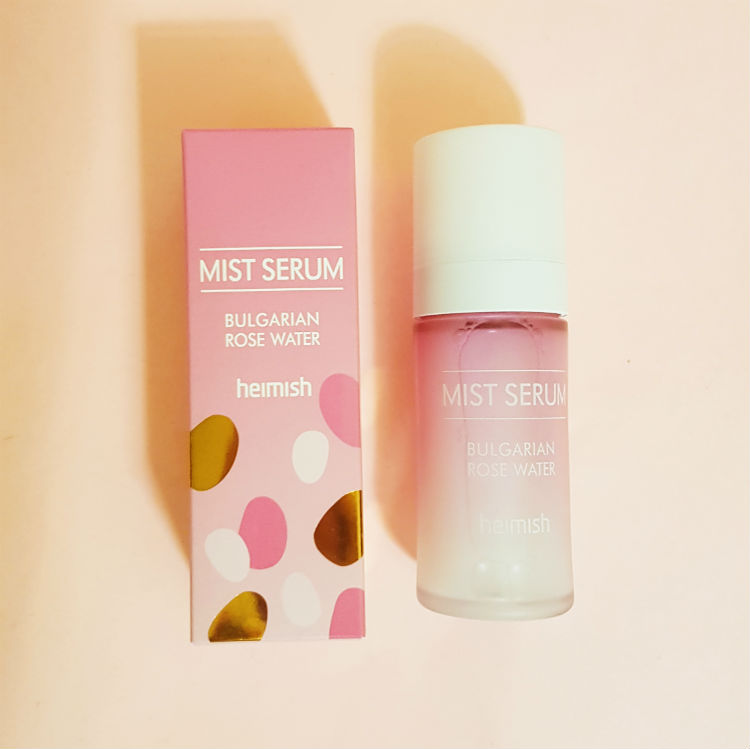 FORMULA: The Heimish Bulgarian Rose Water Mist Serum has really fine mist, the finest I've ever used so far and it feels really light on the skin. However, there's a little (just very little) tackiness in it as well. You'll especially feel it if you have oily skin. Yes, it has a fine and light mist, but it feels more like a moisturizing serum rather than a hydrating water mist.
RESULT: I cannot vouch for its anti-aging benefit yet so I wouldn't talk about it. However, for its brightening benefit, I didn't see it happening. If you want this because of the Niacinamide, I highly suggest using Purito Galacto Niacin 97 Power Essence or Misha FTE instead of this one. But if you want a hydrating and moisturizing product especially for the colder weather where some people like me gets dry patches all over the face, then this is a product for you. Actually, if you have dry skin, you'll probably like this mist serum because it's highly moisturizing without the heavy feeling.
But does it soothes my troubled skin? I say I think so. I use this sporadically since I live in a warm country and have oily skin. But whenever my skin feels hydrated and about to break out, I unleash all my hydrating products and this mist serum really helps too. Just don't expect it will get rid of your redness.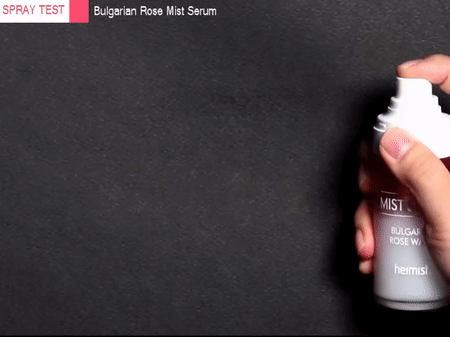 VERDICT
PROS: Highly moisturizing and hydrating without the heavy feeling. It has the finest mist I ever used so far, so lightweight, it feels relaxing, and it does soothe the skin.
CONS: It soothes the skin but not enough to get rid of the redness.
WHERE TO BUY?
You can purchase the Heimish Bulgarian Rose Water Mist Serum in Style Korean for $24. They ship worldwide and offers free shipping.
If you live in the Philippines, this is also available in Go Bloom & Glow for Php1050. And don't forget to this coupon code MARIM60 to get ₱100 OFF on your entire order (minimum of ₱1000, single use only).
What do you think of my Heimish Bulgarian Rose Water Mist Serum review? Have you tried a mist serum before? Share your thoughts below!
**I received the product mentioned above for free in the hope that I would mention it on my blog. Regardless, I only recommend products or services I use personally and believe will be good for my readers. All thoughts and opinions are my own and not influenced by the brand or its affiliates.