This is another product from the Style Korean Pink in Blossom Box I received last March. And this is the product I'm most excited to use because it's a clay sheet mask! Which makes you think, is it an innovation or another gimmick to make a sale? Despite my excite with the product, I saved it for the day where I will actually need it: Around the time of my period when my skin looks so bad, my pores are so clogged it needs deep cleansing, and I feel sh***y. Of course, the day definitely came and now I can share my So Natural Facial Design Deep Pink Mud Mask review.
WHAT IS IT?
So Natural Facial Design Deep Pink Mud Mask is a special beauty mask intended for once-a-week use. It claims to tighten, lift, extract, and brighten your skin. Unlike other sheet masks, it is not creamy. It is a mud mask in the form of sheet mask – they dry together to compress, tighten, and exfoliate the skin, leaving it clean and refreshed. In order to adhere to the shape of the face better, this mask comes in two parts – one each for the upper and lower parts of the face.
Its pink mud content absorbs sebum, impurities, and dust to keep your skin tight and elastic!! While the activated volcanic ash and a blend of plant extract detoxify and cleanse the skin while providing hydration and a nutrient boost for a clear, radiant complexion.
INGREDIENTS
This clay sheet mask contains Kaolin, a fine and light clay that has natural absorbency properties. It has the most absorbing powers compared to other clay masks like Bentonite. It is the best for oily skin and a detoxifying mask for those with acne-prone skin.
It also contains Panthenol and Sodium Hyaluronate that promotes wound healing. And it also has Morus Alba Leaf Extract, Ethyl Ascorbyl Ether, and Morus Alba Fruit Extract which have skin brightening benefits. You can read more about its ingredients and benefits in Skin Carisma.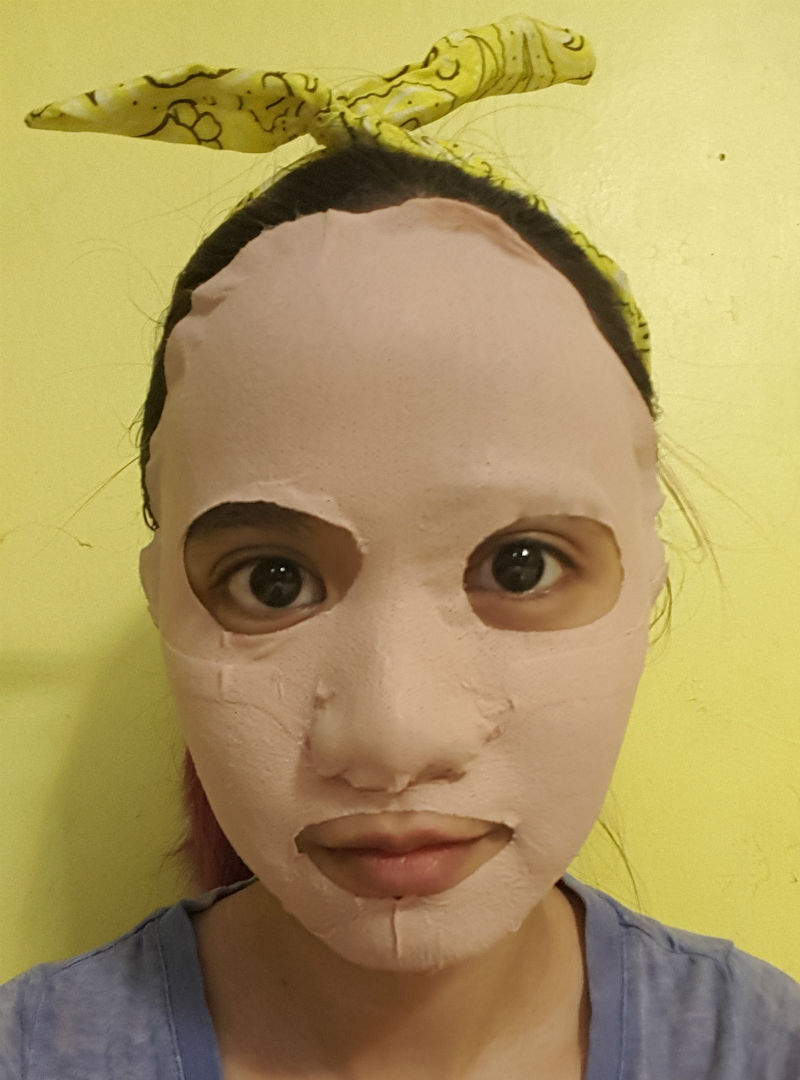 PERFORMANCE
APPLICATION: After cleansing and toning, use mask by removing the transparent film first, then place the mask on to your face. Place the top part first and then follow with the bottom part. Wait 40~50 minutes until the mask completely dries. If your skin feels tight and the mask feels completely dry, hold the top and bottom parts at the same time and take off the mask. Rinse your face to remove all residues.
But if you have sensitive skin, use a cream on sensitive areas because of the mask's adhesive property can cause irritation. And if you have thin eyebrows, you may want to put cream on it too because this mask may pull out some eyebrow hair.
SCENT: I honestly didn't detect any significant scent from this mask as far as I could remember.
PACKAGING: It is packaged just like any other sheet masks in the market, in an aluminum packet. But unlike other sheet masks, the So Natural Facial Design Deep Pink Mud Mask is divided into two and both have plastic sheets to protect each side.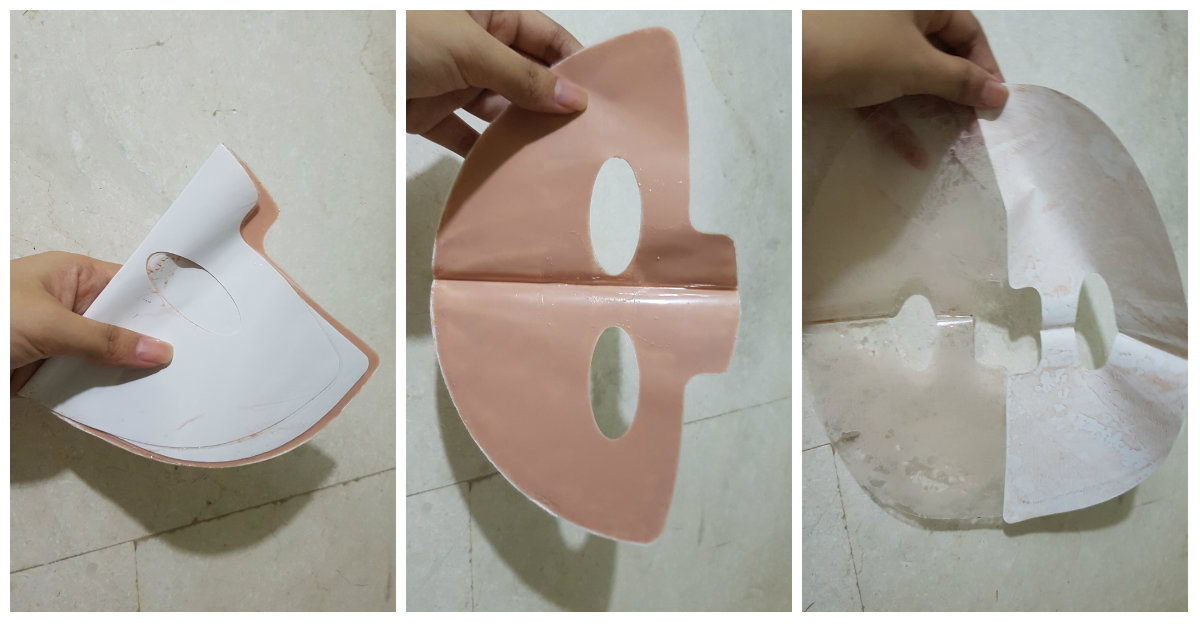 TEXTURE: It is indeed not creamy, but it has a matte texture. It does not feel tacky either but it does have a good adhesive property to stick on to the skin for a good 40-50 minutes. This is really the most interesting Korean beauty product I ever tried. But once left on your face, it starts to feel like a well-applied mud mask on your face.
RESULT
Since it is my first time using the So Natural Facial Design Deep Pink Mud Mask, I decided to leave it on for 40 minutes instead of 50. And luckily, Maskepedia already tried this clay sheet mask so she was able to give me a tip. She said to spray a hydrating mist on the mask for every 5 minutes (as I could remember) so it will not totally dry out on my skin and will be easier to remove. (NOTE: All clay masks, even the Aztec Secret, shouldn't completely dry on your skin because it may take some moisture off your skin. Plus it's easier to remove when moist.)
Since the packaging's labels and instructions are in Korean, it was quite tricky to apply. Just remember, stick the side where the transparent plastic was placed. Make sure it will not be crumpled or folded on your face so stretch it lightly for an even application. And you can totally stack each mask in the middle where the top and bottom sheets meet. This mask, as expected, is hard to adjust to make you are sure where to place it before actually sticking it on your face.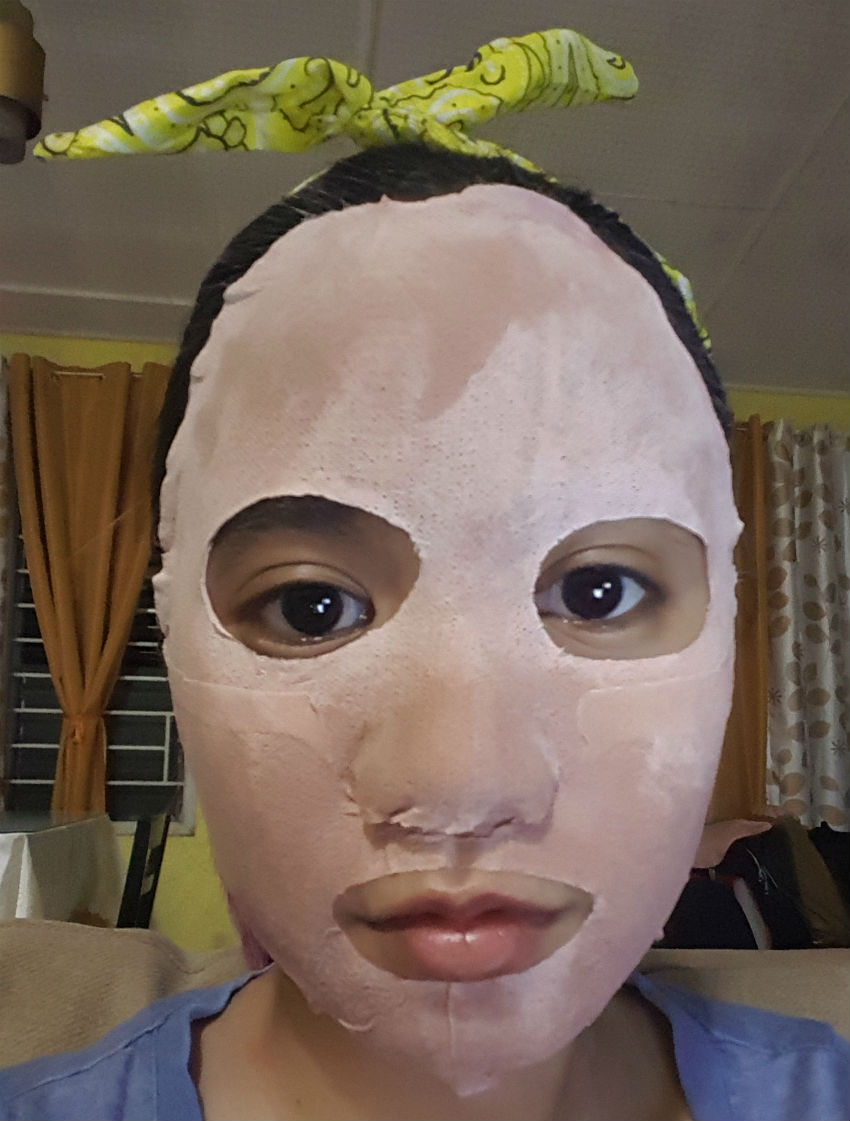 As I wait, the mask turns much harder even though I was spraying mist on it. I also noticed that some parts of the mask got darker, especially in places where I get oily. I think that's the pink mud working on absorbing the sebum and impurities in my skin. It was kinda hard to move, even when drinking a juice through a straw. But at least, I didn't feel any irritation or sting. It just felt hard and a little heavy, which is not something to be worried about.
But when it was time to remove it, I decided to pull it out from below like a nose strip. And just like a nose strip, it wasn't easy to remove. You need a little more effort and brace yourself for the slight pain. Don't worry, it's really really light and tolerable pain. I didn't put any cream before applying this, but it didn't pull out any eyebrow hair, or even an upper lip hair.
After I removed the mask, my skin doesn't look red. Instead, it looks brighter and feels powdery soft. So I rinse my face and felt instantly how smooth and soft my face. But only in the morning-after, I realized that my skin looks cleaner. Those pesky little whiteheads around my nose and chin disappeared. Overall, my face looks bright and smoother which is the result I want to achieve from a clay mask.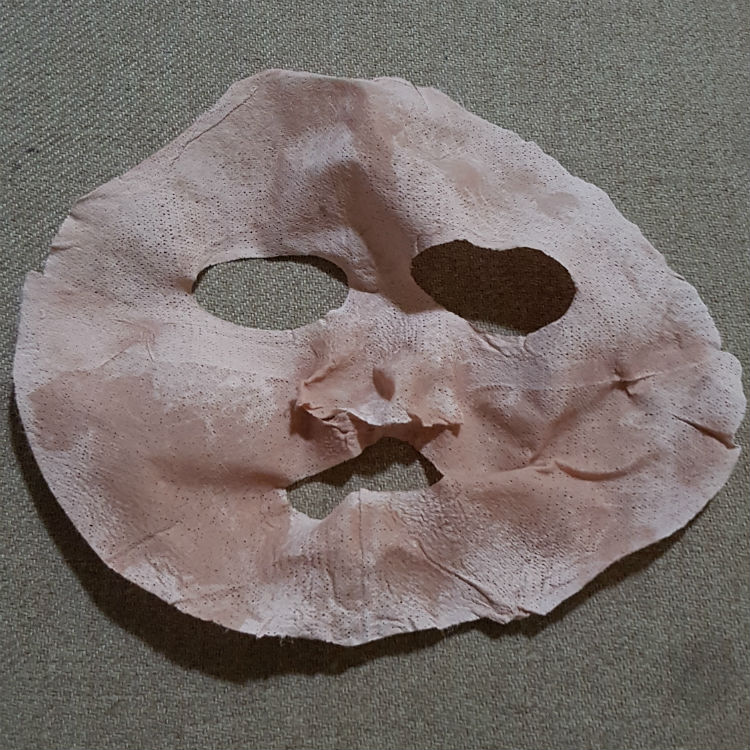 VERDICT
PROS: It really sucks out the sebum and those pesky whiteheads out of my face. After rinsing it, my skin feels so soft, looks smooth and brighter. My skin was less oily throughout the day.
CONS: The adhesive can cause irritation to those with sensitive skin. It can be drying on the face so make sure you spray it with hydrating mist every 5 minutes, or else, it may feel like removing a huge nose strip. And for its price, a jar or clay mask is more cost-effective than this sheet clay mask.
But it's still an interesting product to try. Plus, it's effective in sucking out the gunk.
WHERE TO BUY?
| | | |
| --- | --- | --- |
| STORE | PRICE | DETAILS |
| Style Korean | $2.99 per sheet | Offers free international shipping. |
| SeoulUnni | Php320 per sheet | Ships to the Philippines nationwide. |
What do you think of this So Natural Facial Design Deep Pink Mud Mask review? Have you tried a sheet clay mask before, or you have a fave clay mask? Share it below!
**I received one or more of the products mentioned above for free in the hope that I would mention it on my blog. Regardless, I only recommend products I use personally and believe will be good for my readers. All thoughts and opinions are my own and not influenced by the brand or its affiliates.