Summer is officially here in the Philippines, which means a lot of us will be spending a lot of time on the beach. And it also means many of us will be in our bikinis where our bottoms might get exposed to sand and the humid heat. I can't speak for everyone but stuff like that would surely give me butt acne. That is why I have been looking for products to reduce or prevent it. And that leads me to a mask for the booty on Instagram but unfortunately, it was from an indie US brand so shipping it to the Philippines will be pricey. Luckily, I found a local brand that does not only sell a booty mask but also a scrub! I already love the SPF75 sunblock spray from this brand, but would it be the same with this? Scroll down to read my Rraw Sugar & Viper Booty Glow Up Duo.
WHAT IS IT?
Rraw Viper Butt Mask & Sugar Butt Scrub are both made for your booty, but can also be used in other areas of the body. Best if paired together for the full booty glow up experience and both deals with skin imperfections such as cellulite, stretch marks, scars, etc.
RRAW SUGAR BUTT SCRUB REVIEW
WHAT: Sugar Butt is the step one in this Booty Glow Up Duo. It's an exfoliating scrub created to target your booty. It claims to give your booty a velvety surface. Scrub away the layers of old skin to make room for the new, while saying goodbye to the dryness and saying hello to a nice and moisturized bum!
INGREDIENTS: Virgin Coconut Oil. Extra Virgin Olive Oil. Brown Sugar. Muscovado Sugar. Coconut Sugar. Orange Oil. Orange Essential Oil.
APPLICATION: First, wet the bum. And then scrub the Sugar Butt on and around your booty for a full exfoliation. Do this for 10-15 minutes and rinse.
SCENT: It smells like sweet like brown sugar but with a hint of citrus probably because of the orange essential oil and a little hint of coconut.
TEXTURE: Since this is made with brown sugar, obviously it's not as fine as those white sugar you use in your coffee. It's bigger which is ideal as a body and butt scrub but it's too abrasive for your face.
RRAW VIPER BUTT MASK
WHAT: Viper Butt is a clay mask which claims to polish and please your booty. It is packed with vitamins for an extra boost and also infused with seaweed and collagen to keep your butt supple and firm.
INGREDIENTS: Aqua. Virgin Coconut Oil. Kaolin Clay. Bentonite Clay. Botanical Collagen. Seaweed Extract. Witch Hazel Extract. Vitamin C. Vitamin E. Provitamin B5. Watermelon Oil. Lemon Essential Oil. Natural & Organic Food Color. Sodium Benzoate (Plant-Derived).
APPLICATION: After rinsing the Sugar Butt Scrub, dry your bum and apply Viper Butt Mask on the booty. Pay attention to areas where you feel like you could do better. Leave on for 10-15 minutes. Allow it to soak in what all the mask has to offer and rinse.
SCENT: I love the scent of this booty mask! It smells sweet like bubble gum so I'm sure you'll enjoy using this too as a face mask.
TEXTURE: It feels so creamy and smooth. Personally, I find it does not really dry so much unlike most clay mask I used which I like because it's easy to rinse off.
PACKAGING
Both are packaged in sturdy plastic jars with screw caps. The design is minimalist and looks effortlessly chic, which reminds me of the Lush brand. The Sugar Butt Scrub comes in 100g while the Viper Butt Mask comes in 50g. And both jars can easily be reused for something else after your done with the products. Personally, jars this small, I like to use them to store small jewelry or tiny stuff for my gadgets.
RESULT
I don't recommend using the Sugar Butt Scrub on your face, but I do love using this on my elbows, knees, and my entire legs. It leaves my skin feels so smooth and despite being a scrub, it feels so soft like I slathered lotion on it. While the Viper Butt Mask, I couldn't say it works on the stretch marks on the side on my bum since I'm only using this for only a month, but I think it's preventing acne on my bum by thoroughly exfoliating it thanks to the Bentonite Clay ingredient. If that sounds familiar, it's because it's sole ingredient of the internet-famous and so-called most powerful facial in the world, the Aztec Secret Indian Healing Clay Mask. But unlike the Aztec Secret, the viper mask smells so lovely, leaves my bum feels smooth and easy to rinse off because it does not stick so much to the skin and does not stain it. Actually, it is mentioned in the Viper Butt Mask packaging that you can also use it on your face. Personally, I haven't tried it yet but I might sometime and update this post.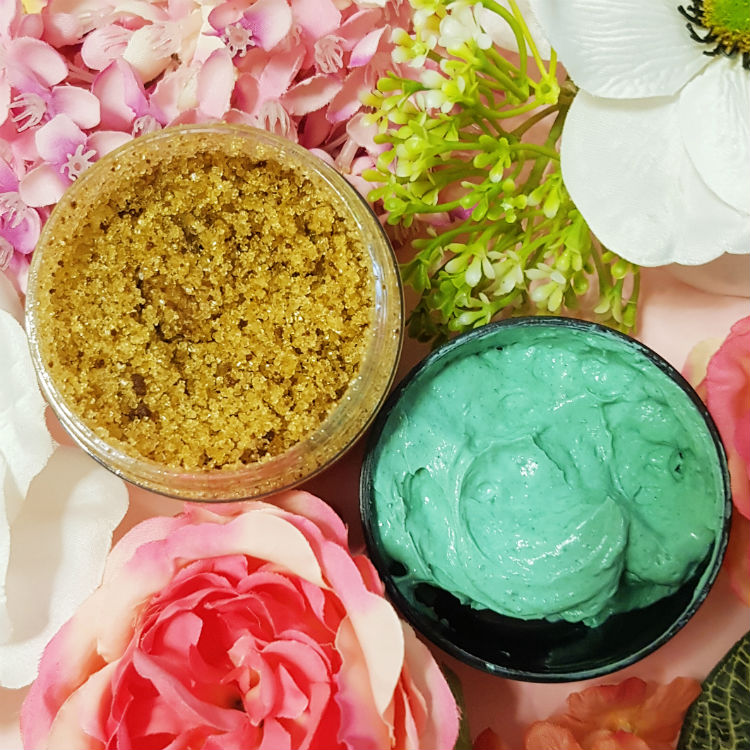 The Rraw website said this is best if used 3-4 times a week. I did use this 3 times a week before I went on a week-long beach trip. But after that, I use this now for only 1-2 times a week.
Overall, I love the Rraw Sugar & Viper Booty Glow Up Duo. They're cruelty-free, organic, effective, and most of all, very affordable! Seriously, you wouldn't find any other products like this in the market with affordable prices.
WHERE TO BUY?
You can purchase the Rraw Sugar & Viper Booty Glow Up Duo on their official website for Php549. But you can also buy them separately, both the Sugar Butt Mask and the Viper Butt Mask cost for the same price of Php299 each. You can also purchase this in many retailers, just check Rraw Instagram page. But when you shop directly to Rraw Official Website, you have an option in the checkout to donate to an animal shelter.
What do you think of the Rraw Sugar & Viper Booty Glow Up Duo review? Have you tried using a clay mask on your bum? Share your thoughts below!