Sometimes going back to basics, like resetting, is the best thing you could do to your skin especially when you feel like nothing is working. I don't know about everyone else but sometimes, I feel like my skin feels rough, looks dull, starting to break out all of a sudden, and it felt like all beauty products in my stash are not just working. Have you ever felt something like that? It can be stress, pollution, or something else, but when I encounter such thing what I do is a skincare reset, go back the basic essentials: A cleanser without actives, a toner without an acid, and a face cream without a fancy-schmancy ingredient, but still effective. Enter, Althea's new products! Their Petal Velvet Powder was great, but is it the same with their new skincare line? Scroll down to read my Althea Bare Essentials review.
WARNING: This is will be a long review because I decided to put them in one post instead of posting the reviews individually. So if you're just interested in one product, feel free to skim and skip. No need to read them all, that's what I do when I read a product review.
WHAT IS IT?
As over-complicated skincare routines can clog pores and leave the skin looking fatigued, the Althea Bare Essentials range claims to provide the skin with the necessities without any additional cost or steps to the regime, making it suitable for the busy urbanite of today. It features three quintessential products that can be used for any skin type: a Contour Cleanser, a Primer Water, and a Fixer Cream. Their goal is to complete the skin's makeup without actually wearing makeup on.
STEP 1: CONTOUR CLEANSER
WHAT: The Althea Contour Cleanser is a rich and foaming cleanser that removes impurities while reducing face swelling and improving blood circulation for that V-shaped look. It contains microcapsules to gently exfoliate dead skin cells and leaves the skin feeling cool and refreshed.
APPLICATION: Dampen the skin, then squeeze out a small amount and lather onto the face, massaging in circular motions. Rinse off with water after.
KEY INGREDIENTS:
SCENT: It has a generic facial cleanser scent if you know what I mean. It has the same scent that most facial cleansers in the market like Pond's Facial Scrub Cleanser.
TEXTURE: It has a creamy texture with tiny scrubs in it that isn't abrasive or even visible. In fact, the scrubs melts immediately (like 2 seconds!) upon massaging.
PACKAGING: It is packaged in a generic facial cleanser tube with minimalist white packaging. It comes in 150g only.
RESULT: Honestly, I thought I will hate this product because this cleanser contains scrubs which reminds me of the St. Ives Facial Scrub and the Pond's Anti-Bacterial Facial Scrub that I used in high school, which both were abrasive and super drying that caused a pH imbalance and more breakouts on my face back then. (NOTE: That was in early 2000's so I don't know their formulas now.) But this isn't like those facial scrub cleansers! The scrubs which they call "microcapsules" melts immediately, like 2 seconds, upon massaging. It doesn't foam as much as I expected but a small pea size could still go a long way. Lastly, and more importantly, it cleanses my face without drying it out which actually made me love this cleanser. Did it improve my skin texture? I think yes. I feel like every day I'm using this, I'm also exfoliating my skin gently. Although I can't vouch for the claim that it can reduce swelling and "improves blood circulation for that V-shaped" because I've been using this cleanser for almost a month now and my oval face shape is still oval.
PROS: It contains scrubs that isn't abrasive and melts quickly. It cleanses your face without drying it out.
CONS: I've been using the Althea Contour Cleanser for almost a month now without any allergic reaction, although I'm worried about its "Lippia Citriodora Leaf Extract" ingredient that scored an alarming 7 in CosDNA.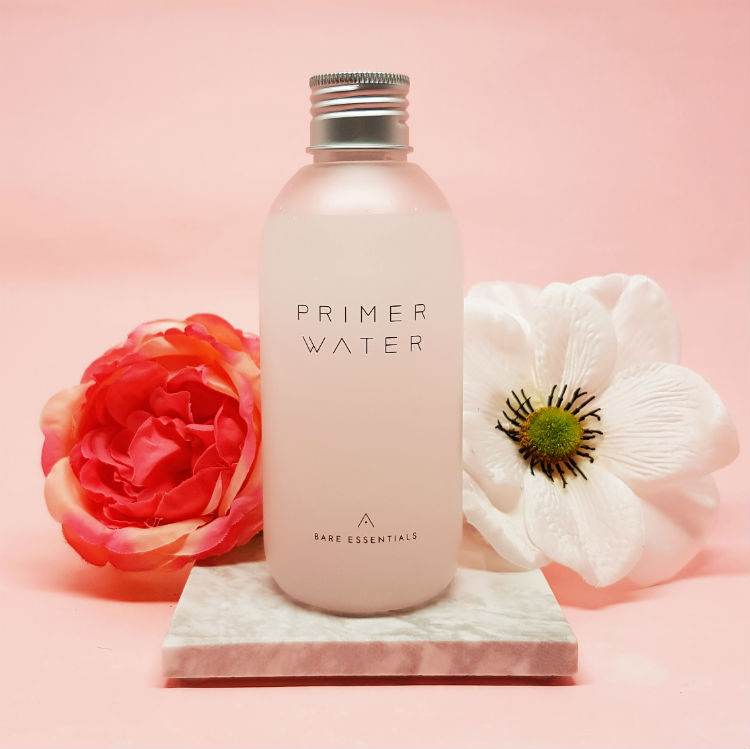 STEP 2: PRIMER WATER
WHAT: Althea Primer Water claims to smoothen and hydrate your skin so it can minimize your base makeup. It penetrates into the layers of the skin to plump them up, prepping the skin and making it a smooth canvas for products to come.
APPLICATION: Pour out a small amount on your hand and apply evenly to the face, gently patting in for better absorption.
KEY INGREDIENTS:
SCENT: It has a floral scent that reminds me of sandalwood.
TEXTURE: It says "water" in the name but its texture is almost like a balm. It kinda hard to explain, it's runny like a liquid but almost like a balm. It's the first time I've used something like this.
PACKAGING: It is packaged in a semi-hard minimalist plastic bottle with a silver screw cap that reminds me of a fancy and expensive mineral water. But it also comes with a box with white minimalist design.
RESULT: This is my favorite among the three! My face really feels so soft, smooth, and plump after gently patting this all over my face. It is indeed a primer than a toner or micellar water, it really gives me a smooth base for the next skincare products or makeup application. It's non-sticky, non-greasy, and lightweight. I love touching my face whenever I use this.
PROS: It's non-sticky, non-greasy, lightweight, moisturizing, and hydrating. It really gives me a good base for the next application of skincare or makeup. I actually prefer to use this when I'm applying makeup.
CONS: I think some people may not like this because of its alcohol content.
STEP 3: FIXER CREAM
WHAT: Althea Fixer Cream claims to contain powerful moisturizing properties that provide the skin with hydration for up to 24 hours for a fresh, revitalized complexion. It also penetrates deep into the layers of the skin to plump them.
APPLICATION: Apply evenly onto the face and gently pat in till absorbed.
KEY INGREDIENTS:
SCENT: It has a mild scent of mint with a hint of citrus.
TEXTURE: It has a gel-like. The texture actually reminds me of the Huxley Fresh Cream & More.
PACKAGING: It is packaged in a jar version of the Primer Water. It's sturdy, light, but the screw cap is SO FREAKIN' HARD to open, at first. After that, don't screw it close that tight.
RESULT: When I was looking at the photo of this product before I received it, I thought it will be quite heavy or sticky, but it just felt that at first but once absorb, and it quickly absorbs into the skin, it feels light and non-sticky. It does really moisturize and plumps my skin.
PROS: Don't be fooled when you first apply this on your face, it's actually non-sticky and lightweight once absorbed. It moisturizes and plumps the skin effectively.
CONS: I really had a hard time opening the jar for the first time. I had to ask for help to open it.
WHERE TO BUY?
You can purchase the entire Althea Bare Essential Set in Althea for less than Php1224. And you can also purchase them individually. The Contour Cleanser costs Php300 while the Primer Water cost Php500, and the Fixer Cream costs Php560. Althea ships to the Philippines, United States, Indonesia, Thailand, Malaysia, Singapore, and Taiwan. Plus, they also offer free shipping on a certain amount of orders, it's Php999 in the Philippines.
These products are also available in Althea's Lazada Philippines page here:
What do you think of this Althea Bare Essentials review? Which one would you like to try? Share your thoughts below!
**I received one or more of the products mentioned above for free in the hope that I would mention it on my blog. Regardless, I only recommend products I use personally and believe will be good for my readers. All thoughts and opinions are my own and not influenced by the brand or its affiliates.