I wasn't really interested in Tarte Cosmetics before even though the colorful packaging design really fits my aesthetic and a lot of people were raving about them. But there is one Tarte product which hunts me like a ghost. Despite that, Tarte is not easy to buy in the Philippines so there's no chance I could satisfy my curiosity. Until my go-to Instagram cosmetics reseller posted a photo that this cult-fave concealer is now available for purchase! And I didn't waste any minute, I immediately sent a message I want to purchase it. After 2 days, I was already testing it on my mother and myself. But did it live up to its hype? Scroll down to read my Tarte Tape Shape Contour Concealer review.
WHAT IS IT?
Tarte Shape Tape Contour Concealer is a 2-in-1 coverage concealer, it sculpts and highlights as you mask imperfections. The hydrating, long-wearing formula delivers natural, radiant coverage across all skin types so you can instantly brighten and cover acne, dark circles, and redness while softening the look of pores and fine lines. Wear it 1-2 shades lighter or darker, and it claims to work as a creamy highlighter or contouring stick with a lightweight, blendable formula and tapered wand applicator ideal for precise strobing and sculpting.
INGREDIENTS
It is powered by Amazonian clay and conditioning mango seed and Shea butter, the nutrient-rich concealer helps promote skin elasticity and illumination with each crease-free application. For a full list of its ingredients and long-term safety, read this CosDNA Analysis.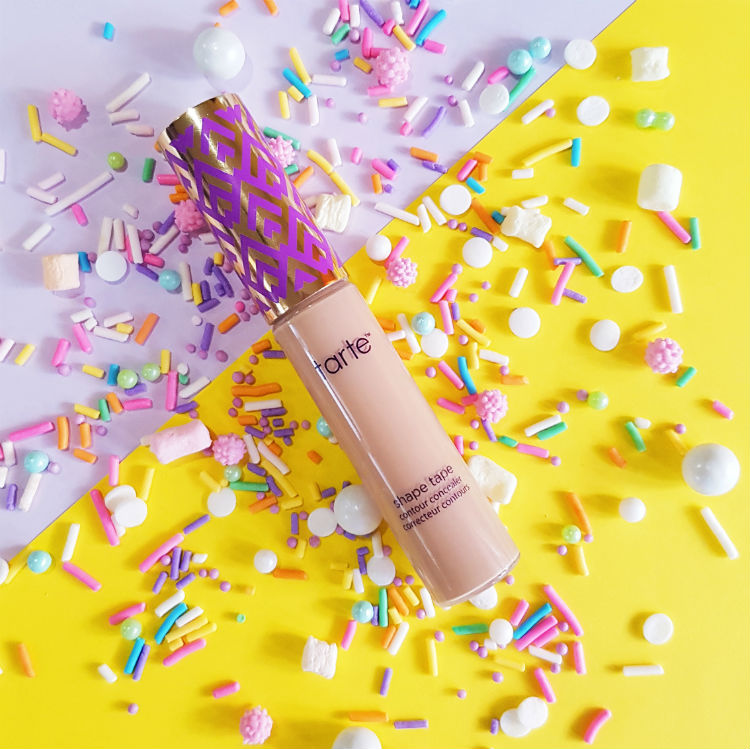 PERFORMANCE
APPLICATION: There are three ways to use Tarte Shape Tape Contour Concealer…
…To Cover & Perfect:
Dot concealer directly over blemishes, dark circles or other imperfections and use the narrow, tapered side of the sponge to dab and blend.
To cover redness or uneven skin tone, apply concealer directly onto skin and blend using the larger, domed end of the sponge.
To offset the look of dark circles, trace concealer onto the undereye area in a triangle of light formation and blend using the narrow side of the sponge.
…To Contour & Highlight:
Trace concealer in light, thin lines directly onto areas you want to highlight and contour, such as the cheekbones, forehead, chin, and nose.
Use the narrow, pointed side of the sponge to blend the formula into the skin in the direction of the lines you traced. The larger, domed side can be used to soften any harsh lines.
Wear concealer 1-2 shades darker for creamy contouring and a 1-2 shade lighter as a luminous highlighter.
SCENT: It has a floral scent which smells really good but I'm not a fan of scented beauty products.
FORMULA: The Tarte Shape Tape Contour Concealer has a slightly thick formula. It's not sticky but blending it may require a lot of patting than other concealers like Maybelline Fit Me.
PACKAGING: The tube feels really elegant, something you would expect from its price tag. I love the trademark pattern of Tarte on its cap and the thick doe foot wand that makes it easy to apply all over your face, however, it also scoops so much product! One scoop is actually enough for my entire face. Lastly, it comes with a box unlike most concealers in the market. It has no print, instead, it has a solid glossy look.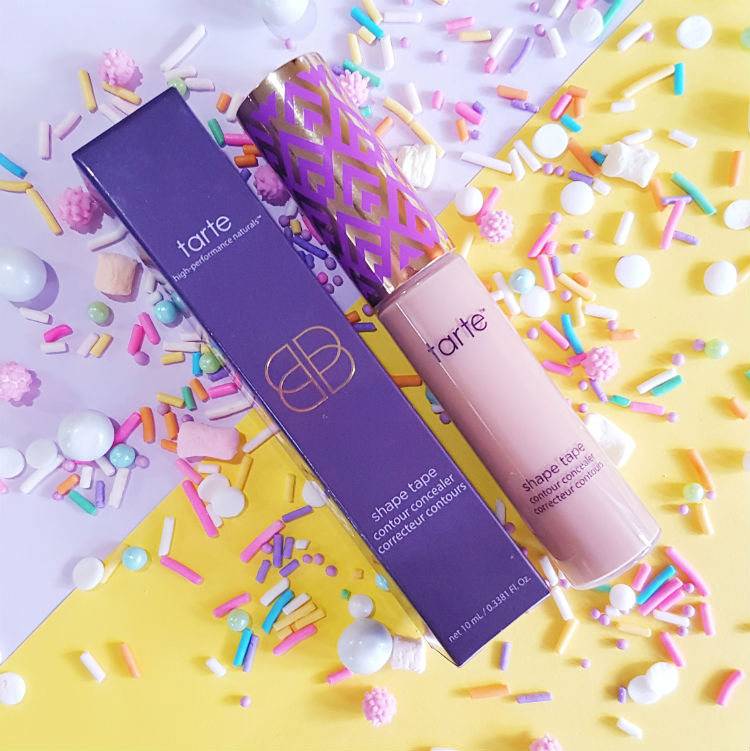 RESULT: The shade I got is a light-medium which is a shade lighter than my actual skin tone because I planned to use this as both a concealer and a highlighter. As a concealer, it has a really good coverage. My acne and dark spots vanished, while the pores were buffed! As a highlighter, I love applying this to my under eyes because it brightens it instantly. I look so healthy and well-rested! But on my nose, forehead, and above my cheekbones, it blends too well almost like I didn't use a highlighter. When I blended it, I actually ended up using this as a foundation rather than a highlighter.
The moment I received my Tarte Shape Tape Contour Concealer, I already put it to the test. I applied it to cover my blemishes especially my acne and hyperpigmentation, and nothing else besides Glossier Cloud Paint on my cheeks, Maybelline Hyper Sharp Eyeliner, and Glossier Boy Brow (review soon!). I didn't use any foundation or even favorite Innisfree No-Sebum Mineral Powder! So this was my look at 6 pm (middle photo):
No filter selfies
As you could see from the before and after photos above, my skin looked smoother and blemish-free. The Tarte Shape Tape Contour Concealer has a natural and semi-dewy finish. It does really blurs out the pores and the cover is really great. I did not reapply anything throughout the night to test its longevity and how it will withstand the heat and humidity. As you could see on the third photo, by 10:23 PM roughly 4 hours, my skin already looks oily, a few blemishes and the pore were out.
VERDICT
PROS: It's easy to blend despite the thick formula, has a natural semi-dewy finish, blurs out pores and has good coverage that hides acne and other blemishes. Also, a dot goes a long way!
CONS: As a highlighter, personally, it's not that good. It blends too well into the skin, it ended up like a foundation. I prefer just to use this as a concealer. It also fills the lines on your undereye, it looks cakey.
NOTE: I haven't used this yet as a contour because I didn't buy a darker shade.
WHERE TO BUY?
I bought my Tarte Shape Tape Contour Concealer in Cult Beauty PH for Php1750. Besides Tarte Cosmetics, they also sell other brands such as The Ordinary, Glossier and Milk Makeup.
In the US, you can also purchase this in Ulta and official Tarte website for the same price of $27.
If you live in Singapore, you can purchase this in Zilingo for $22.70.
What do you think of this Tarte Shape Tape Contour Concealer review? What's your favorite concealer? Share it below!