Korean beauty is not just about multi-tasking products with cute packagings, half of it is about how you pamper yourself and different ways to use regular skincare products to its full potential like toner masking and now, the 7 skin method. Although take note, maintaining beauty is important which come from a healthy skin but of course, you'll not only get it from using a bunch of beauty products. It also comes from within by reducing stress, getting enough sleep, healthy diet, and keeping women happy; by that give them not just gifts like the preserved gold and silver roses from Eternity Rose or a ring, but also respect and especially love. But for outside, the 7 skin method might help.
WHAT IS 7 SKIN METHOD?
In a nutshell, it's a way of applying a hydrating toner or water essence to your face up to seven times—hence, the name "seven". Yes, 7 layers of toner are patted on your face and layered in succession. The idea behind it is that the moisture level of skin can be increased in an efficient and effective way without the heaviness or greasiness that may come from traditional creams and oils. It's also a great way to hydrate all skin types, providing the optimal balance of hydration and skin's natural oils with a subtle dewy glow and firmer skin. If the method sounds familiar, it's because some women are already doing this without knowing what this method is actually called.
WHAT ARE THE BENEFITS OF LAYERING 7 TONERS?
Most people think this is some kind of a gimmick (I actually did) because applying 7 layers of toner in one routine can be handy. But with this method, you can actually ditch the other steps of your skincare routine such as the essence, serum, emulsion or ampoule. You'll just end your 7 skin method with a moisturizer. It is hydration, minus the extensive Korean skin-care routine. And by layering your toner multiple times, your skin gets to absorb more of the hydrating ingredients, ultimately giving you hydrated and healthy skin.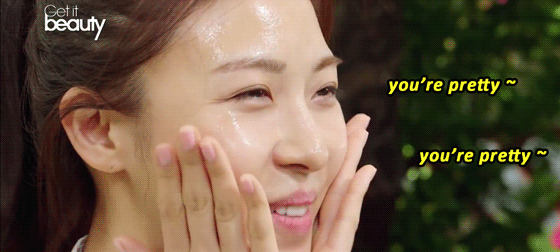 HOW DO I DO THE 7 SKIN METHOD?
The most common application method is to wipe the skin with a cotton pad drenched in a toner while your skin is still slightly damp. Or pour some toner on your palms and start patting it with hands all over your slightly damp skin for the rest of the 7 steps like what actress Ha JiWon doing in the GIF above. But if it is your first time, Christine of Glow Recipe suggested, you should start slow and build up to the full amount. Test the method by applying your toner two or three times and go from there. After layering the toner, finish it off with your fave moisturizer to seal the moisture into your skin. And if you want to do this in the morning, you can apply your sunscreen after the moisturizer and do the rest of your makeup.
RESULT
This is something I'm actually been doing for over 2 years now before I even learned what it is called and I usually just do 3-4 layers instead of 7. When I do this I get a dewy glow the next morning. My skin felt tighter, plumper and bouncier. I have oily skin and my mom always say I don't look oily in the morning, she actually compliments that my skin looks really good without knowing that I layer my toner. Just look how my skin improved in my story on how I got rid of my acne.
WHAT KIND OF TONER YOU SHOULD USE?
According to Byrdie, you should away from toners with synthetic fragrances, alcohol (also listed as ethanol or ethyl alcohol, denatured alcohol, methanol, isopropyl alcohol, SD alcohol, and benzyl alcohol) and any cleansing properties (like a cleansing water-in-one or a micellar water) as those can be irritating if applied too many times. I also suggest not to use toners with actives and acids like Vitamin C, AHA, BHA, and PHA because those can be harsh on your skin when applied multiple times. I highly recommend using hydrating toners and essences like Whamissa Organic Flowers Deep Rich Essence Toner, Pyunkang Yul Essence Toner, or Missha First Treatment Essence.
**