Ever since using a peeling gel from the Nature Republic, I feel like a couldn't live without it anymore. Unfortunately, the product has been discontinued and ever since then, I'm been on a hunt to find an equally good peeling gel where I could see those dead skin cells gently removed from my skin. I tried the Onsaemeein Yogurt Peeling Gel but it didn't live up to my expectations. So now I'm trying one from Laneige which both impressed me with their Water Sleeping Mask and kinda disappoint me with their cute Two Tone Lip Bar which was featured in two of the most popular Korean dramas of 2017. So does this one impressed or disappointed me? Scroll down to read my Laneige Clear-C Peeling Mask review below.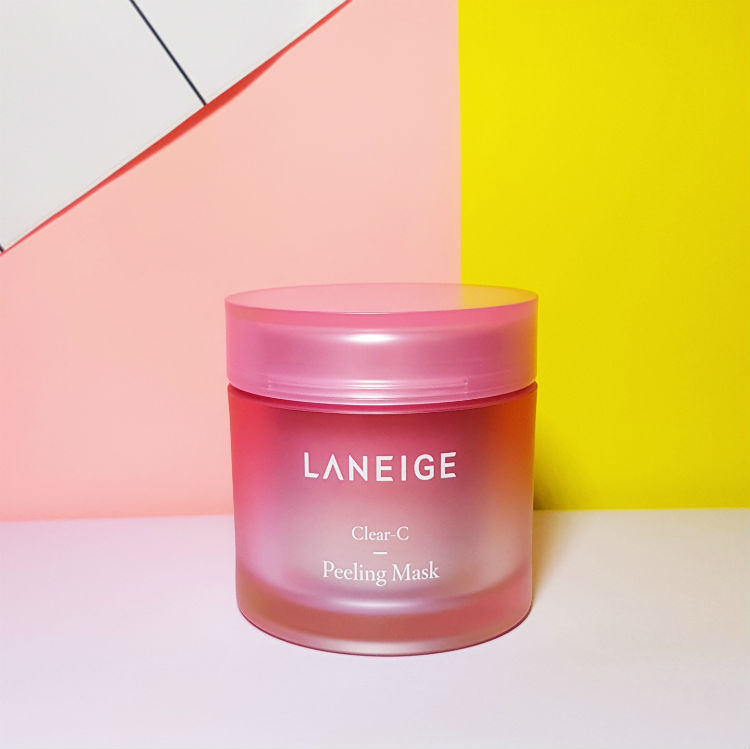 WHAT IS IT?
Laneige Clear-C Peeling Mask is a wash-off type peeling mask that gently removes dead skin cells and makes skin feel smooth and moisturized with ingredients such as Strawberry Seeds and soft konjac granules.
INGREDIENTS
The ingredients such as Strawberry Seeds and soft, small konjac granules provide a massage effect and effectively remove dead skin cells after washing the face. While the plant-derived malic acid AHA makes the cornified layer healthy and elastic and removes flaky dead skin cells. You can read more about its ingredients in its CosDNA Analysis here.
PERFORMANCE
APPLICATION: After washing the face, dry your face and apply an adequate amount. After applying on the face, gently massage the skin, starting from areas with a lot of dead skin cells and working outward in the direction of skin texture. After the massage, wash off with water and continue with the rest of your skincare routine. But refrain from using other acids and actives because this peeling mask already contains AHA which can irritate your skin if you used another layer of those. This mask can be used 2-3 times per week.
SCENT: It smells like strawberry candy with a hint of citrus which is mild that's why it's kinda fun to apply this.
PACKAGING: It is packaged like other Laneige products. In a hard sturdy plastic jar with a small scoop and a blue and white signature Laneige box.
TEXTURE: It does not feel like a cream nor a gel. It actually resembles a yogurt! Especially with the citrusy scent! It's not too thick though and easy to massage all over the face. The physical scrub does not hurt at all and kinda soothing unlike the infamous St. Yves Apricot Scrub.
RESULT: Every time I wash it off my face, my skin just feels so soft and smooth. The physical scrubs doesn't hurt at all nor irritate my skin or acne, and I could actually see dead skin cells falling off. However, I don't feel like it does anything to improve my skin tone.
VERDICT
PROS: It made my skin feels soft and smooth. And it really removes dead skin cells. Lastly, it didn't irritate my skin nor my acne.
CONS: The AHA in this product does nothing to reduce the hyperpigmentation on my cheeks. Overall, this is just a mediocre exfoliating product that is too pricey.
WHERE TO BUY?
You can purchase Laneige Clear-C Peeling Mask in Style Korean for $21. They ship worldwide and offers free shipping.
You can also purchase this in Althea Korea for Php962. They ship to the Philippines, Malaysia, Singapore, Indonesia, Thailand, and Vietnam.
What do you think of my Laneige Clear-C Peeling Mask review? Have you tried any peeling mask, gel or serum before? Share your thoughts below!